Important Event Announcement
Alberta and Northwest Territories
Postponement of IG Wealth Management Walk for Alzheimer's Due to Air Quality Risk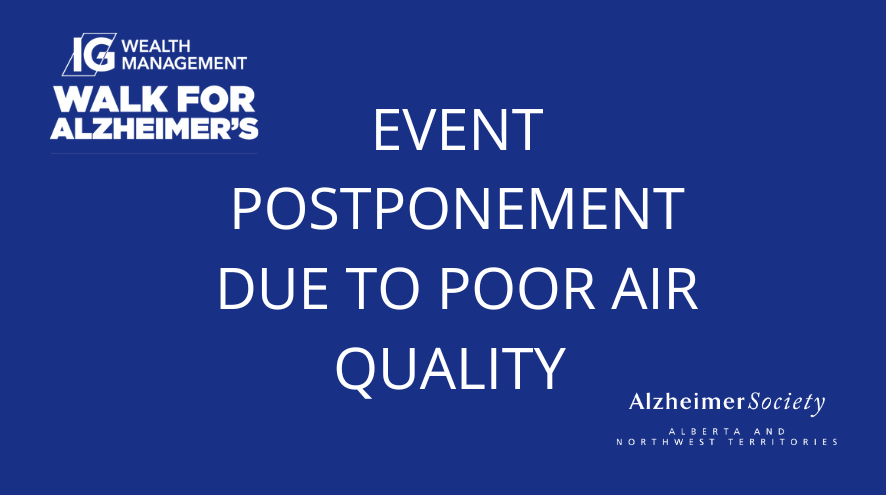 Alberta and the Northwest Territories are currently facing a series of wildfires resulting in poor air quality, which raises safety concerns for outdoor activities. The safety and well-being of our participants, staff, volunteers, and community members remain our highest priority. With this in mind, we are postponing the IG Wealth Management Walk for Alzheimer's event in all locations in our region (in Alberta and Northwest Territories). 
We deeply regret the impact this may have on you and all those who have shown immense commitment toward the cause of Alzheimer's support and services. We know that many of you have been preparing for this event for months, and we share your disappointment. 
"While we are saddened by the decision to postpone the IG Wealth Management Walk for Alzheimer's, we are fully supportive to put the health and safety of walk participants first. Our thoughts and best wishes go out to those who are being impacted by the wildfires. We are proud partners of the Alzheimer's Society of Alberta and Northwest Territories and will continue to support their mission to provide essential programs, services, and resources to people living with dementia and their care partners." 
-Will Omar, Regional Vice-President – Edmonton Metro, IG Wealth Management 
We do not have a new date for the walk. We will provide you with updates as they become available. Please monitor your email and our social media channels for updates on this event. We appreciate your understanding and patience during these challenging times. 
Walk donation pages will stay open until the time it is safe to gather again. Pledges or cash donations can be dropped off at one of our regional offices. We suggest you contact your local regional office in advance to ensure a staff member will be available. 
Our thoughts and concerns are with the countless families affected by the wildfires who are in isolation due to poor air quality. We are here to support those affected by dementia and their care partners during this tough time. Please contact your local regional office or call us toll-free at 1-866-950-5465 to access support services. We have also posted helpful information on disaster and emergency preparation for families of those living with dementia. 
Thank you for your support. Please reach out to us if you have any questions or require additional information.