Anything for Alzheimer's (Coffee Break)
Anything for Alzheimer's/Coffee Break is a do-it-yourself fundraising campaign that raises much-needed funds for the Alzheimer Society of Niagara Region!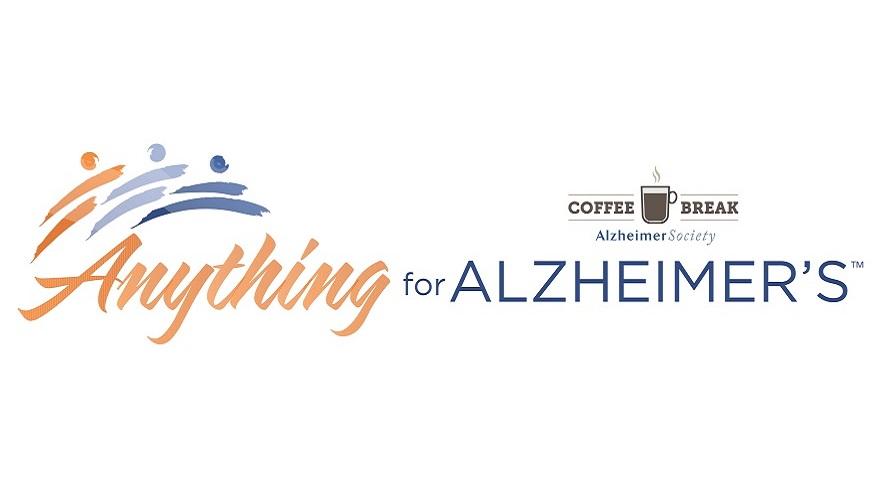 REGISTER NOW to host a fundraiser.
For more information contact Karen Post, Manager of Fund Development:
What is Anything for Alzheimer's?
The concept of Anything for Alzheimer's is simple; all you need to do is turn an activity or a get-together that you are already planning to do into a fundraiser.
Are you planning a neighbourhood barbeque? Put a container out next to the burgers and ask people to consider donating. Are you the most dedicated weekend warrior in town? Set a workout challenge for yourself and use that as your fundraiser. Or do you just want to have coffee and catch up with your friends or colleagues? Host a Coffee Break and ask everyone to bring a donation. The ideas are endless! It can be anything as simple as a get-together with friends, as challenging as a sunrise polar dip or as creative as dying your hair green. The only limit is your imagination!
Anything for Alzheimer's vs. Coffee Break
One of the biggest questions you may have is "What is the difference between Coffee Break and Anything for Alzheimer's?" The answer to that question is Coffee Break (our traditional fundraiser) is a great fundraiser to do FOR Anything for Alzheimer's, but there are also many other things that you can do.
"What will you do for Alzheimer's?" Whatever you are passionate about, there is a fundraiser to match!
Whether you would like to do a traditional Coffee Break or another fundraiser, the signup process is the same. Simply complete our online registration form and support the almost 11,000 people living with dementia in Niagara.
How to Register
Have an idea and want to get started? Complete our online registration form today.
Can I collect pledges online?
To collect donations online there are 2 options:
Have your donors go to our website and use our donate now button - ask them to note your name and event in the comment box of their donation

If you are interested in setting up a peer-to-peer fundraising page to share on social media and to collect donations, we recommend setting up a personal fundraising page through CanadaHelps. Contact us and we will help you set it up!
Host an Education Session on Dementia
Perhaps you have been seen the effects of dementia on an individual or a family firsthand or you have seen others on this journey and you have wanted to help spread awareness or help but weren't sure how. Host an in-person or virtual Anything for Alzheimer's / Coffee Break and invite your friends, family, colleagues, neighbours to connect, make a donation and learn about Alzheimer's disease and other dementias.
Topics for this year:
Dementia Question and Answer:

Educators will answer our top 5 questions we get about dementia and then you can ask your own.

Meaningful Activities to Keep your Brain Healthy: Educators will lead the group in interactive activities and provide information about keeping the brain healthy.
Staying Safe in the Community: Educators will talk about what you or your organization can do to support persons living with dementia when they are engaging with your group or in the community.
Sessions are offered in person (minimum 8 people, maximum people as per current COVID guidelines) or via Zoom. 
To book an education session fundraiser contact Karen Post at [email protected] or 905-687-6856 x556.
Why Host an Anything for Alzheimer's Event?
Every dollar raised by Anything for Alzheimer's / Coffee Break goes directly back to local programming for persons living with dementia and their care partners here in Niagara. None of our wellness or social programs are funded by the government. We rely on the support of our fundraising endeavours for approximately $500,000 annually.
You can make a difference with any amount raised. Here are some examples of what your generosity will provide. Your support during this time towards our greatest areas of need is deeply appreciated.
$30 – One person living with dementia who has lost their driver's license can get to an essential appointment or run an errand locally with a taxi voucher.
$50 – Eight people living with dementia can attend our Virtual Respite Recreation Hour and enjoy fun and meaningful social interaction while caregivers take an hour break.
$75 – Five people living with dementia can attend a one and a half hour session of our Wellness program designed specifically for people living in the early stages of dementia to share experiences, and engage in fun health promoting activities in an inclusive and safe virtual environment.
$100 – Eight people living with dementia and their care partners can attend a two hour Brain Wave Café session. It is a fun social gathering designed to help participants be connected to their community, meet new friends and participate in brain healthy activities. It is facilitated by two professional staff members.
Check out all our virtual social and support options we offer our clients and the general community!
A word from our hosts
We asked some of our top hosts why they participated and what advice they would give! Here is what they had to say.
Advisory Group Coffee Break Testimonial
The ASNR Advisory Group has been a strong supporter of our Coffee Break campaign. This group of individuals living with dementia want to help fight the stigma of dementia. Read more about why the Advisory Group supports the Alzheimer Society.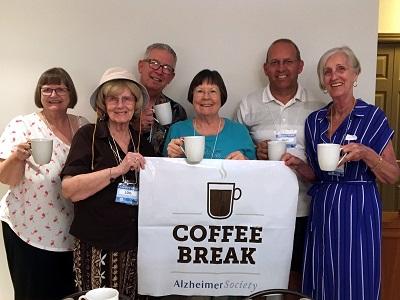 Shirley Dekker Testimonial
Shirley Dekker hosted her first Coffee Break in 2019. She loved how easy it was to organize, and enjoyed hosting her friends for coffee and chitchat! Read why Shirley chooses to support the Alzheimer Society.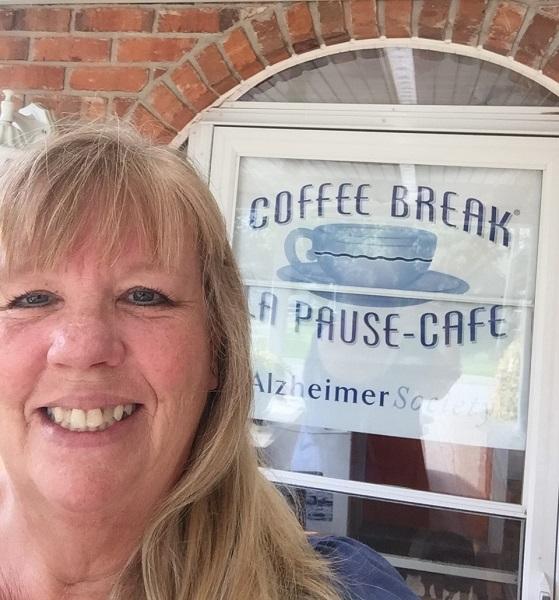 Wills Chevrolet Testimonial
Sarah Wills is carrying on a family tradition of hosting Coffee Breaks.  Learn why they starting supporting the Alzheimer Society, and how they put a special twist on their fundraising events!