The IG Wealth Management Walk for Alzheimer's
read
This January, join us and pledge to walk 10,787 steps - one step for each person in Niagara living with dementia. We have many fun events throughout the month, so register today & invite your friends.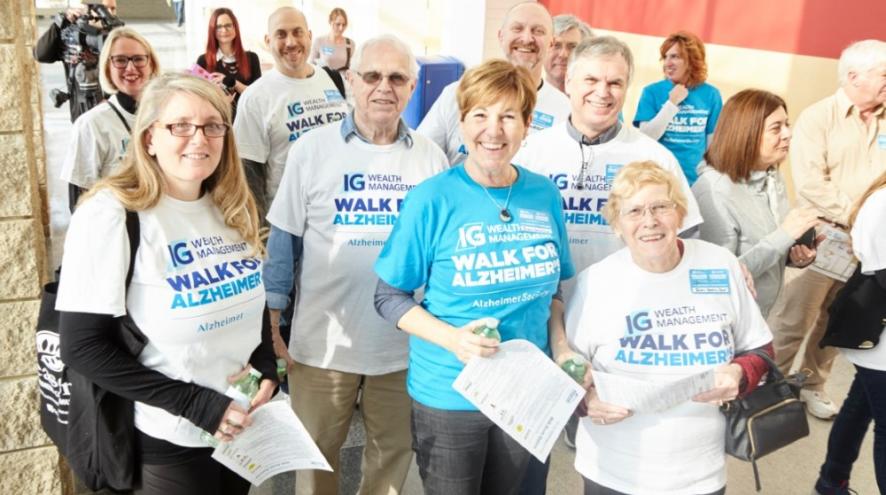 2020 IG Wealth Management Walk For Alzheimer's
On Sunday, January 26, 2020, hundreds of people came out to support the IG Wealth Management Walk for Alzheimer's at Brock University. All together we raised over $135,000 and helped increase awareness and raise much-needed funds to support local programs and services in the Niagara Region.
Thank you to Muir Image Photography for capturing the amazing spirit of the day! View all the event photos to see the amazing support of our community!
| Top Individuals | Amount Raised |
| --- | --- |
| 1. Mark Ewert | $5,000 |
| 2. Ken Henricks | $4,245 |
| 3. Peter Scott | $3,725 |
| 4. Doug Rapelje | $2,730 |
| 5. Anne Treschak | $2,600 |
| 6. Bob Ramsey | $2,263 |
| 7. Shirley Allan | $2,135 |
| 8. Peter Huebert | $2,130 |
| 9. Teena Kindt | $1,900 |
| 10. Natalie Walker | $1,844 |
| Top Teams | Amount Raised |
| --- | --- |
| 1. IG Wealth Management Niagara Region | $21,778 |
| 2. Team Avondale | $12,422 |
| 3. Team Bob White | $5,720 |
| 4. Bolton Wanderers | $4,721 |
| 5. Doin' it for our Dads | $2,319 |
| 6. Team forget me nots | $2,270 |
| 7. Irma's Team | $2,055 |
| 8. Sobeys Niagara | $1,598 |
| 9. Alpha Pi Phi Brock University | $1,532 |
| 10. Campbell's Neurocognitive Aging Lab | $1,530 |
| Honourable Mention | Amount Raised |
| --- | --- |
| 1. Alzheimer Society Staff | $8,955 |
| 2. Foundation Board of Directors | $5,935 |
| 3. Society Board of Directors | $5,515 |