Volunteer
You can make a difference in the lives of people living with dementia. Our volunteers are provided certified training programs to enhance their knowledge so they can go into their roles with confidence.
Volunteers are critical to organizations like ours. To help you find the right fit and make the most of your volunteer experience, please register to become a volunteer.
Tele-Care Volunteers can report their volunteer hours using our volunteer time sheet.
Our Coordinator of Volunteer Programs is always available to answer any questions you may have.
Shawn Watson
Coordinator of Volunteer Programs
[email protected]      
905-687-3914 ext. 544
Benefits of Volunteering
Alzheimer Society volunteers are people like you that want to make a difference in their community. Join us and you will have a chance to:
Help make life better for those living with dementia
Help improve the quality of community life
Support a cause that you believe in
Work with other members of the team to achieve a specific goal
Volunteering can also help make a difference in your life. You can:
Use your professional skills in a new setting
Meet other people who share your interests and passions
Learn new skills and discover new talents
Advance your career or gain experience and qualifications for future employment, scholarships, bursaries and academic programs
Build your network and establish contacts in your field of interest
Boost your health and reduce your stress
Create a schedule that works for you
Have fun!
Volunteer Application Process
Fill out our online volunteer application
Complete a one-to-one interview with our Coordinator of Volunteer Programs
Sign up and complete our Online Volunteer Training
Complete one mandatory in-person Workshop for new volunteers
Volunteer Opportunities
Volunteers can make a big difference in the lives of people living with dementia. Our orientation and training programs enhance our volunteer's knowledge so they can go into their role with confidence.
Click here to view all available volunteer opportunities.
Volunteer Rights and Responsibilities
Guiding principles keep relationships balanced between organizations and their volunteers by ensuring they are reciprocal. We are committed to developing and supporting volunteer involvements that benefit both the Society and the volunteer(s).
Volunteers have rights
The Society recognizes that volunteers are a vital human resource and will commit the appropriate infrastructure to support volunteer involvement.
The organization's practices ensure effective volunteer involvement
The organization provides a safe and supportive environment for volunteers
Work in a safe and healthy workplace, to know about unsafe work and to refuse unsafe work
A supportive environment in which to work and contribute
Effective and meaningful volunteer involvement practices
Have input about their role and ideas regarding the program
Provide feedback and receive feedback when requested and at regular intervals
Ask for and receive support from their supervisor when required
Be accommodated for any ability needs to complete non-essential tasks of the role
Volunteers have responsibilities
Volunteers make a commitment and are accountable to the organization.
Volunteers will act with respect for the cause, the stakeholders, the organization, and the community
Volunteers carry out their involvement responsibly and with integrity
Click here to view and download the Volunteer Manual for more information.
Accessibility Commitment Statement
The Alzheimer Society of Niagara Region is committed to treating each person in a way that will allow them to maintain their independence and dignity. The Society believes in integration and equal opportunity. We are committed to meeting the needs of people with disabilities in a timely manner, and will do so by preventing and removing identified barriers to accessibility, educating employees and meeting the accessibility requirements under the Accessibility for Ontarians with Disabilities Act.
Please click here to view our AODA compliance report.
If you require assistance to access our services, please contact:
David Angus
Director of Programs and Services 
905-687-3914 ext. 537
Testimonials
"With the Alzheimer Society, you are giving so much to the senior community: offering social activities, having fun, and helping our clients recall memories. Volunteering for me has been beneficial for these reasons, plus the joy I see on a client's face when they participate in our social activities."

"As a volunteer, the Alzheimer Society has given me a chance to give back to our community, especially when dealing with this terrible disease. I feel good about myself knowing that I make a difference in people's lives."

"As a volunteer, it makes me feel like the world is larger than my narrow scope and I'm grateful to be involved in improving someone's day."
Volunteer Spotlights
Our volunteers truly make a difference in the Niagara community. Learn more about some of our star volunteers below.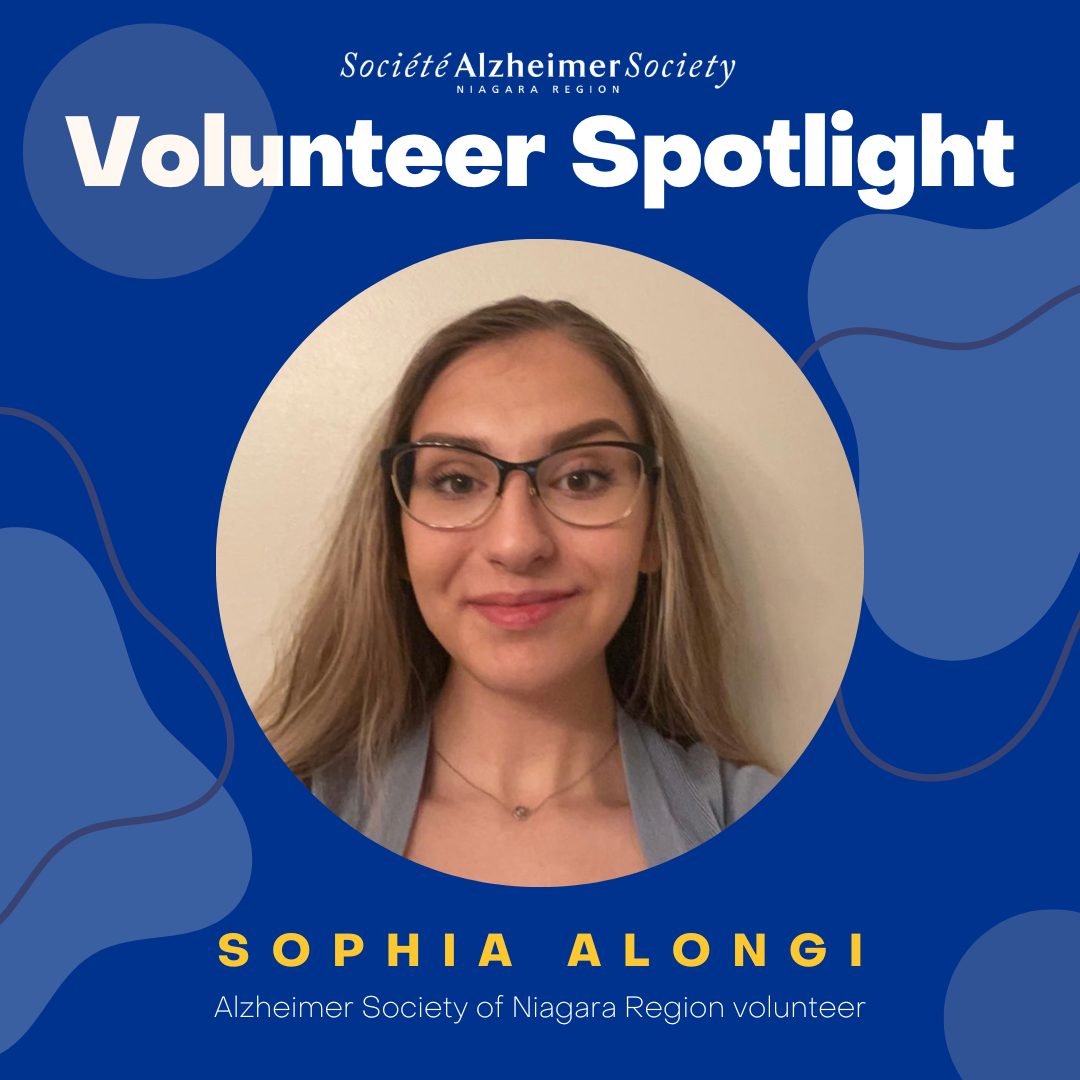 Sophia Alongi
Sophia joined the Alzheimer Society of Niagara Region as a volunteer less than a year ago. Sophia spends her volunteer time between Friendly Visiting, our Aging & Dementia Simulation, Brain Wave Cafés, and many other programs offered by the ASNR.