Aurora Bridge Club's event raises funds
York Region
read
The Aurora Bridge Club, which has been in operation since 1965, hosted its Longest Day event June 21, offering free meals, bridge and a chance to learn about AS York and the programs and services it offers.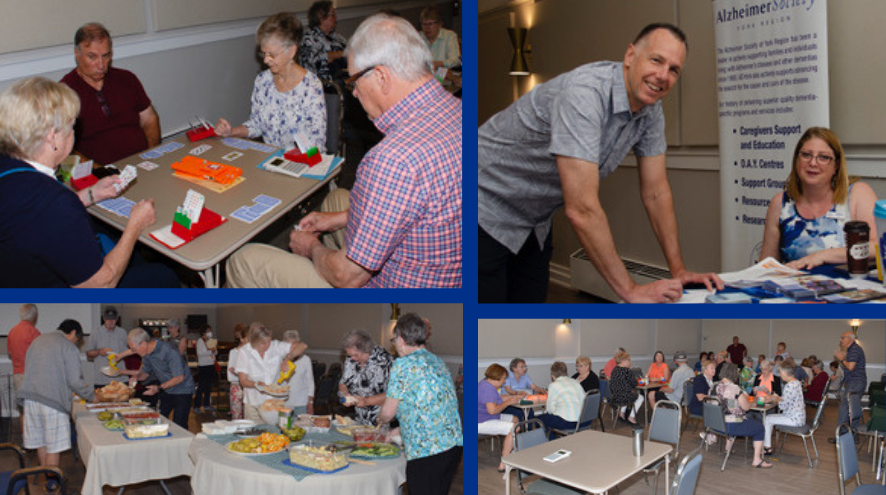 While it wasn't as busy as pre-pandemic years, the Aurora Bridge Club's first large in-person event since COVID-19 was a success, with about 65 people coming out to play during the Longest Day, June 21.
"The Aurora Bridge Club normally had 18-25 tables at a Friday's game, we are now a quarter of that size," said Anna Kennedy, the Aurora Bridge Club's president. "We have to build up the bridge club again."
When COVID-19 forced the club to close it doors, people turned online to play the "highly addictive game," Kennedy said. "People aren't willing to come back face to face."
Yet, bridge is a social game, one that pairs four people – often strangers - together to win the most points.
"It keeps seniors active, especially their minds. It's a very social activity."
The Aurora Bridge Club was founded in 1965. The club has its own constitution and is owned by the members who pay a $20/year fee. The club offers bridge games five days a week and members play out of the Newmarket Veterans' Association hall on Millard Avenue.
The goal of the Aurora Bridge Club is to keep "prices as low as possible. We want the membership to have a place to go and socialize." It costs $5/game.
Bridge is a game that can be played throughout people's lives, Kennedy said.
Prior to COVID-19, members of the Aurora Bridge Club went into local schools to teach students how to play.
Bridge helps with memory, Kennedy said.
"I sat at a table with eight and 10 year olds, and I think they played fantastic bridge."
Now that the world is opening back up, Kennedy said she hopes they will be able to get back in the schools to teach kids to play the card game that many famous people take part in including Microsoft founder Bill Gates, who Kennedy said she played with at a tournament in Toronto in 2015.
Kennedy has played at tournaments throughout Ontario. She remembers one event where an adult son was helping his father play the game. The father had fallen and broken his neck and was paralyzed. The son was holding the cards so his father could continue to play the game he loved.
"It was so inspiring to see," Kennedy said.
Kennedy said it's common to see adult children come to the club with their parents to help them play.
"You kind of get hooked on bridge. It's addictive."
For those who no longer want to play, Kennedy said they are still encouraged to come to the club, watch other people play and socialize. Many come on Thursdays when those new to the game of bridge come and learn.
For the Longest Day event on June 21, the Aurora Bridge Club offered free breakfast, lunch, and dinner to bridge players who only paid for the games they played.
Jaime Cruz, the public education coordinator from the Alzheimer Society of York Region, was there to answer questions about Alzheimer's disease and other dementias, brain health and programs and services. Cruz hosted two draws to win a basket of books and other goodies and had information available for those who needed it.
The Newmarket Veterans Club donated the space for the event and people were encouraged to make donations.
More than $3,100 was raised for research.
Despite being a non-profit organization itself, Kennedy said the members of Aurora Bridge Club always raise money for charities, including holding an event every December for the Food Bank.
This year, they decided to raise money for the Alzheimer Society of York Region. Two of their members are living with the disease and Kennedy said she personally has been touched by it: her husband's cousin is living with it and their neighbour recently sold his house because he is caring for his wife living with dementia.
"This is why you do these things," Kennedy said. "Someone you know has it and you want to do something about it."
Kennedy said the members enjoyed listening to Cruz and said they felt she answered their questions.
"We'll do it again next year," she said.
For now, Kennedy said the Aurora Bridge Club is looking to increase the number of bridge players coming to their club to "exercise their brain" and socialize.
"It's a really good game to play and you will never lose friends."
Learn more about the Aurora Bridge Club by visiting their website.