Family first - Sandy and Bruce's story
York Region
read
Holiday Giving Campaign - Sandy Howie reached out to the Alzheimer Society of York Region for support and services after her dad, Bruce, was diagnosed with Alzheimer's disease. Her dad calls his diagnosis the "biggest challenge of his life". Sandy said she is grateful for AS York's support.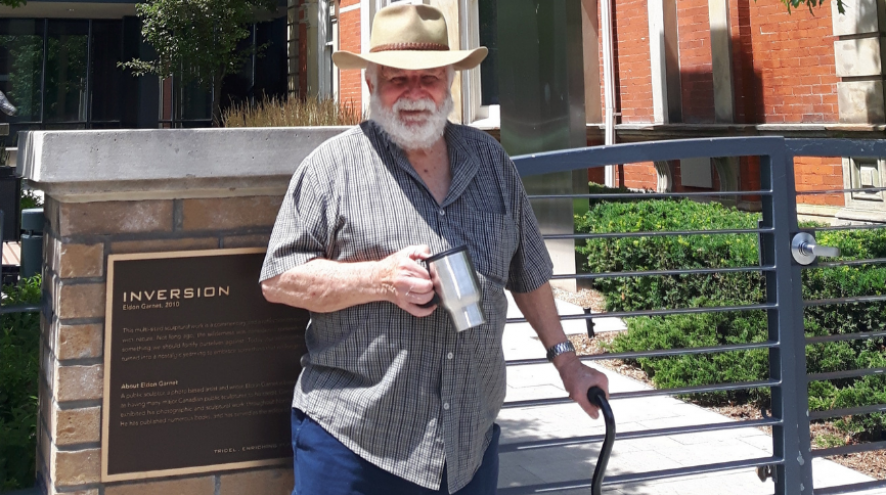 When Sandy Howie was 30, she spent six weeks in the hospital, many times close to death. Every day for 42 days, Sandy's dad, Bruce would drive himself and Sandy's mom, Nancy, from their home in north Pickering to a Toronto hospital, where he would drop Nancy off, drive to Richmond Hill, work all day, drive back to the hospital to be with his daughter, drive home and do it all again the next day. 
That example of love, dedication and family is why Sandy said she will always help her dad who lives with Alzheimer's disease. While she doesn't consider herself a caregiver, Sandy, who has five siblings does her best to look after her parents when her oldest sister, Karen, is unable. This includes taking her dad to his doctors' appointments or running errands. 
"Family is the most important thing," said Sandy, who has five siblings: Karen, Ken, Catherine and Daniel. The Howie family grew up in north Pickering where her parents owned a hobby farm. Her years living on the farm were idyllic, Sandy said. She owned horses and spent her time caring for the them. 
The family always had great meals – her dad was in charge of breakfasts and on the weekends there was a large one filled with bacon and eggs and pancakes. There was also sports. Her dad coached three of his children's baseball teams and her a brother's hockey team. Weekends were extremely busy and often saw the family going away for tournaments. 
"My parents lived for those times," Sandy said. "They lived for their kids. They were always very caring and were there for us." 
Her dad is a gregarious person who loves people and good food ("we had steak two times a week growing up.") He was known for always joking and teasing, and is known for wearing his "cowboy" hat when he goes out. 
Her dad always said when he goes out to the stores: "They might not know my name, but they recognize the hat." 
Bruce owned a trucking company and later worked as an account executive for a freight broker. The family eventually sold the farm and moved to Stouffville, where her parents and sister, Karen, still live. Life went on after moving from the farm until about two years ago when Sandy noticed that her dad was beginning to repeat himself. When the repeating became more common, she took him to the doctor, where he was diagnosed with Alzheimer's disease. 
The doctor, she said, noticed some frontal right lobe brain damage. She said when her dad was younger, he played hockey and ran head first into the boards, which might have caused that type of damage. Bruce also had a benign brain tumour about 10 years ago. 
Sandy said her dad went down to a Toronto hospital every day to have the tumour shrunk with radiation and each day he would bring doughnuts for the nurses suggesting you can't go anywhere without bringing something, Sandy said with a laugh. 
My dad "would give you the shirt off his back." 
The progression of Alzheimer's disease has been slow, Sandy said. 
"He went from repeating himself to recently saying he can't remember what happened the day before. Although his short-term memory is really bad, the long-term is still there and it really is a blessing as we have something to talk about. Dad tends to get frustrated (when he can't remember) so I try to word things so not to set him up for an 'I can't remember, moment.' We stay in the moment of that day." 
The Alzheimer's disease diagnosis was hard on her dad, who was always a take-charge kind of guy. "When he lost his license, losing the ability to do things or go out when he wanted hit him hard, and he said he finds this to be the biggest challenge in his life," Sandy said. "I tell him 'I can't imagine how you feel, but I am here for you. And mom and Karen are here for you, too.'" 
When Sandy takes her dad out for a drive or for an appointment, her dad opens up to her and she said she is able to help him relax about what is happening to him. They talk about his family – he remembers his lineage including his famous Montreal family, and Sandy said she plans to record these stories so the family has them. 
"He would do anything for his kids. He is not a perfect man, but no parent is, but I think I learned a lot of compassion from him. I am a daughter who is trying to her best to help her dad." 
She is also a person who knows when to reach out for help. Sandy said her dad's father also had dementia and his sister currently lives with the disease. Her dad's brother, Doug, who passed away last year, was involved with an Alzheimer's Society up north and she learned by about the organization through that connection. 
Her first contact with the Alzheimer Society of York Region (AS York) was through her social worker, Rebecca Wardlaw. Rebecca told her about the Stouffville D.AY. centre, located out of Parkview Village on Ninth Line, which offers a program for people living with Alzheimer's disease and other dementias. 
The all-day program provides socialization for people living with the disease and respite for their caregivers. Sandy said her dad attended three times before COVID-19 forced the closure of the in-person program in March. 
"He really enjoyed himself. It gave dad the opportunity to go out and to meet and talk to people again." 
When the D.A.Y. program closed, Sandy said her dad was not able to participate in any other programs and he missed the D.A.Y. program very much. 
Sandy was able to attend one caregiver support group over Zoom and said she found it incredibly reassuring and supportive being able to discuss with others what they were going through living with a loved one with dementia. 
During the closure, Rebecca reached out to Sandy several times, checking in to ensure she and her family were doing OK. 
"I know she is there for me when I need her. She tells me not to hesitate to reach out to me for anything. She is amazing, so amazing. 
"Your society has been my lifeline, a lifeline for many people. I sat in on a Zoom meeting and I listening to people chatting. I really came to understand how important what (the AS York) does for people, how blessed we are to have an organization like yours to be there for us." 
Due to COVID-19, the Stouffville D.A.Y. program is not yet open. The Aurora and Thornhill programs are open with strict guidelines in place for the safety of clients and staff. In order to get her father to one of those two locations, Sandy would have to set up dad up with York Region Transit, something she is not yet comfortable doing. 
"It's just too bad about COVID." 
For now, Sandy will continue to reach out to AS York. 
 "Not reaching out to (AS York) is not an option, it's an absolute necessity. If you want what's best for your loved one, I think it would be very challenging to do it without the Alzheimer Society as they give you such incredible direction and support. I got that from the Alzheimer's Society. Anybody who has a loved one with Alzheimer's absolutely shouldn't hesitate to reach out. …They know what is coming, and what to do." 
Sandy said she knows every person at AS York is there for her. 
"There is a level of compassion at AS York. People aren't just doing their jobs...they are there for us and with us." 
To help support families like Sandy and Bruce, donate today.