Friendship and understanding
York Region
read
Three people share their experiences with the Alzheimer Society of York Region young-onset dementia support group, which is now virtual.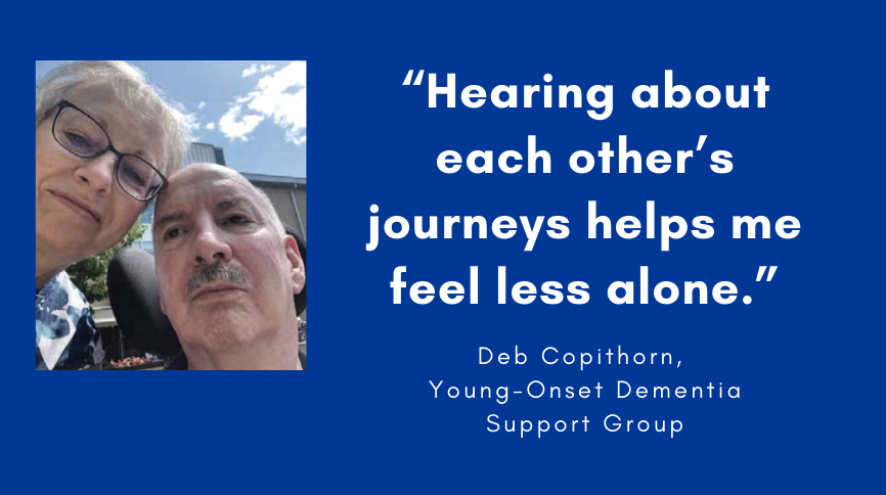 When Deb Copithorn was at her first Alzheimer Society of York Region support group for spouses living with dementia, she knew she was in the wrong place – her fellow caregivers were in their 70s and 80s, having lived a long life with their partners.
Rocky, her husband, was only 59. Deb immediately left that support group and joined the one for spouses of those diagnosed with young-onset dementia.
It was there she found her people – people whose spouses were in the prime of their lives when they were diagnosed with this fatal disease and who understood her. They are still her people.
The tight-knit group meets once a month, usually in person but now, because of COVID-19, over Zoom, and are available to help each other at any time.
What Deb said she likes most about her support group is "how we help each other, texting late at night. Meeting for coffee or dinner when times are tough or just for friendship. Those days when I didn't think I'd survive and texted with another group member until wee hours, sometimes in tears, but knowing the person supporting me understood."
Young-onset dementia is diagnosed, on average, between the ages of 45 and 64. Caregivers have to provide support to a partner who is rapidly declining in both cognitive and physical function, while still trying to work and take care of their families. While a support group doesn't take away those things, it helps being with people who are able to say: "'I understand what you are going through' and they really do. It's important to see others that are experiencing the same thing. They understand the journey and the battles you face," Deb said.
 The support group allows people the opportunity to talk about what they are going through, problems they have encountered and discuss potential solutions. The group touches on all aspects of day-to-day living. The benefit of this support group is there are people at various stages of the journey.
Nancy Carter's husband, Terry, died in October 2019 after a battle with dementia.
Nancy continues attending the group to provide support to people at different stages in the journey.
That's important, Deb said, "so we can see (the journey is) always evolving. Those starting can see what's ahead and those at the end can remember where they were."
Nancy agreed.
"Everything is still fresh in my mind." Nancy said she remembers the difficulty of friends disappearing after Terry was diagnosed, unable to handle the changes in her outgoing husband. With the support group, "it was good to be with people where you don't have to second guess. They understood you as you are...And that is a good thing."
Renu's husband, Inder, has frontotemporal dementia, which makes him paranoid, suspicious, angry and prone to violent outbursts. Renu takes care of her husband, but from a distance. Inder lives in a private retirement home.
For Renu, life is difficult as she lives with a disability, tries to do what is best for her husband, who – due to the disease – isn't interested in the help from her, and the guilt that comes along with it. She said she is exhausted, sad and lonely. Her fellow support group members, she said, understand her.
"We know what we are going through. Plus they are emotional support." Deb agreed. "Hearing about each other's journeys helps me feel less alone."
To learn more, contact Hemal Joshi at [email protected]
To learn more about the young-onset dementia support group, email Hemal Joshi at [email protected]