Jake is racing to win and raise funds
York Region
Every time Jake Cowden reaches the podium in his go-kart races this September, his family will donate $100 to AS York. Jake's grandmother lives with dementia and funds raised will go to programs and services to help caregivers.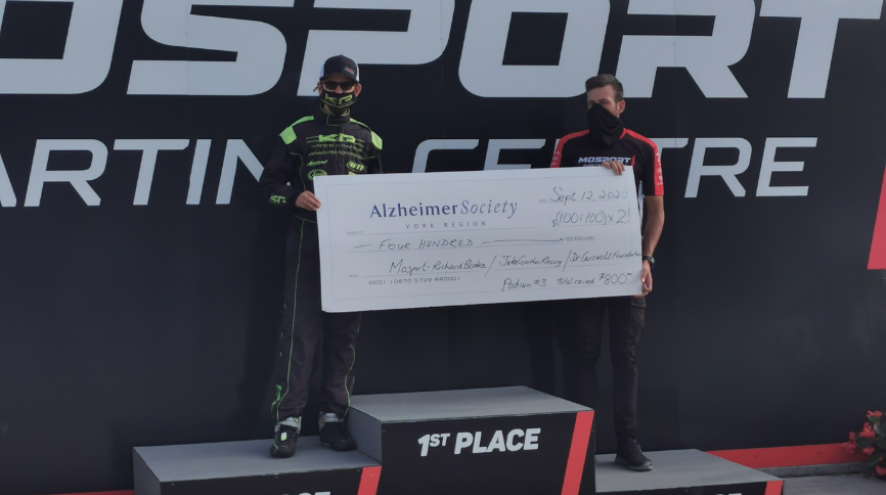 When Jake Cowden is go-kart racing he is thinking of one thing – winning.
But this month, World Alzheimer's Month, winning is even more important. That is because every time Jake gets to the podium in September, his family will donate $100 to a fundraiser he is hosting in support of AS York.
Jake's grandmother, Joyce Thompson, is living with dementia.
Jake said he has always been close to his grandmother, spending time with her, hanging out while eating her baked goods. His grandmother, he said, was always proud of his go-karting, cheering him on trackside and asking how he is doing.
Jake has been competitively racing for five years. He races on two local tracks almost every weekend, Goodwood Kartways and Mosport Karting Centre, and travels to other tracks to race. Jake races both types of go-karts: Briggs motors (80-90-plus kilometres).
"I really enjoy Briggs," Jake said. "There is more passing happening in that category typically. It is all about the kart and the driver's ability...The driver gets good by practice."
Jake races every weekend from April to October. He has completed three races this September, finishing third, first and second and has a few more races to go.
So far, he has raised $1,575 to help support programs and services at AS York.
"People have been very generous."
Jake said he hosted this fundraiser "so that, (in) future, people don't have to go through the sadness of grandparents not being able to function." Jake said his grandmother is no longer as energetic. "I have to watch out for her safety."
He said the fundraiser also raises awareness about AS York and the programs and services it offers, including the DAY program.
"Donations also help the caregivers who have very tough challenges, by offering support groups and education. My mom really appreciated those services. It (dementia) is an all-consuming thing."
Writer's Note: At the end of his fundraiser, Jake raised $2,010, doubling his initial goal. Those funds will be matched by the Carswell Family Foundation, bringing the total raised to $4,020.
A giant thank you to Jake for not only raising money to support caregivers, but for spreading awareness about Alzheimer's disease and other dementias and the services provided by AS York at his events. We know the courage it takes to do that, and we are grateful.
Congratulations to Jake on his wins.
To host your own fundraise, contact Carol Dowell, events coordinator, at [email protected]