Alzheimer Society of Nova Scotia – Virtual Provincial Conference
read
The Alzheimer Society of Nova Scotia (ASNS) offers educational opportunities for families, health care professionals and the general public by hosting our annual Provincial Alzheimer Conference.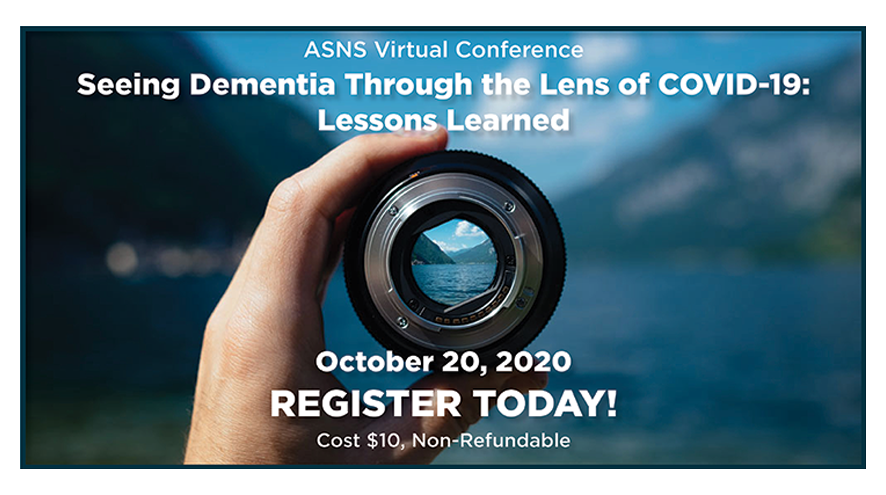 Seeing Dementia Through the Lens of COVID-19: Lessons Learned
October 20, 2020 from 8:30 a.m. – 3:00 p.m.
 
Download the 2020 Conference Booklet
We invite you to join us Tuesday, October 20th for a one-day virtual conference that delivers the same quality content you expect in a brand-new, virtual format.
Every October, we look forward to gathering with our colleagues in the dementia sector for our annual provincial conference. We heard loud and clear that you are still eager to connect to discuss the latest trends and exchange best practices in dementia care – so we are navigating new territory and going virtual!  The conference planning committee and Alzheimer Society have been finding engaging ways to learn and connect – while apart!
Given its far reaching impact on our sector and the value of timely knowledge transfer, the 2020 conference will be focused on the intersection of dementia and COVID-19. We have handpicked a selection of outstanding speakers to explore the many complex layers of the pandemic and its impact on dementia.
Program Overview
We will start the day focusing on "the big picture" by discussing some of the factors that made our sector so vulnerable and the realities of day to day living during the pandemic. The afternoon will then focus on silver linings by highlighting innovations, sharing tools for the future, and showcasing acts of kindness.
To learn more about the program, please view the conference snapshot.
Call for Submissions – Extraordinary Acts of Kindness
While the conference will facilitate a valuable educational opportunity, we are also hoping to inspire you with some of the heartwarming stories we have heard since March – examples of human nature shining through during difficult times. If you have a relevant story about a person or group of people going "above and beyond" their call of duty to help a person(s) with dementia or colleague(s) during COVID-19, we would love to hear it!
To submit an act of kindness, please submit the following details to [email protected] by Friday, September 25:
A photo (if possible)
A few brief sentences annotating the photo or explaining the act of kindness. Be sure to include who did the act of kindness and who benefitted from the act of kindness.
Submissions will be reviewed, curated, and shared in the last segment of the virtual conference.
Registration
The conference is being offered at a nominal registration fee of $10.00. Please note that the registration fee is non-refundable. To facilitate providing your unique virtual conference link, we ask that you please register online.
*Note that we can invoice organizations that have 5 or more individuals registering for the conference. If online registration is not possible for you, please contact us to find an alternative way to register at 1-800-611-6345.
Registration is limited. Do not delay in securing your spot!
Technical Requirements
You can participate in the ASNS virtual conference on any PC, MAC or mobile device. We recommend that you either download or update Zoom on your device before participating. We also recommend performing an internet connection speed test before joining the Zoom webinar.
Recommended bandwidth for webinar attendees: 600 kbps/1.2 mbps (up/down) for high quality video and for gallery view: 1.5 mbps/1.5 mbps (up/down)
Please double check that the device you will be using to attend the virtual meeting meets the minimum technical requirement to ensure a positive conference experience.
Terms and Conditions
Your registration link is intended for your use only. Thank you for respecting this.
No liability is assumed by ASNS for changes in program content, speakers, and/or technical difficulties.
Any form of recording the live sessions or publishing conference material is strictly prohibited.
Thank you to our sponsors:
We asked our sponsors to help us give back to the dementia community by offering the virtual conference at an accessible, low cost. Sincere thanks to the following sponsors for helping make this possible: