The IG Wealth Management Walk for Alzheimer's
read
The IG Wealth Management Walk for Alzheimer's is an opportunity for participants to remember and celebrate people in their lives who have been affected by dementia while raising funds to support people living with the disease today.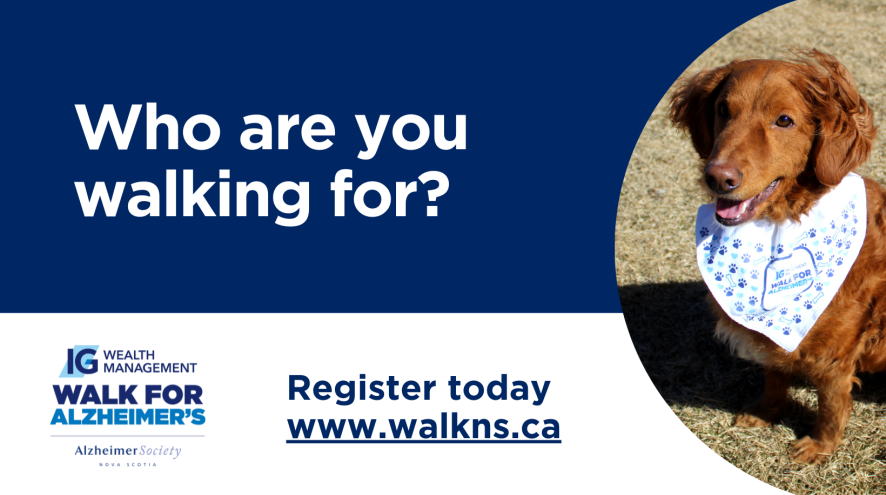 The IG Wealth Management Walk for Alzheimer's WALK YOUR WAY IN MAY 2022 is here!
Who are you walking for?
The 2022 IG Wealth Management Walk for Alzheimer's is about coming together for a great cause and having a blast doing it. You can register now at www.walkns.ca!
WALK YOUR WAY IN MAY is taking on a life of its own and we need you to take up the challenge. 
Here's how it works:
Register now and begin fundraising. Pick a date in May that works for you and your team and pick an activity that suits you. For example, you can:
Do a 5km walk around your neighbourhood
Have a family dance party in your living room
Walk 17,000 steps for the 17,000 Nova Scotians living with dementia or
Whatever else you choose to do! Just remember to have fun!
BUT WAIT…
Here is the part when we all come together, and we mean everyone!
All FOUR Atlantic Provinces are coming together for a Kick-off Broadcast Extravaganza!!
Mark your calendars for Sunday, May 1st as we come together online to enjoy amazing talent from around our four beautiful provinces.
The celebration will be just that, a celebration of you and everyone who is touched by dementia. You will hear real people sharing their stories. Real stories of true impact and support and stories of personal journeys from all corners of the Atlantic provinces.
Many more details will be coming your way on this epic new collaboration but for now, think prizing, toe tapping talent and belly laughing comedy all while rallying the online community to help support the people we all serve.
AND THERE'S MORE...
We're launching a new NOVA SCOTIA landing page. Wherever you live, you will know that the services and supports delivered by ASNS are there for you and your loved ones right in your community!
So, rally your family and friends, colleagues, and neighbours and WALK YOUR WAY IN MAY!