The IG Wealth Management Walk for Alzheimer's
read
The IG Wealth Management Walk for Alzheimer's is an opportunity for participants to remember and celebrate people in their lives who have been affected by dementia while raising funds to support people living with the disease today.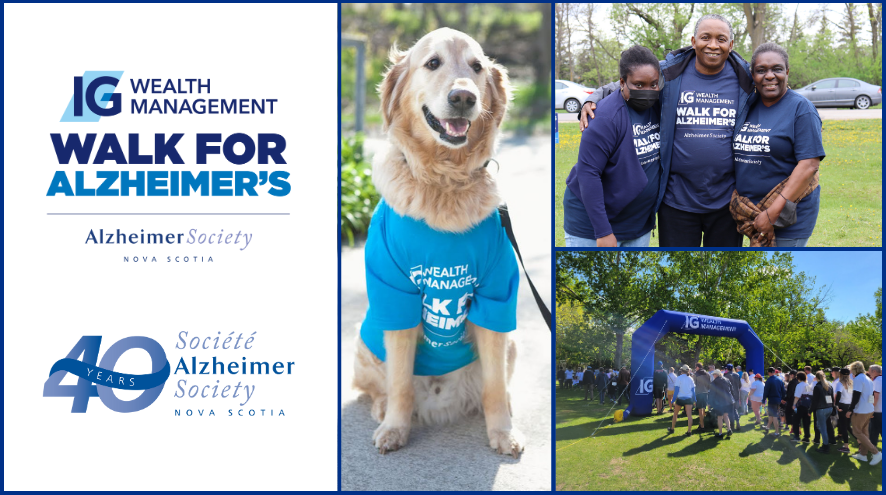 The IG Wealth Management Walk For Alzheimer's - Walking Together to Shape the Future! 
The Alzheimer Society of Nova Scotia is thrilled to announce that our largest annual, nation-wide, fundraiser is back as an exciting in-person event this year! The 2023 IG Wealth Management Walk for Alzheimer's will be held in six regions across the province on Sunday May 28, 2023:
Central Region - Halifax
Annapolis Valley Region - Coldbrook
Digby, Yarmouth, Shelburne Region - Yarmouth
Antigonish, Guysborough, Pictou Region - Havre Boucher
Cape Breton Region - North Sydney
Cumberland, Colchester, East Hants Region - Bible Hill
Ways to Support the IG Wealth Management Walk for Alzheimer's:
REGISTER FOR YOUR LOCAL WALK: gather your friends, family, or colleagues and form a Walk team to register for the Walk. Join as a team captain, team member, or an individual.
START FUNDRAISING AND SHARING:Create your fundraising page and reach out to your network for support and donations.
JOIN US ON WALK DAY: Let's come together for an inspiring community event that recognizes our commitment to helping Nova Scotians affected by dementia by connecting them to crucial support programs and services.
MAKE A DONATION: If you cannot attend the Walk in-person, show your support by making a donation to the IG Wealth Management Walk for Alzheimer's in Nova Scotia!
Thank you for your support as we walk together to shape the future!