Making a referral in Nova Scotia
read
First Link® provides confidential, timely support and education, helping families prepare for the challenges ahead and avert crises.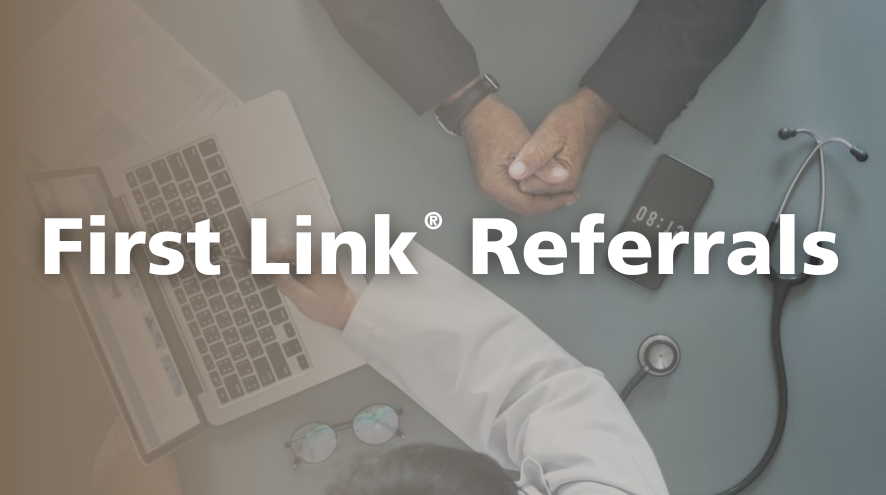 Making a First Link referral
The First Link® referral program provides an opportunity for health care providers and professionals to refer people with dementia and their families to the Alzheimer Society for education, resources, navigation, and intentional follow-up support. This direct referral helps to avoid crisis as it means we connect to families up to 11 months sooner than those who self-refer.*
If you are a healthcare professional or community service provider:
Download and fill out our electronic First Link Referral Form
Obtain verbal or signed consent from the client/patient
Fax or email it to the Alzheimer Society of Nova Scotia
Within three weeks, we will make an initial attempt to contact referred clients to offer tailored education, information and ongoing support. 
"The First Link program has been a game changer because it allows me to connect patients and caregivers to the Society early on in their journey." -

Suzanne Sheppard-Jackman, RN BN GNC(c)

,

Geriatric Nurse Assessor, Seniors' Team, Nova Scotia Health

 
How does First Link work?
When your patient/client gives you permission to share their information with Alzheimer Society staff, we will contact them directly, within 3 weeks of referral. More urgent referrals are possible.

We will connect them to a network of education and support services specific to their needs. We link to community help, both at the time of diagnosis and throughout the progression of the disease.

Because First Link® focuses on service coordination, resources and planning, clients become more confident and involved in their own care, reducing the demand on family physicians, long-term care and emergency services. Families also are better equipped to create their own action plans to tackle future legal, financial and health needs.
*'Throwing a lifeline': the role of First Link® in enhancing support for individuals with dementia and their caregivers. Carrie A McAiney (2012)