Passing the Programs & Services Torch
Nova Scotia
read
Introducing our new Director of Programs & Services, Sacha Nadeau.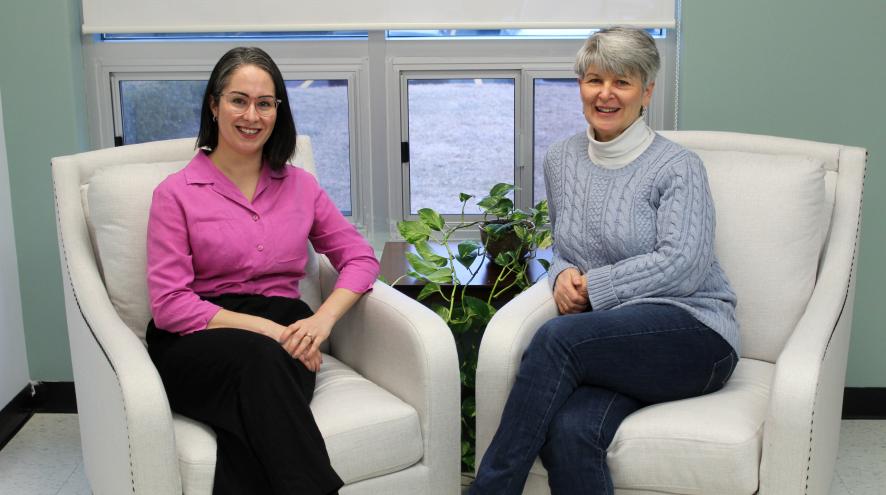 I joined the Alzheimer Society of Nova Scotia in 2004 on a short-term contract to help with the provincial conference and here I am now, making plans to retire on March 31st.
It has been a rewarding 18 years to be part of a committed organization that truly wants to make a difference in the lives of people with dementia and their families and friends. I have always appreciated the willingness of individuals and organizations throughout Nova Scotia and beyond to collaborate, contribute to and support our work, and to get behind new initiatives. We couldn't make the impact that we do without the volunteers, community partners, guest speakers, sponsors and donors who all contribute to our work.
There have been lots of changes over the last two decades, and I am going to focus on two that show how ASNS continues to adapt to meet growing needs.
Ten years ago, we attended the first International Changing Melody forum in Toronto held by the Murray Alzheimer Research and Education Program, University of Waterloo. This forum embraced the involvement of people with dementia as part of the planning process and a space to share their experience of living with dementia. The following year, we held our first Early Stage Forum for people living with early-stage dementia and their care partners and have continued to expand our learning and support programs to involve people with dementia, to support them and to learn from their perspective. I now can't imagine our Society without programs for people living with dementia and engaging their voices in everything we do including research, program development and events.
The other change has been technology. An easy example is going from paper charts to electronic databases to make our work more effective and efficient. When pandemic restrictions were introduced in March of 2020, it provided the urgency, time and priority to modify our existing First Link® programs of education and support to be delivered virtually. This opened access to Nova Scotians from anywhere in the province to attend an education series, support group or a lecture on a specific topic, from their own home. While we hope in-person programming resumes soon, we will always continue some virtual programming so that everyone has access to the education and support they need in a timely fashion.
ASNS has been building our scope and implementing a range of programming over the years, supported by our professional, passionate, and dedicated staff. And with pleasure, I would like to introduce one of those staff, Sacha Nadeau, as our new Director of Programs & Services.
Sacha has been with the Society for nearly three years and has worked in the dementia field for 10 years. She brings a unique set of skills and talents in research, knowledge translation and conference organization to the role.
"It is such an exciting time to be stepping into this role, maintaining our momentum and steering our dynamic team into the next chapter of ASNS," says Sacha. "I look forward to continuing to work with staff and community partners to meet the changing and growing needs of people with dementia and their care partners."
It makes it is easier to leave a job that I have loved when there is a shining light ready to carry the torch.