First Voice Perspective: Caregiver Support Groups
Nova Scotia
read
"It's very therapeutic to be able to offer an answer or suggestion to someone that's dealing with something you've gone through yourself."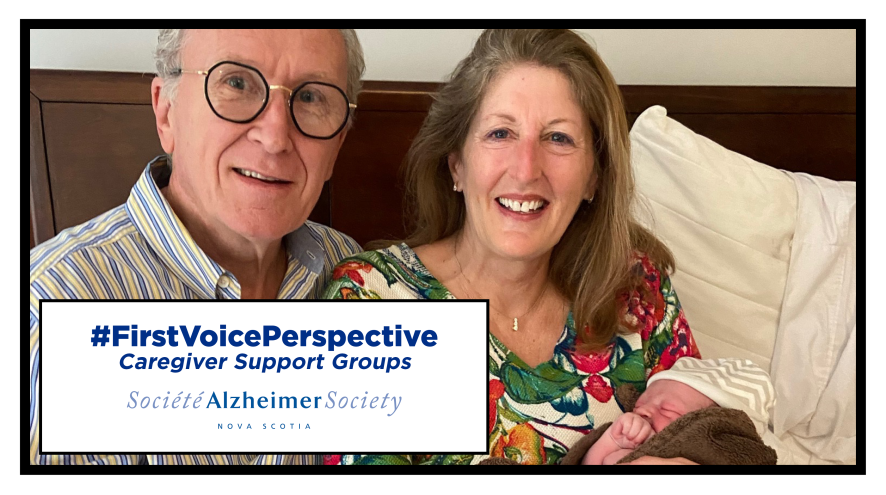 January is Alzheimer Awareness Month, and this year some of our clients will be sharing how the support of the Alzheimer Society of Nova Scotia (ASNS) has helped them in their dementia journey. We hope that these stories will encourage other people to reach out to us as early as possible, so that they can also receive the support they need.
Barbara and Paul Kent have been caring for Paul's father, who lives with dementia, for about eight years. During one trip to the Geriatric Clinic, they were encouraged to contact ASNS. They were interested in learning more about how the disease would progress and having support along their journey.
Soon after getting in touch with us, they started attending a caregiver support group.
"It's heartwarming to hear that other people share in your concerns and your frustrations," says Barbara, speaking about the support group. "We began to see familiar faces, hear familiar stories. We found that it was a great comfort to us. Now, we give as much as we get, since we've become more experienced."
Caregiver support groups (currently held on Zoom) are always there to welcome new members, if you're caring for someone with dementia and need support. The groups offer a safe environment where you can learn, share, and help each other.
"It's very therapeutic to be able to offer an answer or suggestion to someone that's dealing with something you've gone through yourself," says Barbara. "When you hear the frustration in their voice saying, 'I don't know what to do'. You can say, 'you can try this', and we know from experience."
It can be hard to seek out support, but it's never too late to reach out to us.
"I encourage people to try," says Barbara.
Even if you haven't received a diagnosis but have concerns about memory loss, we're here to help. You can call us toll-free at 1-800-611-6345 and learn more about caregiver support groups and other programs today.