Equity, Diversity & Inclusion
Alzheimer's disease and other dementias do not discriminate, and ASNS is committed to supporting ALL Nova Scotians on the dementia journey. Read more about our commitment to progressing Equity, Diversity & Inclusion as core elements of the work that we do.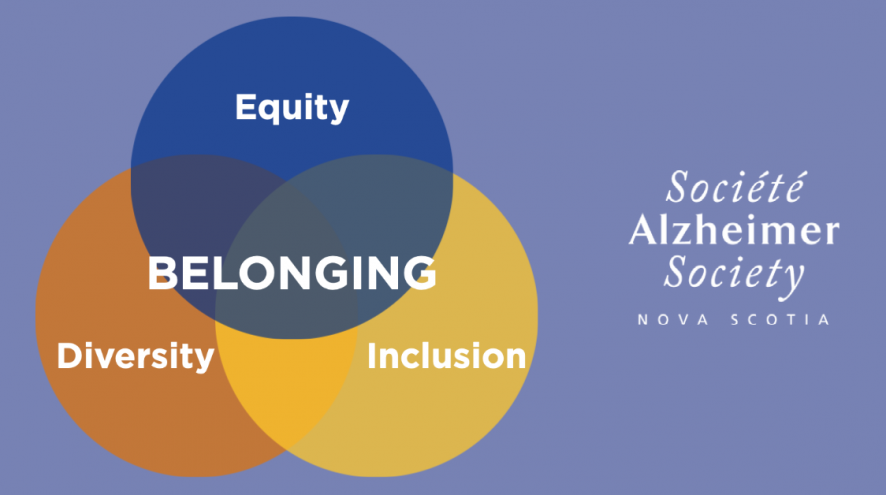 Equity, Diversity, and Inclusion (EDI) at the Alzheimer Society of Nova Scotia (ASNS)
Recent tragic events the world over have laid bare the reality of people facing barriers to equitable health care. Vulnerable groups such as the elderly, Black and Indigenous Peoples, and people experiencing homelessness have been disproportionately affected by COVID-19. At the same time, we have witnessed shocking events that mobilized global movements; the death of George Floyd, the ongoing discoveries at former Canadian Residential School sites. These instances point to issues already known, but with a tangible shift in awareness of and intolerance for systemic injustice.  
At ASNS we believe everyone affected by dementia has the right to live their life the way they want to live it, whether they're living with the diagnosis or supporting someone who is. Core to that belief is that everyone has the right to be the person they are, to live without fear or prejudice regardless of race, age, gender, sexual orientation, faith and belief, or a disability, like dementia. Everyone should be able to make a full contribution to society the way they want to make it and live in a world which demonstrates respect and values diversity. It's vital that in everything the Alzheimer Society of Nova Scotia does, we walk that talk. Our initial commitment is to create an inclusive and diverse team of volunteers and staff, culturally appropriate services and to ensure dementia support is accessible to all.
We also want to go further to understand what institutional discrimination looks like. We want to understand the behaviours and causes that can be deep-rooted within an organization. We commit to proactively work to remove these barriers where they exist.
We want to ensure that we are positioned to fully deliver on one key aspect of our mandate: that we are here to support ALL Nova Scotians on the dementia journey.
This is a statement of intent. It isn't our plan. We are working on that now and over the coming months. In developing our EDI Strategy and plans we are ensuring that we reach out to, hear from, and listen to people from diverse communities - our employees, volunteers, supporters, people affected by dementia and external organizations.  
We Know:
There are Nova Scotians who, for many reasons, experience barriers to equitable healthcare. We believe that we can do better to support ALL Nova Scotians on the dementia journey. As paraphrased from the words of our Community Partner, Sharon Davis-Murdoch of the Health Association of African Canadians:
We will strive to identify People how they identify themselves. We will not hide from "isms" and biases that confront People and get in the way of good policy, good care and better outcomes. The systemic racism, anti-black racism, the homophobia and transphobia, the ableism, ageism, and exclusion of linguistic, cultural and faith specificity frustrates Nova Scotians to the point of making them sick and intersects with the hardship of the dementia journeys of our People.
We at ASNS understand this to be true and will work towards supporting ALL Nova Scotians on the dementia journey. 
We Believe:
At ASNS, we believe in the urgent necessity of this work, and we believe we have a duty and obligation to be leaders in its implementation.
In 2015, ASNS was instrumental in developing the Canadian Charter of Rights for People with Dementia:
We believe that a person with dementia has a right to:
Be free from discrimination of any kind.
Benefit from all of Canada's civic and legal rights.
Participate in developing and implementing policies that affect their lives.
Access support so that they can live as independently as possible and be as engaged as possible in their community. This helps them:

Meet physical, cognitive, social, and spiritual needs,
Get involved in community and civic opportunities, and
Access opportunities for lifelong learning.

Get the information and support needed to participate as fully as possible in decisions that affect them, including care decisions from the point of diagnosis to palliative and end-of-life care.
Expect that professionals involved in their care are:

Trained in both dementia and human rights.
Held accountable for protecting their human rights including the right to get the support and information needed to make decisions that are right for them.
Treating them with respect and dignity.
Offering equal access to appropriate treatment options as health conditions other than dementia develop.

Access effective complaint and appeal procedures when their rights are not protected or respected.
The Charter stands as a guide map for how we approach our work, and we remain committed to ensure that its content and context apply to ALL Nova Scotians.
We Commit to:
From a philosophy of Nothing About Us Without Us, we will seek to support people at the intersection of their multiple identities. A person living with dementia could also be a person living in a rural community, a person who speaks Chinese, a person who has experienced childhood trauma, a member of the 2SLGBTQ+ community, a person who identifies as Indigenous or Black, and more.
The way in which these aspects of identity intersect will have a profound influence on one's experience on the dementia journey. Theories of intersectionality promote an understanding of human beings as shaped by the interaction of different social locations. It acknowledges that these interactions occur within the context of connected systems and structures of power. We commit to using an intersectional lens in our work with Nova Scotians. 
We do not want this approach to be tokenistic. It's time to give voice and power to those who have not had it for centuries. This will be a journey for us, one we are ready for. People facing barriers to equitable healthcare have rarely had proper dementia support. It's time to change that, and that change starts with us becoming comfortable with challenging ourselves. We know that now is the time to act. The time for talking is over.
Our formal strategy for Equity, Diversity, & Inclusion (EDI) is currently in development. This statement of intent has been created to formally launch our commitment to our EDI work and make a clear, public commitment to its necessity. We look forward to keeping you, our valued stakeholders, updated as we progress this vital work.