Knowledge Changes Everything: Panel Event
Nova Scotia
Tue, Jan 31, 6:30 pm - 8:30 pm
Paul O'Regan Hall, Halifax Central Library
Join us to learn more about living well with dementia, risk factors and connecting with community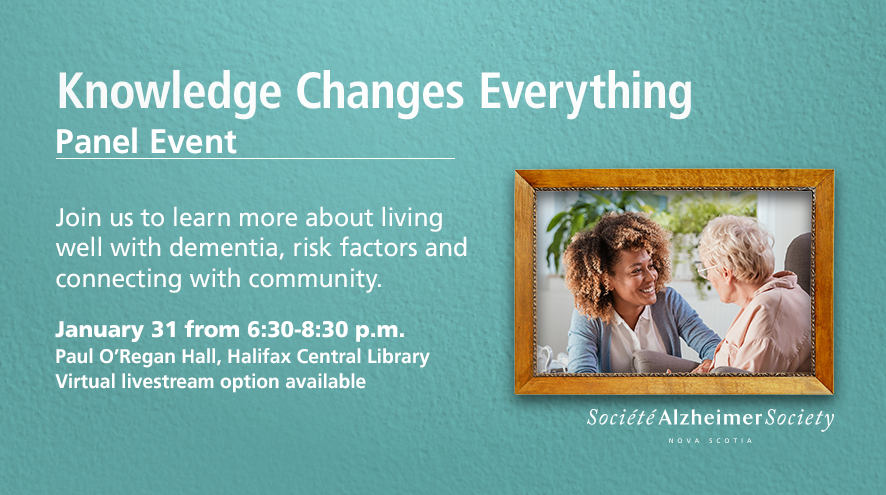 Register for this event here.
This free event is for anyone on the dementia journey or looking to learn more.
A virtual livestream option ensures everyone interested can take part.
Join us on January 31, 2023 from 6:30-8:30 p.m. in Paul O'Regan Hall at the Halifax Central Library or from the comfort of your own space.
Together we'll learn more about living well with dementia, risk factors and connecting with community, and officially launch the Society's 40th anniversary year. 
Speakers (see full speaker bios here):
Dr. Alison Dixon, geriatrician
Dr. John Archibald, care partner
Chelsea Slawter Wright, Coordinator, Education & Engagement, African Nova Scotian Communities, ASNS
Beth House, Team Lead, Dementia-Friendly Communities, ASNS
Emcee: Paul Brothers, Global News
COVID-19 Protocols
We will make every effort to facilitate a safe event experience by ensuring access to face masks and hand sanitizer, strongly encouraging attendees to wear face masks and reducing the total capacity for the event. 
If you are experiencing symptoms or suspect that you have been exposed to COVID-19, we ask that you please stay home and view our event via livestream. Please reach out to

[email protected]

to receive the livestream link if this is the case. Thank you for your consideration of the health of our panel event attendees.
Download a promotional poster for this event here.
Register for in person or virtual today!