First Voice Perspective: First Link Referral Program
read
"The things that I hear the most from patients I've referred is that they feel supported, they know someone is there if they do have questions."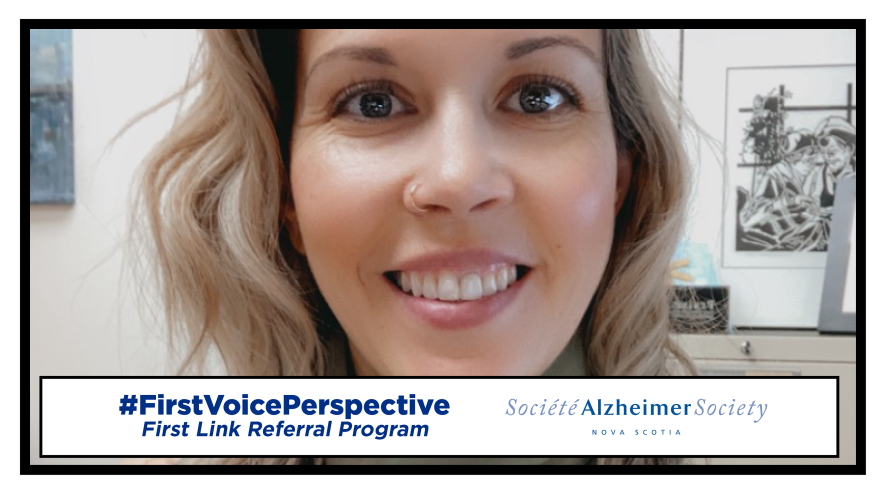 January is Alzheimer Awareness Month, and this year we'll be sharing a series of first voice perspectives that show how the support of the Alzheimer Society of Nova Scotia (ASNS) can help Nova Scotians on their dementia journey. We hope that these stories will encourage other people to reach out to us as early as possible, so that they can also receive the support they need.
Suzanne Sheppard-Jackman is a Geriatric Nurse Assessor on the Seniors' Community Health Team at Queens General Hospital in Liverpool. She's a referring partner through our First Link® Referral program, where health care practitioners can directly refer both patients with dementia and their care partners. This program helps Nova Scotians to receive support as early as possible in their dementia journey.
"The benefit is reaching folks in that early stage so you can follow them on the journey," says Suzanne. "They're gaining that knowledge and making those connections early on. The earlier ASNS can have that First Link with the family the better the journey will be overall. Sadly, some folks aren't connected until later stages and we're losing out on those education opportunities."
When clients are referred to us through the First Link program, one of the knowledgeable and caring staff on our InfoLine service will contact them within three weeks. From there, they'll have ongoing support through InfoLine and registration in other ASNS programs. That connection can be very helpful in a difficult time.
"The things that I hear the most from patients I've referred is that they feel supported, they know someone is there if they do have questions," says Suzanne. "They know ASNS will be calling, so they're not feeling alone. Just knowing that someone cares and is willing to listen, sometimes that is what's needed. Folks just need someone to talk to."
At ASNS, it's our goal to be there for every Nova Scotian on the dementia journey, and that includes health care professionals. The First Link Referral program is a key way to support not only people living with dementia, but those that care for them as well.
"I'm just really thankful to have the program available to us," says Suzanne. "This is exactly what we need in our province. We want people to be informed, but there's barriers that people face. We're stretched to the maximum and knowing this program is there lifts the burden a little bit."
While a First Link referral is a helpful way for Nova Scotians on the dementia journey to get connected with us, a referral isn't necessary to access our services. If you need support, you may self-refer at any time by contacting us directly. Even if you haven't received a diagnosis but have concerns about memory loss, we're here to help. You can call us toll-free at 1-800-611-6345.