1,000 Fidget Quilts - A Labour of Love
Nova Scotia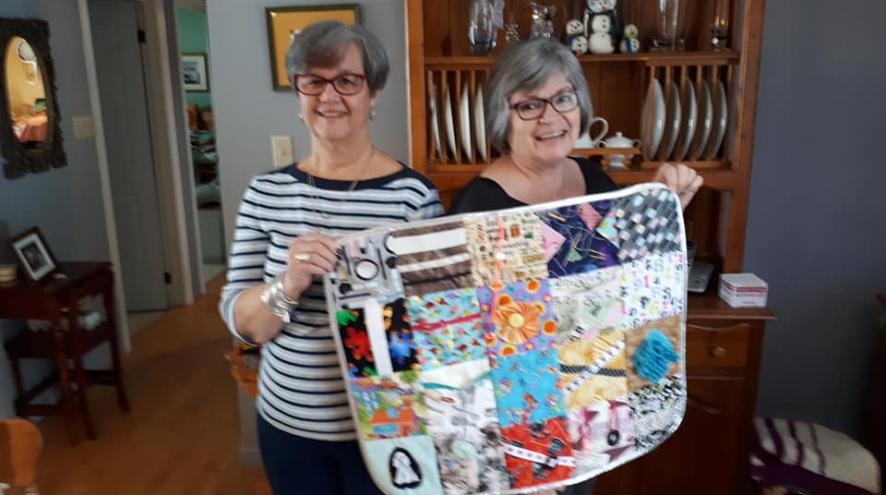 For lifelong friends Cathy Dunbar and Beth McBrine, the past three years dedicating their spare time to the making of special quilts hasn't been hard work – it's what they love to do.
The process began when Cathy discovered a website showing how to make "fidget quilts" –multi-textured lap quilts designed to provide visual and sensory stimulation for persons with dementia. Cathy initially thought about the residents who had lived with her mother in long-term care, and decided she would try to make a few by using materials she had in her home. When Beth requested one for her father with vascular dementia, Cathy told her she would have to help her make it. They had so much fun that they decided to keep on going.
Now, three years and countless hours later, "The 2 Fidgeteers" have made over 1,000 quilts which have been donated to organizations and individuals all over the continent. While most requests come from Nova Scotia, orders have been shipped as far as British Columbia, Florida and even one to the United Kingdom. Cathy and Beth have also produced and donated a large number of mini (12-inch) quilts, which are used by local RCMP and hospital staff in emergency situations to provide comfort to adults with dementia who have become lost or are in unfamiliar surroundings.
While nine of the 20 squares of each lap quilt share common aspects such as pockets, zippers, Velcro, "blue fuzzies", and a heart-themed fabric square with "Somebody Cares" labelled on it, each quilt is individualized by careful selection of colourfully patterned fabrics and additional attachments. Cathy and Beth put loving consideration of the recipient's likes, former occupation and pastimes into the quilt's design. For example, the inclusion of fabrics depicting various pets for a retired veterinarian or animal lover. Beyond occupations, additional themes include nature, travel, music, dogs, cats and sports, all which can bring back memories and provide topics for conversation. All the quilts contain a key in one pocket, which the recipients often delight in discovering. And every quilt is uniquely named; "The Cat's Meow" was designed for a cat lover. While The 2 Fidgeteers never charge for a quilt, they have gratefully received monetary and material donations from individuals and organizations, and have not incurred any personal costs since soon after the project got rolling. They have also received a lot of community support with publications in papers and newsletters, opportunities to give presentations and booths at local craft fairs.
Their 500th quilt was designed to honour their dads with a numbers theme, as both had been accountants. The 1,000th they decided to do for themselves, incorporating all the things they love into the fabric choices and design: knitting, sewing, ice cream, wine, tea, makeup, nail polish, puzzles, pets and "road trips"!
Beth and Cathy say it's the heart-warming stories about the recipients that keep them going, and they cherish the tears and giggles they share while presenting or working on their projects together. They had no idea that their quilts would be so popular, and they don't plan to stop making them until they stop having fun.
To learn more about The 2 Fidgeteers and observe the unique variety of quilts they have made, visit their Facebook page.