2020 Abe Leventhal Research Bursary Recipient
Nova Scotia
read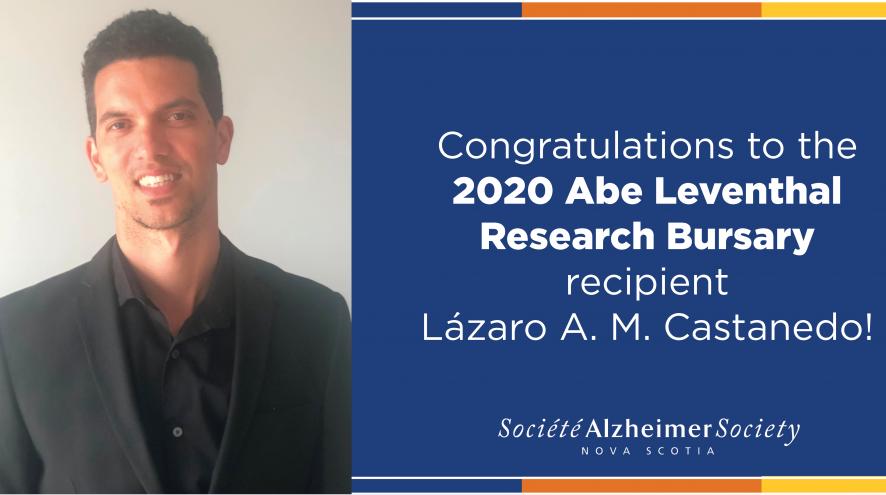 When businessman and quiet philanthropist Abraham (Abe) Leventhal passed away in 2016, his estate provided bequests to eight charities, including the Alzheimer Society of Nova Scotia. To honour his wishes and his passion for research, we established the Abe Leventhal Research Fund. Part of his gift was designated to fund and maintain the Abe Leventhal Research Bursary, recognizing Mr. Leventhal's generous support of students.

The Abe Leventhal Research Bursary is awarded each year to graduate students who demonstrate academic and scientific excellence and show great potential as researchers. This year's Bursary recipient is Lázaro A. M. Castanedo whose novel research includes developing molecules to prevent and detect dementias.
"I hope to contribute to health research in Nova Scotia by studying the new candidate molecules I propose for the prevention and the detection of degenerative diseases," says Lázaro. "I plan to pursue a life-long path of scientific work, research and discovery – in industry or in academia – after my PhD."

In making their choice, the committee members remarked on his leadership, work ethic, innovation and his exceptionally high potential for research achievement.
"Lázaro's work is a great example of how diverse dementia research is," says Dr. Melissa Andrew, ASNS Research Advisory Board Chair. "Often potential treatments and diagnostic compounds are studied in test tubes, brain tissue or in people. However, here we see an example of using computer science and theoretical modelling of the ways the biochemicals are structured and shaped to make it possible to test many more promising treatments in an efficient way."

Congratulations Lázaro! We look forward to hearing more about your research in the future.