Activities benefit our physical & mental health
Nova Scotia
read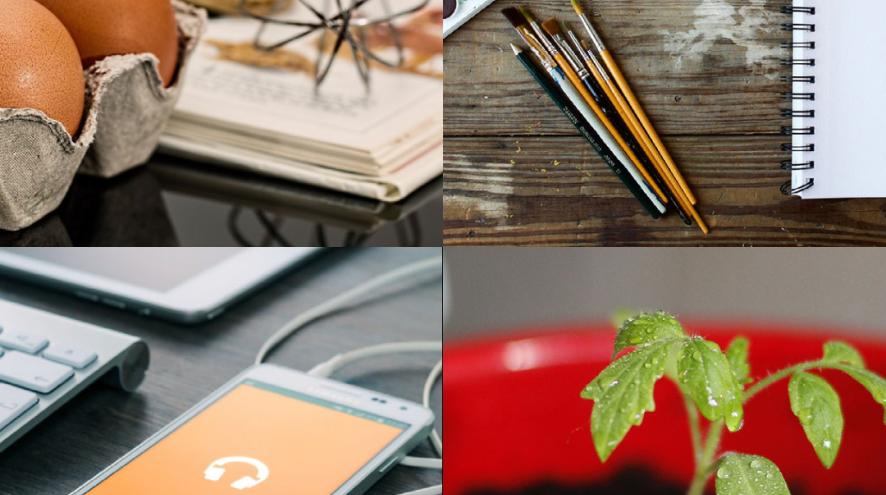 Taking part in activities, including everyday tasks, can have powerful benefits for the physical and mental wellbeing of a person living with dementia. Activities help us to stay active and independent. They can also help someone express their feelings, retain their skills and self-esteem, and stay motivated.   
Finding things to do indoors can be challenging over the coming winter months, but just because it's too cold to go outside doesn't mean there isn't plenty to do at home.
Here are a few ideas to try this winter, with tips for making the activities easier and more enjoyable for people living with dementia.
Cooking, baking and preserving. Pull out an old family favourite and reminisce or try something new.
Tips:    
Set out ingredients beforehand
Pre-measure ingredients to help reduce frustration
Use recipes with fewer steps or ingredients
Music connects us to meaningful moments. Everyone has a song that takes them back to a special place or time. Use music to create the mood. Tranquil music can help create a calm environment, while a fast-paced song may boost spirit.
Tips:
Avoid sensory overload – eliminate competing sounds, turn off TV, close windows
Encourage movement to add to the enjoyment
Try creating playlist of songs from the past
Performing familiar, everyday activities. Things such as folding laundry, sorting items, watering plants or doing the dishes can help a person living with dementia feel useful and provides a sense of independence.
Tips:
Work on tasks together, ask for help
Set the stage – leave the laundry basket out, so it can be easily accessed if the person is becoming restless
Get crafty! Art projects create a sense of accomplishment and purpose. Painting or drawing is calming, and helps people express themselves in ways that many other things can't. You could try scrapbooking, or putting together collages with old photos and cut-outs from old magazines or calendars you have lying around.
Tips:   
No experience necessary!
Plan ahead and have a box of cut out photos and pictures ready to use
Exercise your green thumb. Indoor gardening can be very rewarding. Try growing something new or plant from a seed – winter is the perfect time!
Tips:
For easy clean up, cover the surface of a table with paper or garbage bags
Set out tools, pots, etc. beforehand to have a visual prompt
Travel the world from the comfort of home. Sit back and get comfortable, watch old home movies of past trips or select a destination and watch a video together. Have a conversation about the places you always wanted to visit and do it virtually!
Tips:
Try watching a few shorter videos rather than a long one
Prepare a snack – something connected to the place you're 'traveling' to
Reminisce. Helping someone recall past times can be a fulfilling way to spend some time. Listen to music, look at pictures in an album or watch an old movie together.
As you reminisce, try not to ask for specifics because it may become frustrating. Instead, ask questions like "can you tell me more about that?" or "how did that make you feel?"
And when you find things that bring back memories, hold onto them. Create a memory box filled with keepsakes, souvenirs, photos and anything that will help stimulate reminiscence.
Whatever activity you decide to do, focus on creating meaningful moments and enjoying time together.
Final tips:
Choose the right time of day. Whatever you decide to do, it will be more enjoyable when the person living with dementia feels most alert
If an activity is not working, try again another day
Break activities down into smaller steps
Find something you can do with the person, rather than for them