Using videos to help you understand dementia
read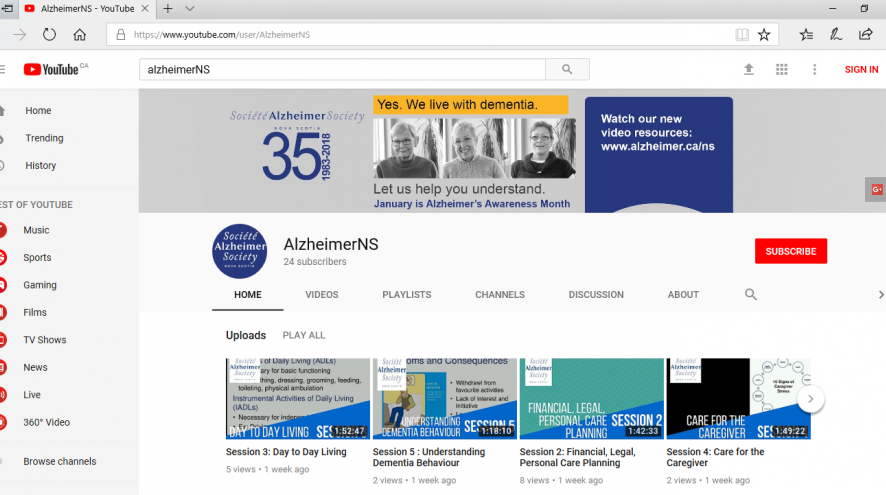 Did you know that 2/3 of things you see on the internet, in 2018, will be video? You may not have noticed the slight change of reading recipe blogs, to watching the recipe be made. Or the amount of videos that automatically play on your Facebook – ranging from cute cats, to top news stories, to live videos your favourite celebrity posts.

Video is becoming king. And there is a perfectly good reason: with laptops, tablets and phones, videos have become easily accessible. You can watch them on the bus, late night in bed, or while you sit in front of the TV.

At the Alzheimer Society of Nova Scotia, we are trying to use videos to create educational opportunities; because we know that coming to a weekly session might be difficult, or if your caregiving from away, impossible.

So what are these videos and where can you find them? Well, over on the Alzheimer Society YouTube channel! And no worries, you do not need to have an account to watch any videos on YouTube! In some cases we have the same video in French and English; with transcription; short; long – you name it!
For Awareness Month, there are three playlists (playlists mean a grouping of videos) that we would like to draw your attention to, to help you understand dementia.

1. Family Caregiver Education Series: Click here to watch the series on our YouTube page
A six-part education series for friends and family providing care and support to people recently diagnosed with Alzheimer's disease or another dementia.

VIEWING IDEA: If you are close with your family, organize a once a week potluck dinner and viewing!

2. Demonstration video - Tasks for Daily Living - Strategies for Caregivers: Transfers: To watch the video click on this link
A 12-minute demonstration video for families helping with a physical transfer at home.
VIEWING IDEA: Share this video with any personal care worker or visitor who may be a partner in care for a person with dementia.
3. 10 Symptoms & Strategies: 
Click here for the videos in English
Click here for the videos with French subtitles

Anne, Faye and Sandra are three remarkable women in early stage dementia who talk in a video series about their symptoms and the strategies they use to live well. Each video (10 in all) are short and sweet.

VIEWING IDEA: Post the videos on Facebook to open up others' mind about the disease and help reduce stigma!