Minds in Motion®
read
Through Minds in Motion®, people living with early to mid-stage dementia will experience meaningful and beneficial socialization and stimulation through a number of activities. Learn more about the program on this page.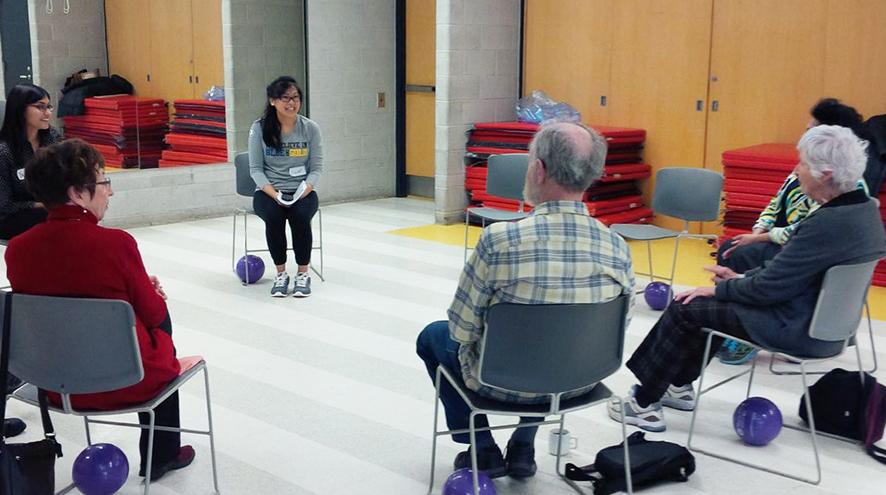 About Minds in Motion®
Minds in Motion® is a community-based social program that incorporates physical and mental stimulation for people with early to mid-stage Alzheimer's disease or other forms of dementia and their care partners.
Through the Minds in Motion® program, both the person living with dementia and the care partner can benefit from the following:
increasing physical activity through gentle group exercise
establishing new friendships with others who are living with similar experiences
engaging in fun, social activities
For more information about Minds in Motion® and how to get involved, please contact Vanessa Barnes at 519-332-4444 or [email protected]

Watch the video from Alzheimer Society of Sarnia-Lambton below to learn more about Minds in Motion®.
How often does the program run and for how long? 
In-Person Program: These sessions run for two hours, once per week, for eight weeks in a community-based location (e.g., seniors centre, YMCA, etc.).
Virtual Program: These sessions run for 1 ½ hours, once per week, for eight weeks. They are offered throughout Ontario, and there are no geographical restrictions to joining the program virtually. Click here to view our upcoming sessions and to register or contact your local Alzheimer Society for more information.
The person living with dementia benefits from:
Improved balance, mobility, flexibility, and alertness.
Increased confidence, and comfort with their own circumstance.
Mutual support from others facing similar experiences.
"I look forward to attending Minds in Motion online every week.  You get me moving physically, which has been limited because of the pandemic.  I love feeling a part of a group even if it's through a screen.  Minds in Motion has helped me turn some lonely days into sunny happy days." – Person living with dementia.
The care partner benefits from:
An opportunity to focus on their own health and have fun with their partner.
Seeing the person they are caring for enjoying themselves.
Mutual support and learning from other care partners.
I enjoyed participating in both the physical exercise and the social activities. It was wonderful meeting and getting to know all the participants. A great group! Overall, a great program. We both love coming. Leaders are excellent—always empathetic and great teachers." – Care partner
All participants benefit from:
Sharpened mental functioning, sometimes lasting two to three days.
An increased sense of social participation.
"Excellent program—great people, got me out of the house and got a lot of information and communication with other people. I felt more comfortable being here a second time, saw an improvement in my mother—she smiled often!" – Family care partner
Our Minds in Motion® partners
Thank you to all of our participants, sponsors and supporters across Ontario!
A special thank you to our funders and partners who made this program possible:
Brock University
Canadian Centre for Activity and Aging
Older Adult Association of Ontario Older Adult Centres' Association of Ontario (OACAO)
Ontario Brain Institute
Ontario Ministry of Tourism Culture and Sport
Ontario Trillium Foundation
Parks and Recreation Ontario
Public Health Agency of Canada
University of Waterloo
York University
For more information about Minds in Motion® and how to get involved, please contact Vanessa Barnes at 519-332-4444 or [email protected].
More useful links and resources
Visit Alzheimer Society of Canada's Tips to reduce your risk of dementia.  
This page lists evidence-based tips and strategies to help you lead a healthy, balanced lifestyle that protects your brain and reduces your risk of dementia.