Giving Back: Norm's Story
read
Norm Savage was a man with a large personality – his presence and his laughter filled the room. Read about the importance of Will planning and giving back through your Will this #MakeAWillMonth.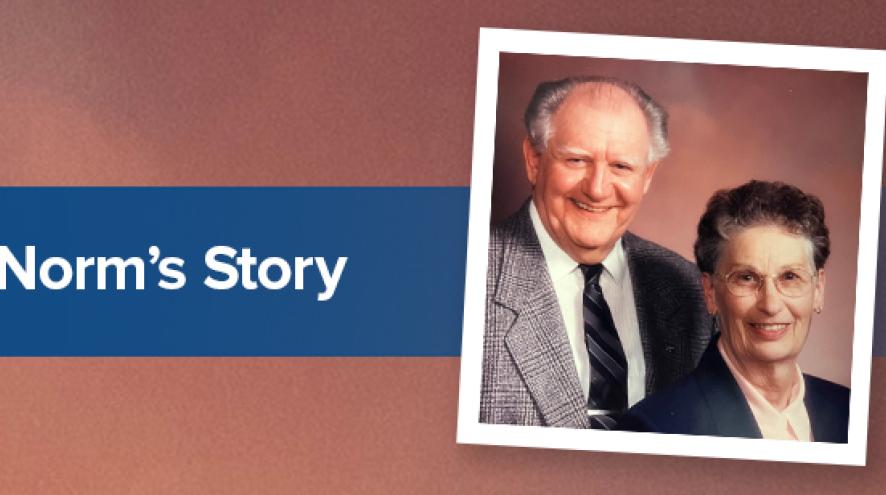 Norm Savage was a man with a large personality – his presence and his laughter filled the room.
"That's why I called him Stormin' Norman!" said Denise Driver, Norman's Client Support Coordinator (i.e., Dementia Coach). "Here was this big, robust man sitting in his support group with these older women and talking about his feelings and being vulnerable with them. To me, his willingness to do that for so many years was an expression of his love for Muriel. He wanted to be the best caregiver he could be."
As dementia progresses, sometimes language can become a barrier for communication.
"But music and song are stored in a different part of the brain," said Denise. When Norm learned that singing would help him to connect with Muriel, he sang all the time. "He would come into her room singing, and she would immediately be engaged. If she was sad he would sing her a happy song and she would become happy."
Norm's son Rob told us that Norm was the primary care partner for his wife Muriel for many years, and that Norm realized early on he had a lot to learn. He found what he needed at the Alzheimer Society.
"Everything he learned about caring for Muriel, he learned from the Alzheimer Society. He was incredibly grateful for that."
During Norm's lifetime, he was a donor and supporter of the Alzheimer Society – he knew the value of supporting the local Alzheimer Society because he saw firsthand the impact of his donations.
"Donating to charities was really important to my dad," says Rob.
Norm put a lot of thought into his Will and how he could help people once he was gone. He chose four local charities to support with a bequest, including his local Alzheimer Society, the Alzheimer Society of Peterborough, Kawartha Lakes, Northumberland and Haliburton.
Norman's bequest came to our Alzheimer Society at a critical time: when the pandemic made the need for support greater, but donations were down. His gift helped to fund virtual programs, which included the occasional online sing-along – no doubt Norm would have approved.
Rob remembers how much his father liked to help people. "He would be happy that his story might inspire other people to leave a gift in their Will to charity."
This #MakeAWillMonth, take the time to complete your Will and Powers of Attorney so you can protect those you care about, and have control, and peace of mind. Learn more by clicking here or by visiting alzsuperhero.ca.