Maggie & Ruth's Story
read
Maggie shares her story as a care partner to her partner of 25 years, Ruth.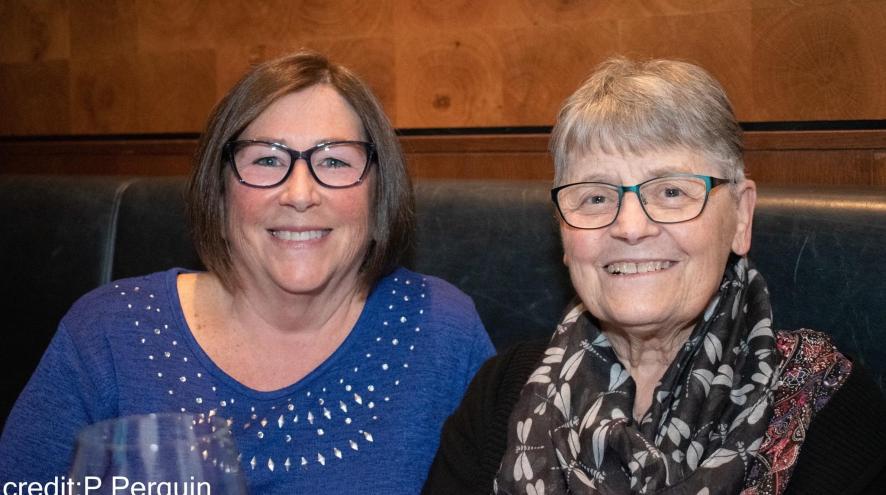 3 words. 
You. Have. Dementia.
That's all it takes to change the course of your life.
Ruth and I have been together for 25 years. Both of us are retired teachers. Always happy to be at home working on her various woodworking and quilting projects, I noticed Ruth losing interest or needing more assistance in the things she once loved to do, and some other symptoms that made me suspect that there was something else going on. 
In January 2018, Ruth was diagnosed with vascular dementia.
I knew this was going to change the dynamic of our relationship. That I would end up slipping into the role of care partner first, wife second. But this wasn't the first time Ruth and I had to face adversity. For many people, receiving a dementia diagnosis has a lot of shame associated with it—asking themselves what they did wrong or how this happened at all. Your family knows about your diagnosis, but your friends don't. For people in the LGBTQ2S+ community, coming out is much the same.
But the Alzheimer Society has helped us never feel ashamed when admitting the diagnosis of mild cognitive impairment or dementia. We've always felt accepted.
The help and support we receive make us feel like we don't have to choke on those words and instead, we can breathe a sigh of relief knowing that we have ongoing support and access to social recreation programs, education, and counselling services that will help us along the way.
"Instead of being sad about the loses of processing thoughts, driving, and having to learn new ways to do things, the Alzheimer Society has helped  me find affirmation in my abilities." – Ruth, person living with dementia.
So how can you help people like Ruth and I? By taking advantage of the World Alzheimer's Month matching gift opportunity and becoming a monthly donor at the Alzheimer Society of Ontario. 
When you become a monthly donor, your gift will be matched for the next year*, thanks to the Catherine Booth & Michael Kirk Social Recreation Fund.
You can show your support by becoming a monthly donor at your local Alzheimer Society below:
Thank you for reading our story and for giving monthly. 
Maggie & Ruth
Care partner and person living with dementia
*Local donations will be matched up to $3,000 and provincial donations will be matched up to $100,000 and will support local social recreation programs at Alzheimer Societies across Ontario. Any subsequent donations will support the areas of greatest need including social recreation, education, and counselling.