Family caregiver support groups
read
We offer Family Caregiver Support Groups for caregivers and family members of people living with Alzheimer's disease and other dementias.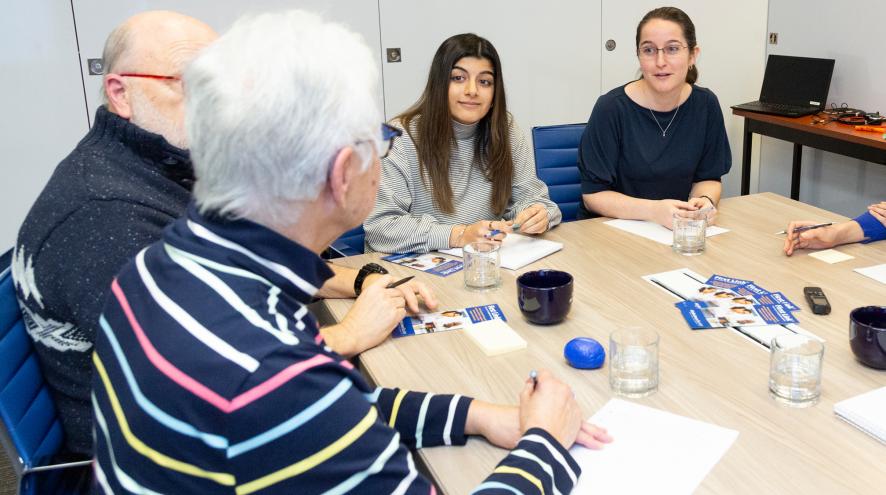 Please note that due to the COVID-19 pandemic, we are currently offering virtual programs. In-person support groups for people caring for family and friend caregivers of someone living with Alzheimer's disease or another dementia (spouses, family or friends) will resume when we are confident it is safe to do so.Virtual support groups for caregivers meet monthly for 90 minutes. You have the option to join by video or by phone. Regional and provincial groups are available across the province, including specialized groups for:
Chinese families (Cantonese and Mandarin-speaking options available)

Adult children

Caregivers of a person living in long-term care

Caregivers of a person living with young onset dementia

Caregivers of a person living with behavioural variant frontotemporal dementia (bvFTD)

Caregivers of a person living with Lewy Body dementia

LGBTQ+ caregivers
For more information or to register for a virtual caregiver support group, please call the First Link® Dementia Helpline at 1-800-936-6033 or see the First Link® Bulletin for a list of days and times available.
Having a diagnosis of Alzheimer's disease or another dementia, or supporting a person with this diagnosis, can be incredibly demanding.
People in this situation experience a variety of feelings. The demands of the disease can make it difficult to stay in touch with friends and family, and can lead to loneliness and isolation.
Group objectives
To strengthen the coping abilities of active primary and secondary caregivers through:
Sharing common experiences.

Learning about dementia, its progression and the impact it may have on individuals and families; and learning practical coping strategies.

Encouraging early planning.

Encouraging caregivers to actively engage in protecting and maintaining their physical and emotional health.
All of our support groups operate on the Information and Mutual Aid model.
Benefits
A place to exchange information, support and friendship with others whose lives are affected by dementia.

A forum for sharing practical tips and strategies for coping with the many changes connected with the disease.

An opportunity to decrease feelings of isolation and loneliness.

A place to express feelings and be reassured that these feelings are normal and expected.

A place to find a positive outlook on things without being misunderstood.

An opportunity to develop communication and problem-solving skills.

A place to access the most current information provided by the Alzheimer Society.

The chance to regain some control in the face of a disease that cannot be controlled.

A place to find a sense of hope.
Limitations
It is important to recognize that support groups are not for everyone who is in a caregiving role. Some people do not find group discussion helpful and prefer other forms of help, such as individual support or professional assistance.
Similarly, a support group will probably not work well for a person who is not interested in hearing about the ideas and feelings of other people.
It is important to recognize that there are limits to what a group can do. For example, a support group is not:
A replacement for therapy or counselling. Some people may seek professional help instead of, or in addition to, attending support group meetings.

A social gathering, although some socializing does occur.

A formal educational group led by an expert. The emphasis is on input from all members based on personal experience rather than expert or professional knowledge.