「關愛腦友記」電視籌款日 | Telethon for Alzheimer's
read
Learn more about the Telethon for Alzheimer's to be co-produced by Fairchild Television and the Alzheimer Society of B.C. to raise funds and awareness to support people affected by dementia in the Chinese community.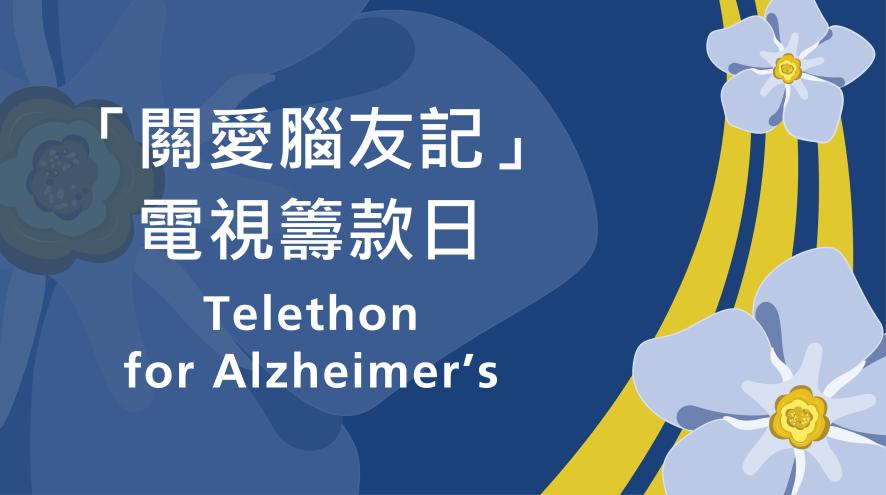 Please scroll down for information in English.
卑詩省阿茲海默症協會「關愛腦友記」籌款日圓滿舉行
由卑詩省阿茲海默症協會及新時代傳媒集團攜手合辦的第二屆「關愛腦友記」籌款日已於11月13日 (星期六) 於新時代電視及加拿大中文電台圓滿舉行,共籌得超過 $172,000。善款將用作拓展華人社區各項服務、提供教育、資訊、支援患者及其家人、資助研究工作,並倡導建立一個真正的腦退化友善社區。
卑詩省阿茲海默症協會衷心感謝新時代傳媒集團及各界的鼎力支持,包括傳媒伙伴、贊助商、各位善長及義工。有賴新時代電視幕前幕後的工作人員及整晚負責接聽觀眾認捐電話的一班義工謹守崗位,團結一心,籌款活動得以順利舉行。特別感謝一班無名氏善長的慷慨支持,捐出首六萬五千元作一對一的捐款配對,令善款帶來雙倍的效果。
由於新冠肺炎疫情尚未穩定,協會將繼續採用不同方式確保與患者及照顧者保持聯繫,努力提供更多網上教室、活動及服務,並正在計劃恢復一些實體活動。目標是協助「腦友記」融入社區,令他們不會感到孤立無緩。更重要的是大眾能夠認同、接納及包容患者和照顧者,同時讓他們能夠保持社交活躍,一起建立一個腦退化關愛社區。
想認識更多有關腦退化的資訊及如何幫助腦退化患者,或查詢卑詩省阿茲海默症協會的廣東話或國語支援服務,歡迎致電 First Link®腦退化中文熱線: 1-833-674-5007,服務時間為星期一至五上午九時至下午四時,或瀏覽 alzbc.org/Chinese
2021 Telethon for Alzheimer's
The 2nd Telethon for Alzheimer's, co-produced by the Alzheimer Society of B.C. and Fairchild Media Group, was successfully aired through Fairchild Radio and Fairchild TV1 on Saturday, November 13th, raising over $172,000. Funds raised will go towards supporting the Society's programs and services for people in the Chinese community affected by dementia, as well as towards advocacy, education, research into Alzheimer's disease and other dementias.
The Alzheimer Society of B.C. would like to wholeheartedly thank Fairchild Media Group and everyone across the community, including other media partners, generous sponsors and donors, and passionate volunteers, for their utmost support. It is due to the collaborative efforts of the behind-the-scenes staff at Fairchild TV, as well as a team of volunteers who tirelessly answered donor phone calls throughout the night that the event was able to achieve such fantastic results. We are especially grateful to the group of anonymous donors who donated a matching gift of $65,000, doubling the impact of all donations received that evening.
Adapting to the uncertainty that the Covid-19 pandemic brings, the Alzheimer Society of B.C. continues to adopt a variety of methods to stay connected with the community, including offering virtual education sessions, programs, and events, as well as planning for a return to in-person services. Our goal is to provide support to people affected by dementia, so that they can be a part of our society without feeling isolated or stigmatized, and achieving this goal starts with building a dementia-friendly community of care, right here in British Columbia.
For more information about dementia or to learn more about the Alzheimer Society of B.C.'s Cantonese and Mandarin services, please call the First Link® Chinese Dementia Helpline at 1-833-674-5007, Monday to Friday from 9 a.m. to 4 p.m. or visit alzbc.org/Chinese. 
The Alzheimer Society of B.C. would like to thank our wonderful sponsors for their generous support!