「關愛腦友記」電視籌款日 | Telethon for Alzheimer's
read
Learn more about the inaugural Telethon for Alzheimer's to be co-produced by Fairchild Television and the Alzheimer Society of B.C. to raise funds and awareness to support people affected by dementia in the Chinese community.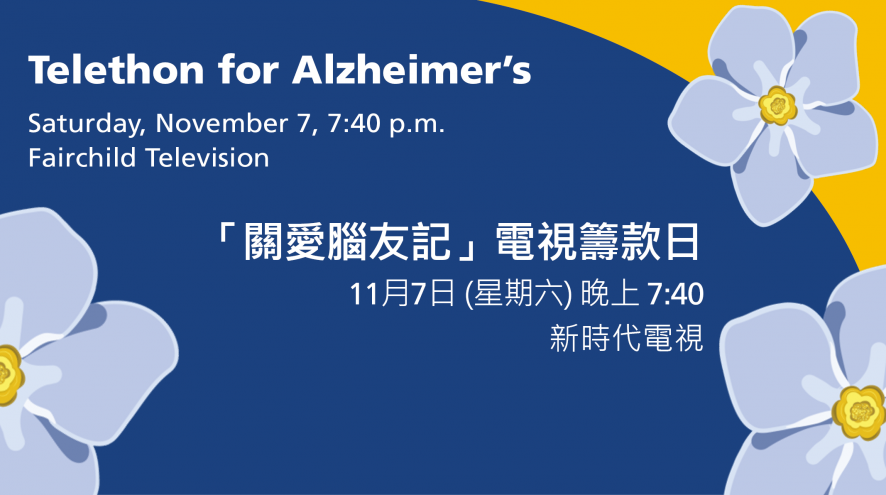 Please scroll down for information in English.
毋忘「腦友記」,齊建關愛社區
首次由卑詩省阿茲海默症協會及新時代傳媒集團攜手合辦的「關愛腦友記」籌款日已於11月7日圓滿舉行,總共籌得超過 $165,000。善款將會用作教育及支援患者服務,並倡導建立一個真正的腦退化友善社區。
由於新冠疫情的影響,大家需要保持社交距離,電視籌款日只能以視像進行,但新時代電視幕前及幕後的工作人員仍然非常專業,謹守崗位,包括主持盧玉鳳及張文謙,他們透過網上遙距訪問嘉賓、分享患者及家屬照顧者的故事及介紹卑詩省阿茲海默症協會的工作。
卑詩省阿茲海默症協會衷心感謝新時代傳媒集團及各界的鼎力支持。特別感謝無名氏善長慷慨捐出五萬元作一對一的捐款配對,令善款帶來雙倍的效果。協會將繼續努力,讓「腦友記」可以融入社區,不會因患病而關在家裏,孤立無緩。最重要的是大眾能夠認同、接納、及包容患者和照顧者,讓他們感到與以往一樣,無懼外出保持社交活躍;建立腦退化友善社區指日可待。
如想認識更多有關腦退化的資訊及如何幫助腦退化患者,可瀏覽 alzbc.org/Chinese 或聯絡 First Link®腦退化中文熱線: 1-833-674-5007。

The Alzheimer Society  of B.C. and Fairchild Media Group are proud to announce that the first-ever Telethon for Alzheimer's, co-produced by the two organizations and broadcast last Saturday, November 7,  raised over $165,000. Proceeds will help provide support and education for people living with dementia and their caregivers in the Chinese community and enable continued efforts to build a more dementia-friendly province.
Due to the COVID-19 and the need to maintain social distancing, filming of the telethon was conducted entirely by video conferencing. Staff at Fairchild Television, including  program hosts Mary Lo and Ricky Cheung, upheld the highest level of professionalism while interviewing guests remotely, sharing stories of people affected by dementia and introducing the Alzheimer Society of B.C.'s work.

The Alzheimer Society of B.C would like to thank Fairchild Media Group and all donors and supporters. Special thanks goes out to the anonymous donors who generously matched, dollar for dollar, the first $50,000 donated.
The Society will continue its work to grow a community of care around people affected by dementia. Building a truly dementia-friendly province – a place where people affected by dementia are acknowledged, accepted and included – is just around the corner.

For information about dementia or to learn more about Alzheimer Society of B.C.'s Chinese programs and services, please visit http://alzbc.org/Chinese or call the Chinese First Link® Dementia Helpline at 1-833-674-5007, Monday to Friday from 9 a.m. to 4 p.m.
For more information about the event, please contact Wendy Wong at 604-742-4903 or [email protected].
Thank you to our sponsors 感謝以下贊助商: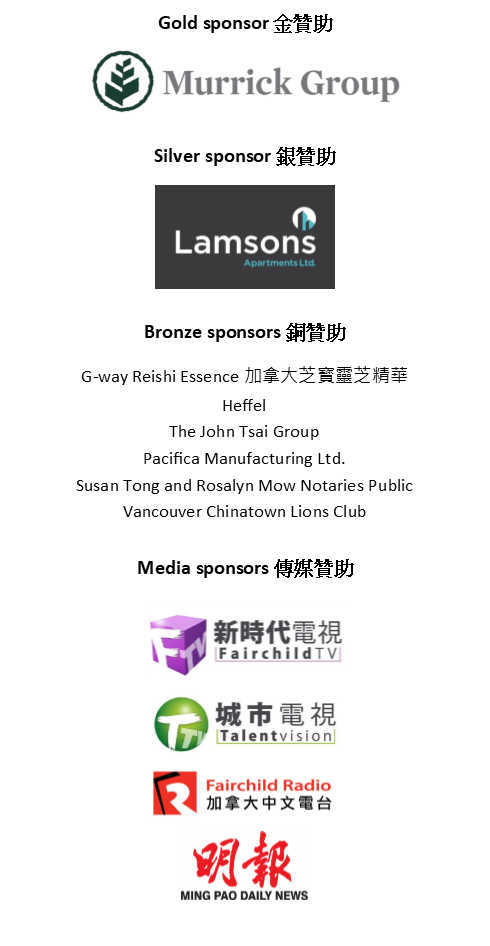 Thank you to our Patrons 感謝以下捐款贊助人:
Anonymous
Ching Family
Lam Family
Yue Family