Media centre
Are you writing or producing a story that involves dementia? On this page you will find information, resources and links to help you develop your piece.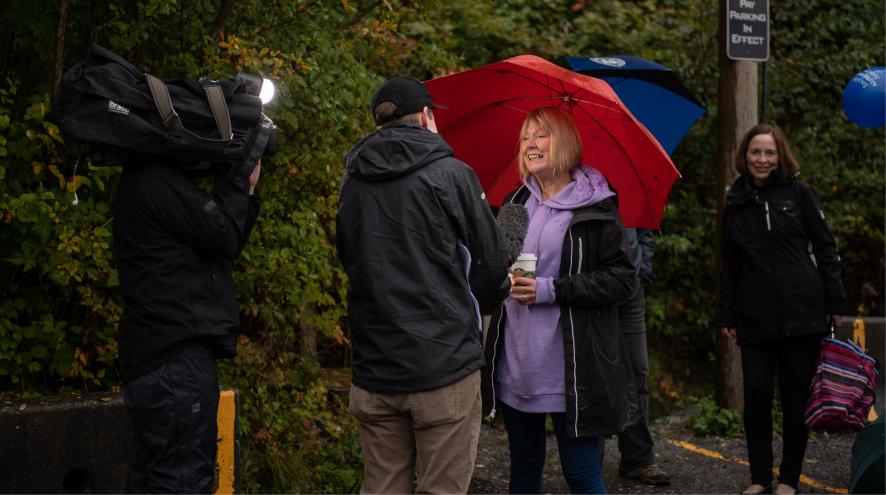 Welcome to the Alzheimer Society of B.C. media centre
Members of the media play a crucial role in raising awareness of dementia, reducing the stigma associated with it and amplifying the voices of people affected by the disease. Compassionate, accurate and person-centred journalism helps brings us one step closer to a vision of a dementia-friendly British Columbia: a place that is understanding, inclusive and supportive for people living with dementia and their care partners.
Spokespeople
Our staff spokespeople are available for interviews in English, French, Cantonese and Mandarin. We can often connect you with people living with dementia and their care partners, as well as researchers and health-care professionals.
Dementia-friendly language guidelines
Members of the media appreciate how much words matter. The words used when reporting on dementia can influence how the public sees people who are living with the disease. By being conscious about the language you use, you can help reduce stigma to ensure people living with the disease feel heard and valued. The Alzheimer Society of Canada has created Person-centred language guidelines and we encourage you to use these in your reporting.
Helpful numbers
We understand that statistics are often helpful to provide more context to your reporting. Please see links below that include some facts and figures that may help support your story.
Useful links and information
Below you will find some links to helpful resources and areas of our website that will give you more background knowledge of dementia.