IG Wealth Management Walk for Alzheimer's
read
With the IG Wealth Management Walk for Alzheimer's, you help transform the way we all live with and challenge dementia. Join us on the first Sunday in May in your community. Together, we make memories matter!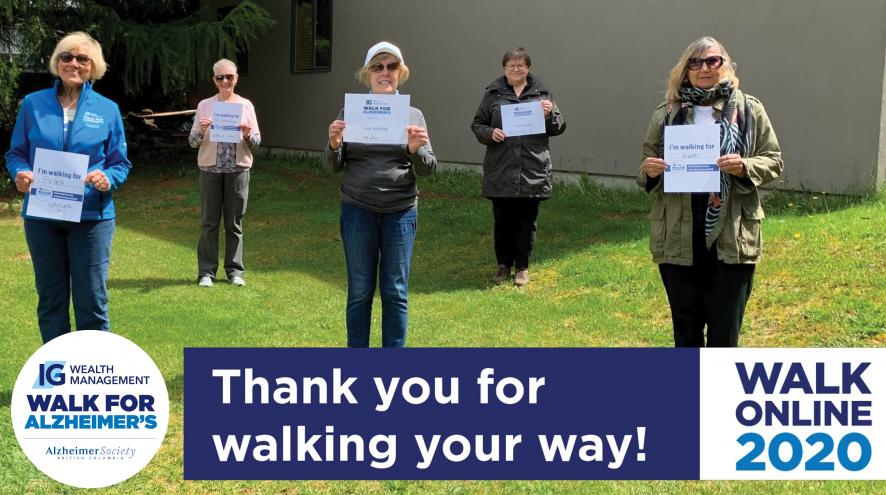 Click here for a list of IG Wealth Management Walk for Alzheimer's locations in B.C.
Join us at the IG Wealth Management Walk for Alzheimer's – Canada's biggest fundraiser for Alzheimer's disease and other dementias. It's a fun and family-friendly way to create a movement while sending a message of inclusion and hope to the estimated 70,000 British Columbians currently living with dementia and the people who care for them.
Funds raised stay in B.C. and support programs, education and services in your community. They also help enable research into the causes and cure.
Who will you walk for?
When you walk, you make memories matter. You honour people who have passed and acknowledge the work that must be done to ensure help and hope for the people living with the disease today.
Each of our Walk locations is dedicated to an honouree – someone who has been affected by dementia. Their story is a reminder of why we walk. Walk for your community's honouree – and in honour or memory of someone in your own life who has been affected by the disease.
Get in touch
For more information, please contact:
Glen Mountfield, Special Events Officer
Phone: 604-742-4948
Email: [email protected]