Dementia support in the Yukon
Dementia services, including the First Link® Yukon Dementia Helpline, are now available to support Yukon-based community members affected by dementia, health-care providers and the general public.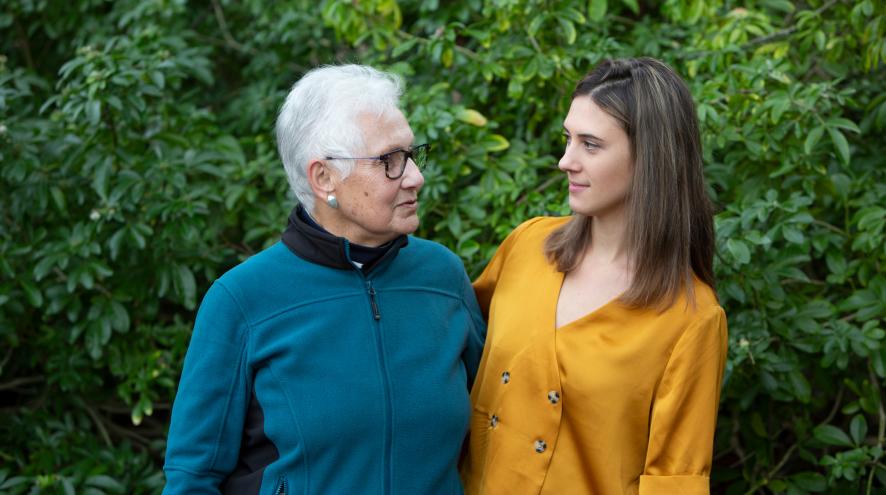 In partnership with the Government of Yukon, the Alzheimer Society of B.C. extends dementia support and education to Yukon-based community members living with dementia and their care partners, as well as health-care providers. The following support services and resources are available for people affected by the disease so that they have the confidence and skills to maintain the best quality of life possible:
If you or someone you know in Yukon is living with dementia or caring for a person living with dementia, remember that you are not alone. Through our First Link® Yukon Dementia Helpline and support services, we are here to support you every step of the way. Contact us today to access the help and guidance you need.
First Link® Yukon Dementia Helpline
The First Link® Yukon Dementia Helpline is a valuable resource for anyone in the Yukon who is affected by dementia – including people living with dementia, their families and caregivers, health-care providers, as well as others who are concerned about dementia or memory loss. If you are affected by dementia, our Helpline staff can provide the support you need, when you need it. 
Call our toll-free number: 1-888-852-2579. 
The First Link® Yukon Dementia Helpline is available from Monday to Friday, from 10 a.m. to 8 p.m.
We only offer service in English at this time. For email inquiries, please contact us at: [email protected]
How can the First Link® Yukon Dementia Helpline assist you?
By calling the Yukon Dementia Helpline, you can ask questions about Alzheimer's disease or other types of dementias. We can offer guidance throughout the progression of the disease, from getting a diagnosis to end-of-life care. 
In addition to general information about dementia, the Yukon Dementia Helpline can:
Offer a listening ear and provide emotional support as you navigate the dementia journey. 
Help you better understand the condition and its impact on individuals and families.
Provide coping strategies on managing daily activities, communication strategies, and maintaining a safe environment.
Suggest tips on maintaining independence while living with dementia.
Connect you to dementia resources and community support services.
Confidentiality and respect
We understand the importance of privacy and confidentiality. All information shared via the First Link® Yukon Dementia Helpline will be handled with respect and will remain strictly confidential.
Other services and resources
In addition to the First Link® Yukon Dementia Helpline, we offer a variety of educational materials and services available to Yukon residents: