COVID-19 resources for people living with dementia
Information for people living with dementia during COVID-19.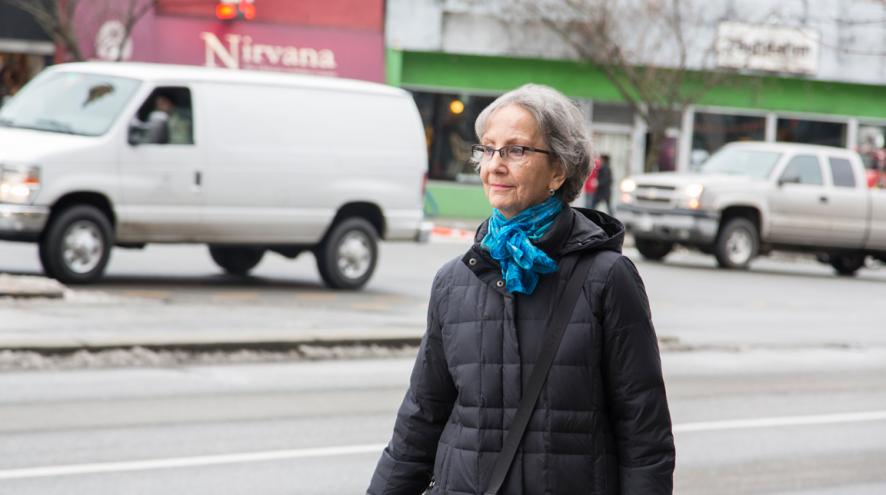 Physical distancing 
Coronavirus is spread easily between people and not everyone with coronavirus infection has obvious symptoms. The Provincial Health Officer, Bonnie Henry, has therefore ordered that B.C. citizens must adhere to physical distancing. 
This means avoiding any non-essential interactions with people outside of your household.
This is particularly important when it comes to older adults, who are most likely to experience significant or critical symptoms as a result of the coronavirus. 
Whenever possible, families should look at alternatives to providing support and care in person – for example meal delivery services, dropping off groceries at the doorstep, checking-in by phone or Skype - to minimize risk of exposure. 
If an essential visit to drop off groceries or medications, or for care provision, your caregivers should follow protocols outlined on the BC CDC website to reduce the likelihood of transmission to protect themselves and others. This includes:
Frequent handwashing.
Maintaining physical distances of two metres (six feet).
Disinfecting every surface that they touch.
Not having care or assistance provided by someone if they are experiencing even mild symptoms.
Tips to meet the physical distancing protocols
To meet the recommended physical distancing protocols, consider the following tips:
Put signs on doors to remind yourself to stay home.
Ask a member of your household to accompany you if you normally go for walks by yourself in the neighbourhood to help ensure physical distancing is maintained.
Ask your friends and family to reinforce the importance of alternative modes of connecting such by phone, Skype, or an online platform like Zoom.
Put shoes and jackets away. Out of sight, out of mind. 
Explore strategies for minimizing restlessness, boredom, and loneliness (see section: Activities to try while physical distancing).
Create a daily routine and write it down.  Having regularly scheduled activities planned can help you to pass the time and hopefully reduce the feelings of boredom and restlessness that can come with staying home.  
Arrange for groceries, medications and other necessary supplies to be delivered to your home. BC211's program 'Safe Seniors, Strong Communities' matches seniors who need support with non-medical essentials, to volunteers in their community who are willing to help. Volunteers can provide support for a number of activities including:

Grocery shopping and delivery.
Meal preparation and delivery.
Prescription pickup and delivery.
Phone and/or virtual friendly visits.
Staying connected with family and friends
It can be incredibly difficult to not be able to see your family and friends, but there are alternative modes of communication to keep in touch.
Stay connected to family and friends over the phone, and if you can, make use of face-to-face technology such as FaceTime or Skype.
If you find that there are certain times of the day when you are more tired, try to schedule calls when you will feel most alert and engaged. 
Self-care tips
Self-care is vital and will be even more important during these heightened times of stress.
Try to stay positive – the current situation is temporary. Think about the positive aspects of your life. Keep a list of the things you are grateful for and use it to remind yourself of these good things when you are feeling sad, lonely or overwhelmed.
Make back-up plans. Talk to other family members and create a plan for the instance that you or the person who has been shopping for you becomes ill. In times of crisis, it is reassuring to know there is a back-up plan. This can lessen the worry about an uncertain future.
Build and write down a new routine. A regular and predictable daily routine can be incredibly beneficial. This includes:

Maintaining a consistent bedtime and get up at the same time every morning.
Eating meals at consistent times.
Scheduling physical activity, rest times, social time, and purposeful activities into each day. For further support on creating a new routine that fits with the 'new normal' and different types of activities that you can include in your day, watch our "Activities to do at home" webinar.

Avoid information overload. There is news available about the pandemic 24 hours a day. While it is important to stay informed, too much information can become overwhelming. Limit your news to reputable sources and consider setting a time limit or schedule times into your daily routine to get caught up on the news.
Stay connected. One of the most challenging aspects of the physical distancing and isolation requirements is a significant decrease in the interactions we have with others. Consider options for staying in touch with friends and family. Regular phone calls or visits over Skype can help you to maintain the feeling of being connected to others.
Get support for yourself. It is important that you get support for your experiences. Identify a trusted family member or friend who can be there for your when you are feeling overwhelmed, frustrated, or tired and need a listening ear. Sometimes just knowing there is someone you can call for support is enough to boost your resilience.
Maintaining routine
A consistent routine will help you to know what to expect and to be orientated to time, date and place. During these times of change, loss and uncertainty all of us will benefit from having a consistent routine that incorporates meaningful activities chosen to enhance and promote our health and well-being.
If you are living with a caregiver, it may help to work on your routine together. Here are a few considerations to help you maintain a consistent routine and ensure that all of your needs are being met:
Consider your old routine. Where are the gaps now that you cannot participate out of the house? How can you adapt those activities to do at home so that you get the same benefit?
Write your routine down. Structured days are good for people living with dementia and can make the task of filling the time in a day less overwhelming if time has already been delegated to different activities.
Maintain consistent sleep and meal schedules.
Make sure that, as well as incorporating purposeful, physical, entertaining and social activities, you are giving yourself time to rest and relax. Balancing activities throughout the day is key. 
When planning a daily schedule of activities, consider your energy levels at different times of the day. If you feel more restless after lunch, perhaps try a physical activity. If you find yourself feeling anxious later in the afternoon, try an activity that reduces stress and allows you to rest.
Continually assess your routine. You can readjust your daily routine to make it work better for you. If you find a new activity that you enjoy, add it more frequently. If doing physical activity in the morning is challenging, try a different time of the day. 
Additional resources
Consider contacting the First Link® Dementia Helpline for information and support. In addition to receiving individual support, callers can access information about living with dementia during COVID-19 including practical strategies on a variety of topics such as coping with change and building a new routine
English: 1-800-936-6033 (9 a.m. to 8 p.m., Monday through Friday)
Punjabi: 1-833-674-5003 (9 a.m. to 4 p.m., Monday through Friday)
Cantonese or Mandarin: 1-833-674-5007 (9 a.m. to 4 p.m., Monday through Friday)
Further support is available through our webinars, which are held every week. Register for our upcoming webinars on our website or explore our recorded videos which are available 24/7 to learn about many more topics related to living well with dementia. Previous topics that may be of particular help include: