Breakfast to Remember
read
Breakfast to Remember events create awareness of Alzheimer's disease and other dementias, and raise funds for the many programs and services offered by the Alzheimer Society of B.C. Don't miss the opportunity to connect with a wide range of corporate and community professionals!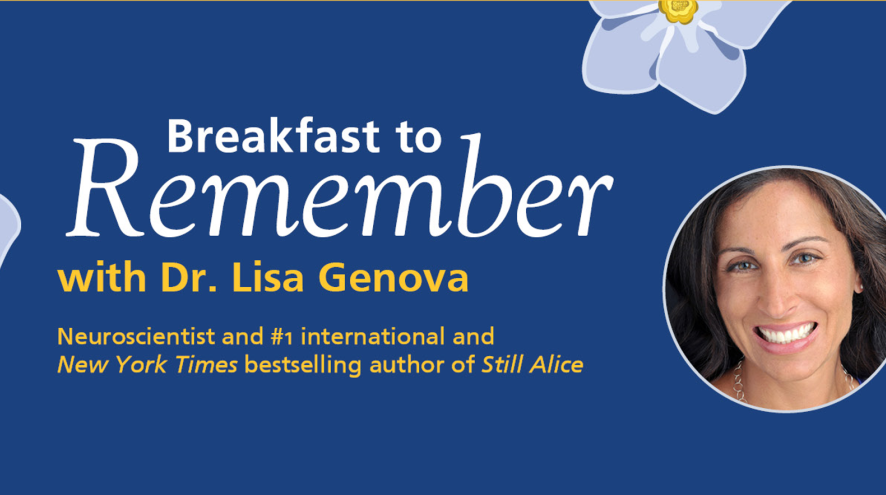 Thank you to everyone who joined us at Breakfast to Remember on March 3, 2022! We are grateful for the support of our guests, speakers, volunteers, sponsors and media partners who stepped up and helped change the future for people affected by dementia. If you would like to donate to the event, you may do so until April 1, 2022 at BreakfastToRemember.ca.
Dr. Lisa Genova will speak at the 2022 virtual Breakfast to Remember fundraiser
This March, take action to change the future for the estimated 70,000 British Columbians living with dementia by attending Breakfast to Remember, a virtual fundraising event featuring a keynote address and live Q&A with neuroscientist and #1 international and New York Times bestselling author Dr. Lisa Genova.
You can become a leader in your community by helping raise critical funds for Alzheimer Society of B.C. programs and services, as well as enabling dementia research. This year, at a time when people affected by dementia need support more than ever, everyone in B.C. has the opportunity to join Breakfast to Remember and show people affected by dementia that they're not alone.
Breakfast to Remember runs from 7:30 - 9 a.m. on Thursday, March 3, 2022. Along with the Breakfast to Remember event, ticket purchasers will receive exclusive access to our Breakfast to Remember research event, featuring a panel with British Columbia's leading dementia researchers on Friday, March 4, 2022 at noon.
Get your tickets today at BreakfastToRemember.ca 
Sponsorship packages are available for the province-wide Breakfast to Remember. You can align with our brand, show your clients and customers you care and demonstrate leadership in community investment, all while receiving great benefits for your business. For more information regarding sponsorship, please contact Zoe Wong at [email protected] 
For more information, contact:
Minika Chu at 604-742-4959 or [email protected]
Glen Mountfield 604-742-4948 or [email protected]
The Alzheimer Society of B.C. would thank you, our event sponsors and media partners: