Breakfast to Remember
read
Breakfast to Remember events create awareness of Alzheimer's disease and other dementias, and raise funds for the many programs and services offered by the Alzheimer Society of B.C. Don't miss the opportunity to connect with a wide range of corporate and community professionals!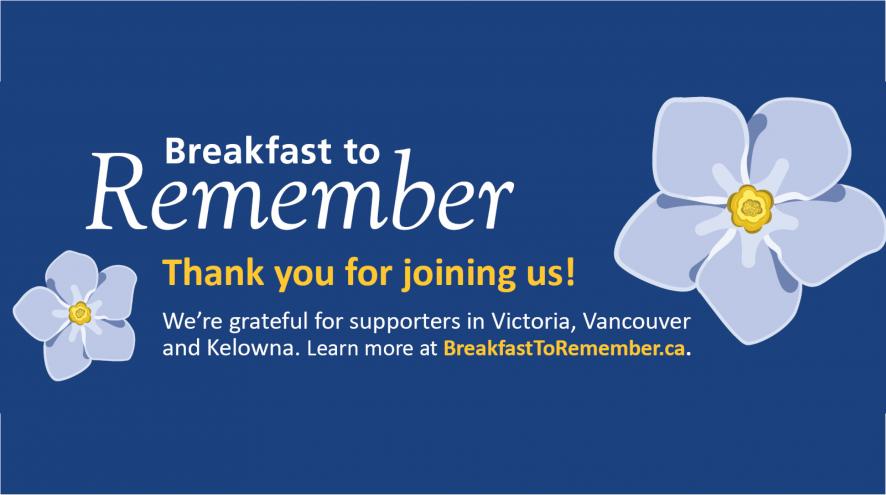 Business leaders step up for people affected by dementia at Breakfast to Remember
Earlier in the year, before social distancing measures were put into place, leaders from across sectors in Victoria, Vancouver and Kelowna came together at the Alzheimer Society of B.C.'s Breakfast to Remember fundraisers to support British Columbians affected by dementia. The breakfast events, held in Victoria, Vancouver and for the first time in Kelowna, featured personal talks from leaders in business, health care, sport and advocacy – all with a direct connection to dementia.
In Victoria on February 27, the audience at the Fairmont Empress Hotel heard from naval architect Greg Marshall, who spoke about the impact dementia has had on his personal and professional life. Sharing the stage was neurologist and medical educator Dr. Alexandre Henri-Bhargava and emcee Jordan Cunningham of CTV Vancouver Island. It was the seventh-annual event held in Victoria, presented by Trillium Boutique Senior Living.
In Vancouver on March 5, Global National anchor Dawna Friesen once again emceed the ninth-annual event, held at the Fairmont Hotel Vancouver. Guest speaker Dr. Heather Palmer, National Director of Cognitive Well-being at Amica Senior Lifestyles, spoke about the path she took into dementia research and person-centred memory care, while Greg D'Avignon, President and CEO of the Business Council of British Columbia shared his personal connection to dementia and the challenges it brought, while highlighting the innovative ways businesses around the province are leading the way in supporting people affected by dementia.
In Kelowna on March 10, the Coast Capri Hotel hosted the city's inaugural Breakfast to Remember, presented by Valley Mitsubishi and emceed by AM 1150's Phil Johnson. It was an incredible kick-off event with powerful talks from Craig Burns, a Kelowna local who became a national spokesperson for other people living with dementia through his work with the Alzheimer Society of B.C., and Bob Lenarduzzi, Vancouver Whitecaps FC Club Liaison and Canadian soccer icon. Bob shared insight into his incredible career, as well as how dementia affected his family.
The Alzheimer Society of B.C. is grateful to the volunteer organizing committees, attendees and sponsors who made the three events a success. Funds raised will support the Society's programs and services, advocacy and research, as well as allow us to continue to support people affected by dementia during this time of increased isolation during the COVID-19 outbreak.
"Now more than ever, people living with dementia and their caregivers need our support," said Alzheimer Society of B.C. CEO Maria Howard. "We are so grateful for the generosity of everyone who took part in Breakfast to Remember. By stepping up and making the events a success, you have helped ensure the Alzheimer Society of B.C.'s services will be there for people affected by dementia when they need them the most."