Education Support Volunteer
read
Join our volunteer team and support our education workshops on dementia and caregiving by becoming an Education Support Volunteer.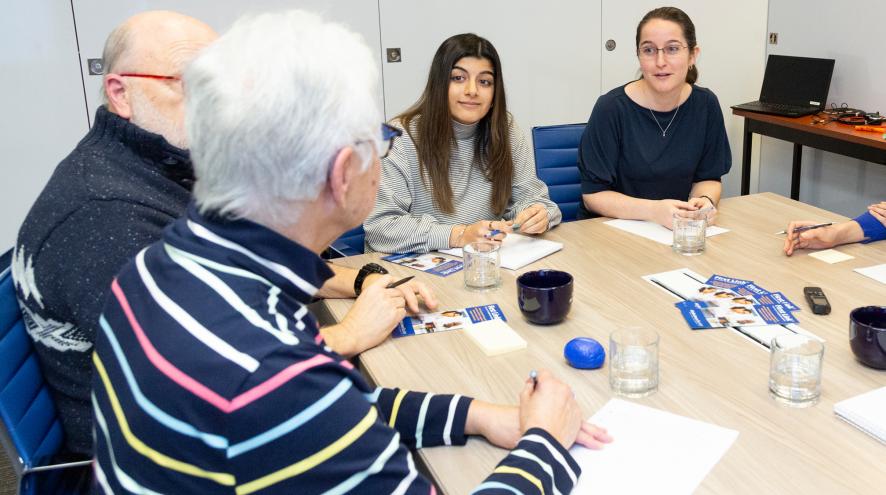 We are mindful of the importance of social distancing and the role we play in our communities to protect the health of our clients, employees and their families during COVID-19. We have therefore suspended the Society's in-person activities and volunteer engagement program for the next while - this includes Minds in Motion®, support groups and other education.
In the meantime, if you would like to complete a volunteer application, we will follow up when the programs re-opens. We look forward to discussing next steps with you as soon as we return to business as usual!
"I learned that dementia is a journey, that each day is a new day, that we are not alone and that we (and how we feel) matter. There is help and support."

- Workshop participant
About the role
The Alzheimer Society of B.C. offers workshops on a variety of topics related to dementia and caregiving for persons with dementia. Education Support Volunteers assist workshop facilitators to set up/tear down workshop space, register participants, organize refreshments, greet and assist individuals as they arrive, and facilitate break-out sessions during the workshop.
Commitment
Between 5 – 10 hours per month, 1 year commitment preferred OR;
2 presentations and one information booth per month.
Flexible as scheduling permits
Primarily week day/daytime hours, some evening/Saturday availability
Benefits
Increase knowledge about dementia and family caregiving
Gain experience facilitating group discussions
Spread awareness and support to persons with dementia and those caring for them
Position may count towards training and experience for direct support volunteer positions, including workshop or support group facilitator roles
References/reference letters may be provided to volunteers who have successfully completed 6 or more months in their position
Requirements
Friendly, outgoing personality and well-developed listening skills
Willingness and eagerness to learn about Alzheimer's disease and other dementias as well as family caregiving
Self-awareness and ability to recognize and respect boundaries with regards to answering questions and interacting with participants
Ability to travel within the South Fraser region
Ability to lift up to 30 lbs
Training
Orientation to Society programs, services and information resources