Minds In Motion® Assistant
read
Join our volunteer team and support our fitness and social program for people living with dementia by becoming a Minds in Motion® Assistant.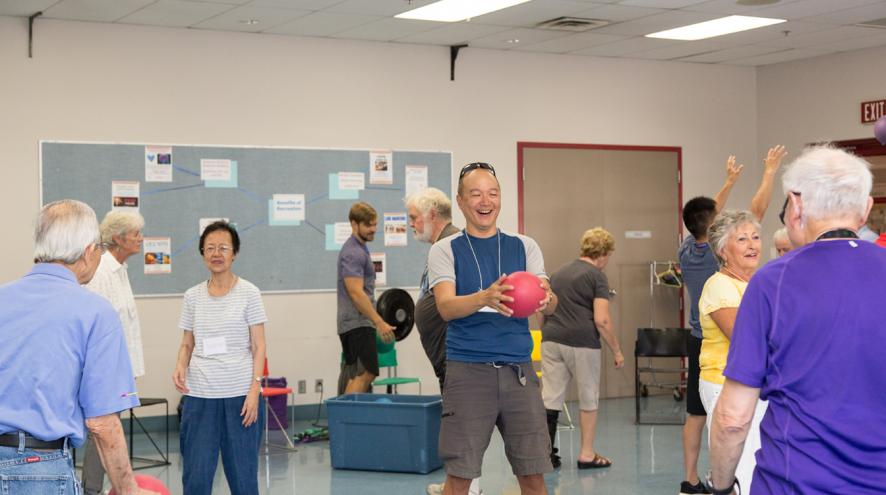 We are mindful of the importance of social distancing and the role we play in our communities to protect the health of our clients, employees and their families during COVID-19. We have therefore suspended the Society's in-person activities and volunteer engagement program for the next while - this includes Minds in Motion®, support groups and other education.
In the meantime, if you would like to complete a volunteer application, we will follow up when the programs re-opens. We look forward to discussing next steps with you as soon as we return to business as usual!
"The instructors and volunteers are friendly and we can tell they truly care how we are feeling. They make this program inclusive and fun. We love the camaraderie and great people."

- Minds in Motion® participant
About the role
Minds in Motion® is a gentle fitness program followed by socializing and activities designed to stimulate thinking, play, laughter and conversation. Minds in Motion® Assistants:
provide assistance to participants during the fitness program
assist with set-up and clean-up of refreshments, games and activities
help ensure everyone has the opportunity to be included, has an enjoyable experience, and is able to participate in activities and socializing.
Commitment
minimum 6-month commitment
3 to 4 hours per week
some flexibility re: school schedules, traveling, etc.
Benefits
Increased knowledge about dementia and family caregiving
Opportunity to support persons with dementia and those caring for them
Position may count towards training and experience for direct support volunteer positions, including workshop or support group facilitator roles
References/reference letters may be provided to volunteers who have successfully completed 6 or more months in their position
Requirements
Enjoys being with people, and is comfortable reaching out and including others
Patient, friendly and fun; comfortable in a non-competitive, inclusive environment
Sensitive to boundaries in working with vulnerable adults
Experience working with older adults and/or dementia helpful
Physically able to participate in the fitness part of the program
Able to lift light weights (supplies)
Training
Orientation to Society programs, services and information resources
Access to Alzheimer Society dementia education programs