Astronaut Chris Hadfield to speak at virtual breakfast event to raise funds for people affected by dementia
British Columbia
read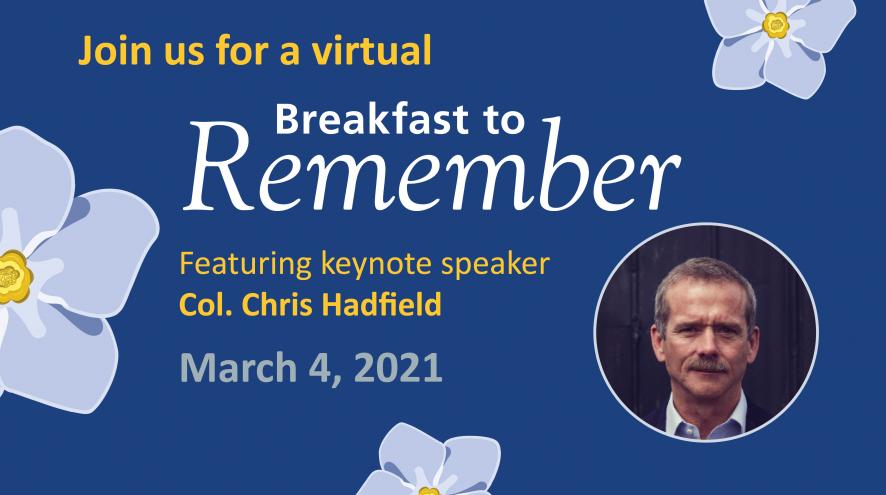 This March, take action and change the future for the estimated 70,000 people living with dementia in B.C. at Breakfast to Remember, a virtual fundraising breakfast event featuring a keynote address and live Q&A with astronaut Chris Hadfield, the first Canadian to walk in space.
Annual Breakfast to Remember events bring B.C. business leaders together with communities across the province to hear inspiring talks and help raise critical funds for Alzheimer Society of B.C. programs and services, as well as enable dementia research in B.C. This year, at a time when people affected by dementia need support more than ever, everyone in B.C. has the opportunity to join the Breakfast and show people affected by dementia that they're not alone.
"For 10 years, members of Vancouver's business community have embraced the Breakfast to Remember and provided invaluable support for people affected by dementia," said Robert Piasentin, Chair of the Alzheimer Society of B.C.'s Board of Directors. "We're very pleased that we've been able to pivot this year and offer a wonderfully unique virtual breakfast; it's an opportunity for leaders to step up and raise the funds needed to ensure help is there for families facing the disease when they need it the most."
We hope that people in all corners of the province will make the most of this opportunity to participate in a one-of-a kind event that also provides vital support when it's needed the most.
Breakfast to Remember is set for March 4, from 7:30 – 9 a.m. Tickets include access to an exclusive research event, featuring a live discussion with leading dementia researcher, Dr. Alexandre Henri-Bhargava. To learn more, or to purchase tickets, visit BreakfastToRemember.ca.
More about keynote speaker, Colonel Chris Hadfied
Astronaut | First Canadian Commander of the International Space Station
Referred to as "the most famous astronaut since Neil Armstrong," Colonel Chris Hadfield became a household name as the first Canadian commander of the International Space Station. Formerly NASA's Director of Operations, Hadfield is a heavily decorated astronaut, engineer, and test pilot whose many awards include the Order of Canada and the Meritorious Service Cross. Hadfield is also a three-time bestselling author, an acclaimed musician, an adjunct professor at the University of Waterloo, chair of the board of the Open Lunar Foundation, and host of two internationally acclaimed television series, In addition, Hadfield leads the space stream at Creative Destruction Lab, one of the world's top tech incubators.