Awareness Month 2023: Granville
Meet one of the British Columbians sharing their stories as part of Alzheimer's Awareness Month this year.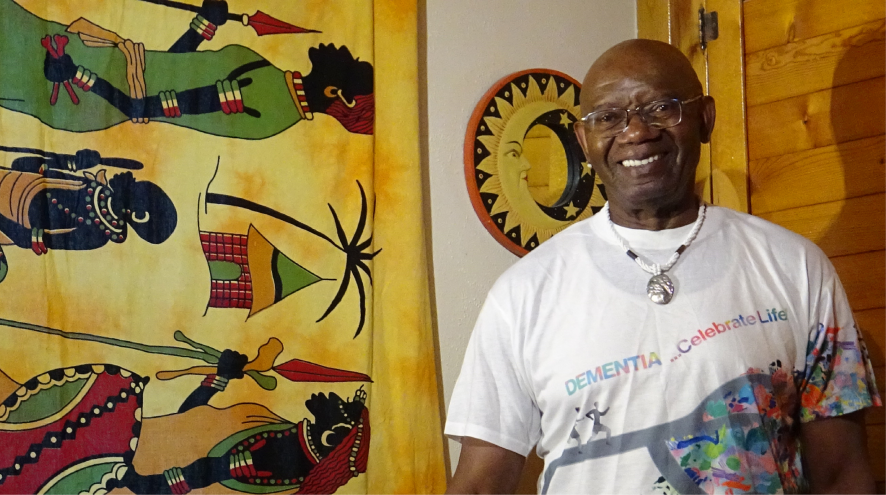 One in two British Columbians believe that a dementia diagnosis means the end of a meaningful life – but this isn't the case at all. Throughout January, the Alzheimer Society of B.C. is recognizing Alzheimer's Awareness Month by flipping the script on stigma associated with dementia and highlighting amazing individuals on the dementia journey who continue to find moments of joy, peace and happiness despite the many challenges of the disease. British Columbians affected by dementia continue to live full and meaningful lives, showing those around them to enjoy today.
Among those sharing their story is Granville of Sinclair Mills, a remote rural community of approximately 30 residents, a two tour Vietnam veteran, artist, musician and author. Since his diagnosis of dementia, he has learned to celebrate life and be in the moment.
Growing up, Granville was academically oriented and talented in many ways, mastering anything he put his hands to. "I was young, gifted and black before they knew what that meant," he says. Much later in life, Granville doesn't let his dementia diagnosis keep him from living life to the fullest. Having mastered playing the Djembe, a West African drum, Granville is also an advocate, talented artist, a poet and – most recently – an author. "I'm giving of myself within my world through my arts the best way that I can, showing people what someone living with dementia can still do," he says.
He was diagnosed with vascular dementia in 2011 but had been noticing symptoms for years before this. It turned out that the physical changes he'd been experiencing were related to an underlying diagnosis of conversion disorder – a condition that causes you to have nerve problems resulting from a history of acute trauma, you can't control. But the biggest concern came when he started forgetting his past. "First, I lost my childhood. Then the obscuring fog moved into my 20s and 30s, and I'm sure my 40s aren't far behind. It's a strange feeling when you don't feel like you anymore."
After he received his official diagnosis, he spent two years in a downward spiral, a sea of fear and rage. But his art helped pull him out of the spiral. "Dementia has given me a cause: being able to present myself through my art with the purpose of advocacy. Discovering that – wait a minute, I can actually help here!"
It is this mentality that drives Granville to work so hard to advocate for the dementia community. He's been advocating informally for about six years and formally for two: regionally, nationally and internationally. He wants to change the paradigm, so when others get their diagnosis, they don't fall into the same sea of fear as he did. He wants to debunk the myth that a meaningful life ends with a dementia diagnosis.
He uses his art to help people understand dementia, and that the best thing someone living dementia can do is realize their diagnosis is not a death sentence. He hopes his two most recent projects will help educate and benefit others like himself. He's finishing his first novel, the first volume of three. The book, which is called Backstory: The many lives of Granville Johnson, will focus on his childhood, up until he joined the army and went to war. Meanwhile, he and his band, Autumn Rose, are set to release their first album, called The day will come, which will have a combination of swing, bluesy jazz and spoken word. "Everything I do, I'm trying to create a legacy. Something that will benefit others long after I'm gone. To be remembered as a writer, an artist and as a musician. I want to be known as just that, not just the guy who had dementia," says Granville. 
Through it all, Granville continues to celebrate each moment of his new life living with dementia. "In a dementia world, all you've got are those moments: moments of calm, moments of joy, moments of peace amid the chaos of degenerative change. So, if you can be present; while working through the fear of change, toward being comfortable in those moments, they'll just come and always be there to engender...a love of life, unbound."
Learn more about the campaign
Want to learn more? Read some of the other stories being shared throughout the month at alzbc.org/FullOfLife.