First Link® Dementia Helpline Volunteer
read
Join our volunteer team and help provide essential information and support on dementia by becoming a First Link® Dementia Helpline volunteer.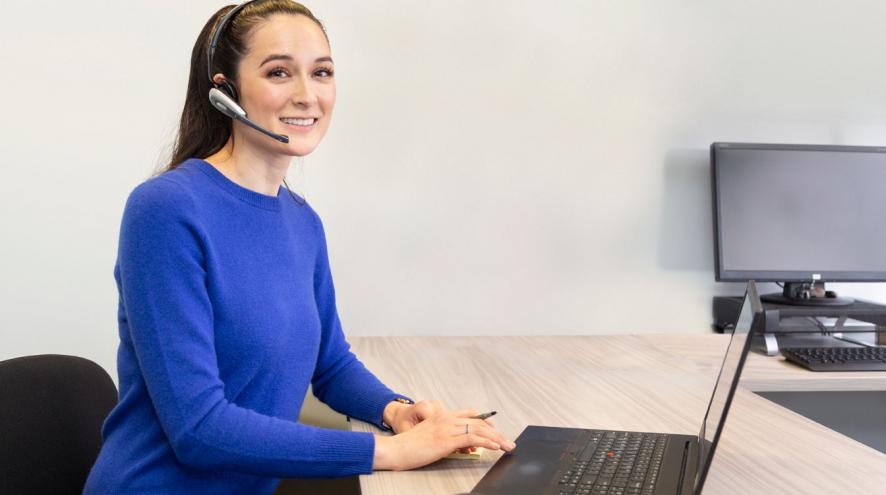 We are mindful of the importance of social distancing and the role we play in our communities to protect the health of our clients, employees and their families during COVID-19. We have therefore suspended the Society's in-person activities and volunteer engagement program for the next while - this includes Minds in Motion®, support groups and other education.
In the meantime, if you would like to complete a volunteer application, we will follow up when the programs re-opens. We look forward to discussing next steps with you as soon as we return to business as usual!
"Everyone says home is best, but there is no support out there for families like ours except First Link®. When we call you you call us back, when we have questions you offer sound feedback. I don't know what I would do without the First Link® calls. They really help me."
- First Link® client
About the role
The First Link® Dementia Helpline is run by a dedicated team of volunteers offering information and support on Alzheimer's disease and other dementias to individuals, families, friends, caregivers and health professionals. First Link® Dementia Helpline volunteers answer callers' concerns and connects them to appropriate Alzheimer Society programs and resources in their community.
Responsibilities
Provide information and empathetic support to the general public on Alzheimer's disease and other dementias
Provide information on programs and services offered by the Alzheimer Society of B.C.
Provide referrals to other services and agencies in the community
Stay up-to-date and informed about the disease, caregiving issues and current research
Qualifications
Good verbal communication skills, empathic listening skills
A desire to learn more about dementia, and the resources and supports available to individuals with dementia and their families and caregivers
Basic computer and phone skills
Knowledge of Alzheimer's disease and other dementias an asset
Formal or informal caregiving experience is an asset
Commitment
One-year commitment or 150 phone hours
Full attendance at extensive training program
Shift Options: Monday to Friday; 9:00 a.m. – 12:30 p.m. or 12:30 p.m. – 4:00 p.m.

Contact us about our new evening shift option
Orientation/training & support provided
An orientation to the Alzheimer Society of B.C.
First Link® Dementia Helpline support training
Basic one-to-one support training
In-depth information on dementia-related community resources
Ongoing supervision
Access to Society dementia education programs
Regular volunteer in-service events
Benefits
Gain skills in effective communication and support strategies
Be a member of a small, dedicated team providing high quality service
Be a first contact for people throughout British Columbia for support and information on Alzheimer's disease and other dementias
Learn about dementias and how to support those who have received a diagnosis
Engage in opportunities for leadership, community service and personal/professional development
Be included in our volunteer recognition program
Meet new people and have fun!
References/reference letters may be provided to volunteers who have successfully completed 6 or more months in their position
Location
Victoria Resource Centre
#202 - 306 Burnside Road West