Telethon for Alzheimer's
British Columbia
Sat, Nov 7, 7:40 pm - 9:00 pm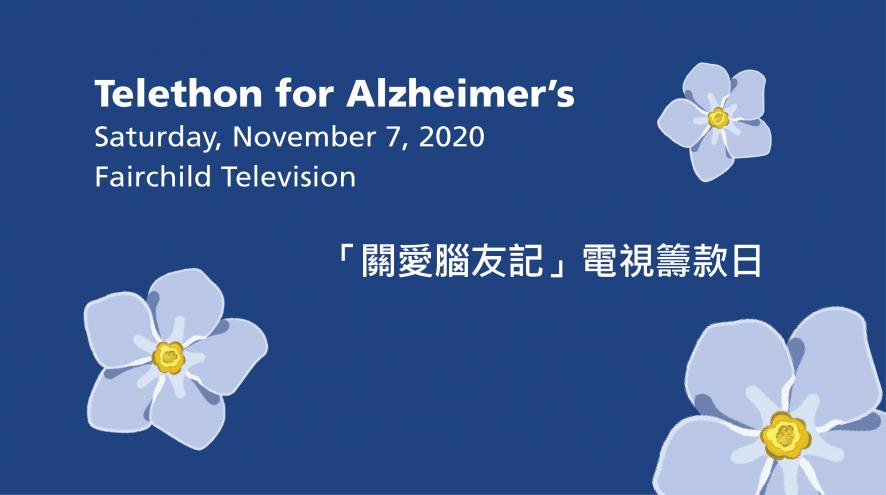 Please scroll down for information in English.
「關愛腦友記」電視籌款日
由於新冠肺炎 (COVID-19) 疫情的影響,卑詩省阿茲海默症協會決定取消今年的「關愛腦友記」慈善晚宴。雖然如此,卑詩省阿茲海默症協會將會與新時代電視攜手合作共同製作首次舉辦的「關愛腦友記」電視籌款日為協會籌募經費及提高華人社區對腦退化症的關注和認識。
首次舉辦的「關愛腦友記」電視籌款日,將於11月7日 (星期六) 晚上7:40於新時代電視全國播放及進行電視籌款。節目內容包括故事分享、醫生及家屬照顧者訪問、卑詩省阿茲海默症協會的資訊如支援服務及教育項目、以及贊助商簡介等等。
特別感謝無名氏善長的慷慨支持,從今天起直至11月7日,首五萬元的捐款將得到一對一的配對,令您的善款帶來雙倍的效果。除此之外,現凡捐款滿$50或以上,可獲贈限量版「關愛腦友記」愛心口罩一個,數量有限,送完即止。
您的支持將會為省內受腦退化症影響的人士包括華裔社區內的「腦友記」、其家人及照顧者帶來重大的幫助及改變。如您對活動或贊助機會有任何查詢,請聯絡 Wendy Wong 黃詠乾 604-742-4903 或 [email protected]。
Due to COVID-19, the annual Charity Dinner for Alzheimer's has been cancelled. However, Fairchild Television has stepped up and will co-produce the inaugural Telethon for Alzheimer's with the Alzheimer Society of B.C. to raise funds and awareness to support people affected by dementia in the Chinese community.
Broadcast nationwide on Saturday, November 7, 2020 at 7:40 p.m., the Telethon for Alzheimer's features interviews with researchers and families affected by dementia, as well as vignettes from people making a difference in the lives of others living with dementia. It also highlights programs and services available from the Alzheimer Society of B.C. while raising funds to support the Society's work.
Thanks to the generosity of anonymous donors, all donations made up to November 7 will be matched up to $50,000. For every donation of $50 or more, receive a limited-edition face mask from the Alzheimer Society of B.C. while supplies last.
With your help, we are working towards a world without Alzheimer's disease and other dementias. For more information, please contact Wendy Wong at 604-742-4903 or [email protected].