CEO Maria Howard steps away from the Alzheimer Society of B.C. to accept new challenge
British Columbia
read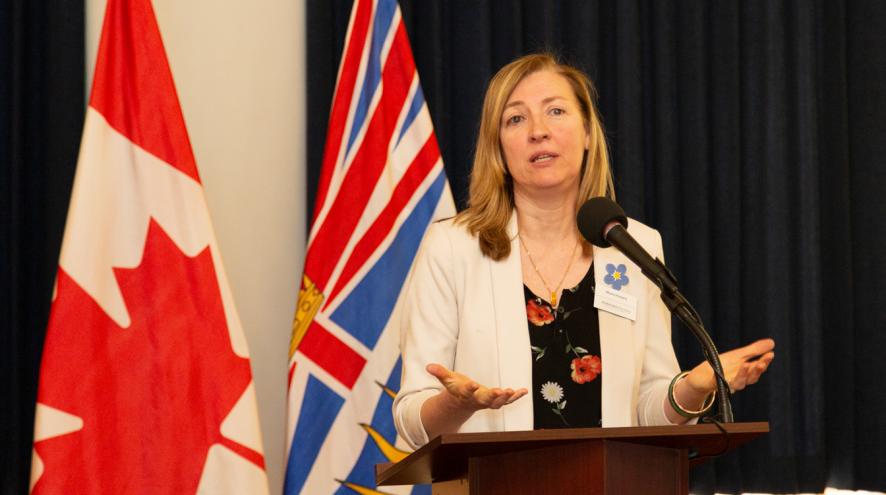 After seven years leading the Alzheimer Society of B.C., CEO Maria Howard will be leaving the organization to take a new role as CEO of Family Services of Greater Vancouver, a registered charity supporting thousands of families in the Greater Vancouver area who are living in need, in crisis, or with trauma.
Maria joined the Alzheimer Society of B.C. as CEO in December 2013. Since that time, the Society has grown its programs and services to ensure that First Link® dementia support is available to people affected by Alzheimer's disease or other dementias no matter where they live in B.C., expanded its advocacy efforts and grown its fundraising capacity. Under Maria's leadership, the Society:
Strengthened its ties with the Province of B.C. and community fundraisers to ensure consistent funding for First Link®.

Established the B.C. Leadership Groups for People Living with Dementia and for Caregivers, working to amplify the voices of people affected by the disease.

Led the development of Dementia-Friendly Communities in Canada.

Galvanized a community of care, with people showing their dedication to the cause through support of the Society's signature events, including the IG Wealth Management Walk for Alzheimer's.

Developed a robust approach to supporting research, acting as a bridge between researchers and the community.
"Maria's visionary business savvy and dedication have been transformative for both the Society and our stakeholders," says Board Chair Robert Piasentin. "She has helped raise the profile of the organization and awareness of the disease, championed the voices of people with lived experience, and moved us much closer to achieving our vision of a province where families affected by dementia are welcomed, acknowledged and supported."
The entire Board of Directors acknowledges the extraordinary leadership Maria and the experienced executive team have displayed since the beginning of the COVID-19 pandemic. They credit this for the organization's ability to adapt to the pandemic to ensure continuity of service for thousands of British Columbians who rely on the Society for support and education to help them face the dementia journey.
"It has been both a privilege and a pleasure to be part of the important work at the heart of the Society's vision and mission," Maria says. "Though I am leaving the organization, I am definitely not leaving the cause!"
"For the last seven years, Maria has made it her mission to ensure that the Society is truly provincial in scope," said Robert. "We know the Society stands on a solid foundation and we're looking forward to welcoming a new CEO to help take the next step."
The Society's Board of Directors has begun a search for a new CEO and will take the time needed to select its next leader while the organization continues its work to ensure British Columbians affected by dementia know they are not alone.
Maria will continue with the Society until October 16, 2020.