Dementia in the Days of COVID-19: Jim's story
British Columbia
read
Jim Mann, a member of the Alzheimer Society of B.C.'s Leadership Group of People Living with Dementia, shines a light on the lesser-known impacts of COVID-19 on people living with dementia.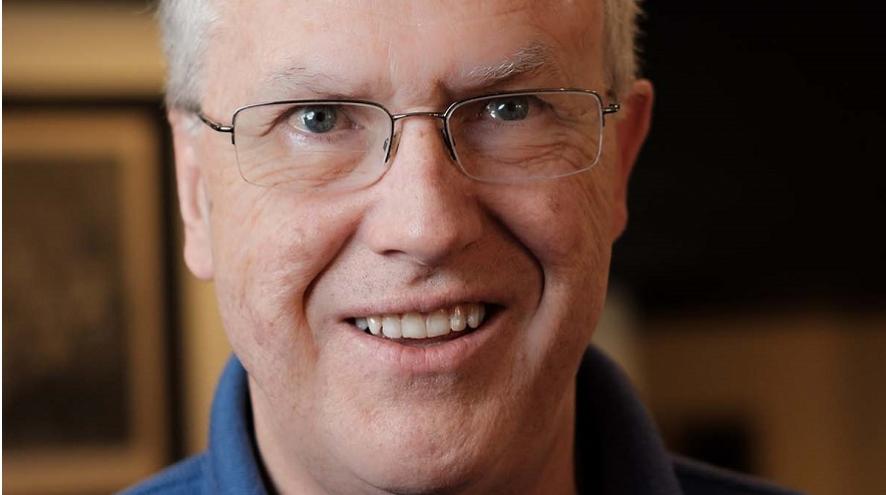 We've heard a lot about the impact of COVID-19 restrictions on the lives of people living with dementia in care homes, but much less about the challenges that are unique to the estimated two thirds of people living with dementia in B.C. who live at home. At a time when daily life has been disturbed on a wide scale due to the pandemic and images from within health-care settings are prominent in the media, what are the impacts for people living with dementia that we're not hearing about?
Over the coming weeks, we'll be checking in with Jim Mann, a member of the Alzheimer Society of B.C.'s Leadership Group of People Living with Dementia and dedicated advocate people living with dementia, who lives at home in Surrey. Since his diagnosis, Jim has committed to educating the public on how to break down stigma and create more dementia-friendly communities. The increased isolation and loss of support for many during this time has underscored the importance of his work and fostering understanding as we navigate this time challenging time together.
January 2022
Happy New Year! I hope you were able to enjoy the holiday period without too much stress. For me, the last part of December and early January can be a time when I am off kilter. There is no regular schedule of meetings and, thinking about it, there is nothing regular about this period, is there? I hope there was enjoyment for you and that you were able to celebrate reaching another milestone – 2022.
January is Alzheimer's Awareness Month and I hope you will indulge me if I talk about celebration in a different way with this update. I am co-investigator of a research project that I think warrants a shout-out, and Alzheimer's Awareness Month is the perfect time.
From the start of our project, people living with dementia have taken their place at the centre and focussed their energy and the project's direction toward the stigma and discrimination of living with a diagnosis of dementia. They have been intent on challenging the stereotype of dementia and changing the narrative from purely negative to the possibility of living positively with dementia.
The 11 members of our Action Group of People with Dementia concluded that their contribution to combating stigma and discrimination would be through the development of an online toolkit containing their own experiences in their communities. Through these discussions, members also arrived at possible solutions, which they offer to the online community of people living with dementia – and their carers too – to build confidence when venturing out in the community.
The toolkit website went live in late 2021 and now, this month, additional resources have been added that will be focused on the medical- and health-related services communities, as well as on researchers seeking to include people living with dementia in their projects.
Members identified these groups as benefiting from their insight based on their own interactions, which were perceived as stigmatizing or discriminatory. As before, accompanying their experiences are possible responses or solutions for both people living with dementia as well as the medical- and health-related services communities and researchers.
The toolkit web address is flippingstigma.com. We hope you will take a look and navigate through the various sections. As I suggested to someone on Twitter, it may be worth a look at the toolkit to help prepare for the next time you encounter stigma in the community.
December 2021
First of all, I have to acknowledge that this column on the Alzheimer Society of B.C.'s website began one year ago. That's right, December 2020 was the birth of "Jim's Story" that started with a focus on COVID-19 and the many associated realities of life living with dementia in the community. There's been a lot of water under that bridge but many of the complexities of COVID-19 still exist, exacerbating the challenges of living our lives to the fullest.
For many, December is a month to wind down and celebrate the year and all the achievements we, individually or as a family, have made. This time of reflection can be done alone but, especially this month, you may feel open to sharing with the relatives and friends around us. Don't be put off by my saying "achievements," which perhaps suggests only, as dictionary.com describes them as, "something accomplished, especially by superior ability, special effort, great courage." Rather, for each of us living with dementia, sometimes just making it through a day unscathed is a big achievement! For me, and I dare say, for us, it truly is taking it one day at a time doing as best as we can.
I am writing this piece in late November after the first weather event and associated catastrophe in the Fraser Valley and beyond, awaiting more significant rains later this week. Many people, young and old, are affected by this system. It is tragic. But I think of the many older people living in the areas that are being uprooted, taken to strange-for-them locations, and expected to stay there for an indeterminate time. How many of them have dementia and how are they coping? Rushing them in an already stressful situation can so easily backfire and slow everyone and everything down. I feel for them as I do for their family care providers and the rescuers. I know you join me in wishing them all well.
As we get ever closer to year end and looking ahead to 2022, I wish everyone the very best. Stay safe and bundle up to stay warm.
The Alzheimer Society of B.C. is here to help
If you, your family or friends are in need of dementia support, please do not hesitate to call the First Link® Dementia Helpline. The toll-free line has staff and volunteers on hand to answer any questions:
English: 1-800-936-6033 (Monday to Friday, 9 a.m. to 8 p.m.)

Cantonese and Mandarin: 1-833-674-5007 (Monday to Friday, 9 a.m. to 4 p.m.)

Punjabi: 1-833-674-5003 (Monday to Friday, 9 a.m. to 4 p.m.)
November 2021
I'm starting to write this edition of "Jim's story" two months before Christmas, and I am having a hard time believing we are that close to the end of the year. Funnily enough, I have just read a tweet acknowledging we are just three months away from 2022 – "anyone else still trying to process 2020?"
For some people, this has been a period when they have focused on new at-home activities and found a previously-undiscovered talent, which they plan to continue. Others have found the time inching forward at a snail's pace. Through it all, I hope you have been able to find moments of joy and peace and maybe even an undiscovered talent of your own.
Spending this time alone or with limited outside interaction, you might recognize a deterioration in your memory. I know I certainly have, and I don't live alone, nor have I limited interaction with others! All the same, it can be jolting, can't it? It is the kind of thing that creeps up on you until one day you realize the reality of living with dementia.
Creativity. That's what I think we all develop with dementia. I remember being in a car park with a colleague as she expressed hope she would remember where she'd parked the car. My solution? Take a photo of her licence plate, parking stall  and the closest pole with the floor number. I gave myself a pat on the back for that one!
Since the loss of our chocolate Labrador, I have been unable to go for an idle neighbourhood walk. I can walk if I have a particular destination, though, and so, I write where I'm headed, like a grocery store, and what I am purchasing on a small piece of paper. I put the note in the palm of my hand and carry it from my front door to the store and it works well. I remember once walking to the store and on three separate occasions became disoriented, wondering why I was where I was. I felt the piece of paper in my hand and looked at the note. I was reminded where I was going, re-focused and went on my way.
There's an expression: "Where there's a will, there's a way," which I believe so very much applies to living with dementia. That said, I hope you are giving thought to making appropriate adjustments at home and finding ways to continue living where you are most comfortable.
October, 2021
My, how time flies. Here we are in the fall and approaching winter with leaves changing – they seem to change earlier every year, don't they, or maybe it's just me! – and the furnace coming on and heating the house.
While I am definitely not a fan of the cold, I admit I enjoy being able to have a fire going and a few lights on to brighten up the living room. And sweaters. I love my sweaters! I'm not sure there are many other positives, but I'll keep thinking.
The fall includes, of course, Thanksgiving when we pause and give thanks for what we have, and maybe reflect on how things for us have gone since last Thanksgiving. That's a lot to think about, isn't it!
I read a comment recently by a person living with dementia who said how lucky they were to be living with dementia because it has given them many great opportunities. And when you think about that, that individual captured a perspective many of us wouldn't necessarily have thought about.
Thank goodness I live with Alzheimer's disease.
Some people have been able to learn new skills because they have volunteered with a community group, or they have become a part of a research team. I certainly never thought I would know, or even care, about data collection or think I would have a contribution to make in the company of researchers.
Many people I have spoken to have gone from the shock of receiving a diagnosis of Alzheimer's disease or other dementia and retreating from society, to grudging acceptance. Some will move on to volunteer and watch and learn from others to help them adjust to their new reality and actually start living with dementia. That's a lot to be thankful for!
As you reflect on this year, this very strange pandemic-driven year, I hope you will think about the people you have met, perhaps through your support group, and possibly about some new experiences that have come your way. And when you do, I hope you will realize these reflections have brought a smile to your face.
Happy Thanksgiving everyone. Stay warm!
September 2021
This month, to mark World Alzheimer's Month, Jim wrote a letter to his younger self, reflecting on 15 years living with Alzheimer's disease. Read the story here.
August 2021
This morning started with an early Zoom conversation with a young university student in the UK in the process of obtaining his PhD. He and I spoke for 90 minutes as he updated me on the progress of his work, some of the realities of expecting community groups to involve people living with dementia in their planning processes and next steps as he gets closer to his thesis defence. And, as I usually do, I challenged him and offered thoughts of my own. We expect to talk again in a couple of weeks.
We have had these conversations for a couple of years, and it is exciting to be a small part of his work. Besides, in my opinion, there is no better way to start a day. Throughout the day, I couldn't stop smiling and thinking about our conversation, which got me reflecting on my experiences over the years and the numbers of PhD students and early-career researchers I have had the joy of speaking with and working alongside.
I liken these opportunities to my own knowledge transfer program with students and early-career researchers who are focussing on dementia and who are in the learning mode, open to learning new thoughts and ideas. It's a place where I challenge and am challenged, where we share experiences, which I hope will encourage reflection and, ultimately, learn from each other. As these young people move forward in their careers, I believe and hope portions of our discussions will stay with them and may even lead to improvements or gains in areas affecting those of us diagnosed with a dementia and our carers.
Some of the projects centre around technology, others on navigating built environments, while others have connected with me through the link to my background in transportation. I have truly been fortunate and, in many ways, lucky.
July 2021
I advocate to educate and a part of how I do that is to wear a lanyard with a card that reads, "Please be patient, I have Alzheimer's disease." Truly, I'm public with my diagnosis and proud and happy to talk to anyone about my life with Alzheimer's!
I had the honour to join the Alzheimer Society of B.C.'s board of directors in 2008 and in 2009, the location of board meetings changed to a member's office in the Bentall complex of buildings in Downtown Vancouver. I was happy with this location as Bentall was a stop on the SkyTrain route.
I would travel to the meeting early, settle at the coffee shop in the complex and enjoy a change of scenery before the meeting. I used to work in a couple of the Bentall towers, so felt very comfortable and enjoyed seeing people rushing here and there as I thought about how happy I was no longer having to keep that pace.
As relaxed and simple I've made this sound, it wasn't without its challenge. More than once I would go to the counter and . . .
That's right, I would stand before the clerk and be overwhelmed with the background music, the many voices in the building and the menu on the wall. It would take what seemed like minutes to regain my ability to place the order and pay. I recounted these incidences to my wife, who reminded me that I had a card in my wallet for occasions like I experienced. Unfortunately, when I'm disoriented, pulling out my wallet to show the card was and still is the farthest thing from my mind.
The solution then, was the lanyard. Not only would it assist me when next ordering coffee, it would signify to anyone, anywhere, a willingness to engage in a conversation about Alzheimer's. To this day, whenever I leave the house, I put the lanyard around my neck. And to this day, 12 years on, only two people have engaged with me directly about it. One person complimented me on showing an openness about my diagnosis and the other spoke about her grandfather and how she wished he had been more open about living with Alzheimer's disease.
Do people see and read my lanyard? You bet they do. I can see their eyes focus on the badge and its message. I was once told by an official at the Alzheimer Society of Toronto that one of their board members had talked about seeing a man at Vancouver International Airport wearing a lanyard like mine. He said he thought it was so effective and helpful, though he didn't approach me at the time. I will be in line to pay at a store and hear whispers from behind me as a couple will say they noticed my lanyard. "He has Alzheimer's," they'll say to each other.
Wearing a lanyard would be uncomfortable for some, which I understand. This is my story of how I navigate and live with my Alzheimer's disease diagnosis. It is also my way of showing communities that a person living with dementia can live, can do things in the community and can walk and chew gum at the same time! From my perspective, this is my way to educate people about dementia in an effort to reduce the stigma of living with Alzheimer's disease or any other type of dementia.
June 2021
Is it springtime and the thought of spring cleaning? Is it the pandemic and the ever-so-gradual reduction of restrictions, perhaps? Or is it what comes with age? Either way, I was reflecting on my post-diagnosis life and some of what I have achieved, and contributions made, as I started what seems to be a monthly job of filing.
You see, if I don't print an article of interest, or a special quote, or even a photo of (perceived) value, I won't remember it tomorrow or next week when I might need it for reference. Environmentalists will cringe at the thought, but I print a lot.
Back to the filing. The headlines of articles tell a story in themselves: A 14-year-old boy challenged state lawmakers to "spend a day in my wheels." Good for him, I thought. A fabulous example of self-advocacy and, if you don't ask, nothing will happen. Another headline was Leaving footprints that tell a story, which I thought was lovely by itself, but speaks about a program that gives people living with dementia and care partners "a boost in their confidence." And then there's an article that at least the headline should be shouted from the rooftops: Outdated Myths About Dementia That It's Time to Discard.
Some of these were referenced on social media while others were recommended to me. I may not read fiction anymore and will take time to make it through books about Alzheimer's disease, whether they are written by a person diagnosed with dementia, or an M.D. or researcher, but I still try to read and understand.
What I take from all that I read and print, is there are advocates we can learn from. There are researchers doing amazing work that needs to move from paper or a computer screen into the mainstream. And that's called knowledge transfer, knowledge exchange or knowledge translation. Whatever you call it, it's a wall that isn't climbed by everyone, so change isn't happening as fast as I would like or as fast it could, in my humble opinion. I think that's a topic for another posting!
I leave you with something I read from Gail Gregory, a woman in the U.K. who lives with dementia, who wrote recently,
Everyone living with dementia has a voice
Our views maybe different
That's because our journeys are different
We just need to be heard
We need people to listen
We can still live
We can still learn
We have so much to give
Don't forget us!
May 2021
Now more than ever, people are at home and behind a computer screen. What role does social media play in your life and how important do you feel it is for people living with dementia?
I hope these updates on COVID-19's impact on my world, which have been shared on social media, have been helpful to readers. Perhaps some will be reassured they aren't the only ones experiencing a particular challenge and others may be better prepared going forward. This is a new experience all around and we're all learning as we go along.
Social media is not one online platform and, at least for me, I seem to hear about new ones weekly. From Facebook, Twitter, TikTok, WhatsApp and who knows what others. Obviously, you can tell I am not a big user, sticking to LinkedIn and Twitter. And please note that this article is written for information and interest and does not mean to encourage anyone to become involved in social media.
Recently I read a couple of different papers about Twitter and how it is being used by people living with dementia that I thought were interesting and show different ways it is being used.
One study spoke about Twitter's current use as a sounding board as people deal with the quarantine and restrictions of movement. Users are able to commiserate with others about the frustration this pandemic has caused, but also learn from others' experiences.
The other paper discussed the breadth of Twitter's use as an information source, but also as a place to provide support and education about dementia, and to engage in online advocacy. Some people living with dementia see Twitter as a way to dispel the stereotype and illustrate living positively with dementia as a vehicle for social change.
When used with care, social media can be a tool for entertainment, learning and self-advocacy.
Interested in learning more? Read the research on the impact of social media on people living with dementia:
April 2021
How do COVID-19-related changes to the built environment – like stickers on a grocery store floor, signage or other barriers put in place to uphold physical distancing – affect a person living with dementia and their ability to navigate a public space?
The COVID-19 restrictions have affected all of us in a myriad of different ways.
People with no cognitive impairment talk about their challenges resulting from the COVID-19 pandemic restrictions. Then think how these signs and new restrictions and the necessary attention to detail are affecting people living with dementia as they try to navigate within their own communities at the same time as they try to remember the details and adapt. It makes me tired thinking about it!
Let's take grocery stores. Packing your own bag for your purchases: some stores allow your bag to be placed on their counter while others insist it be placed on a pull-out shelf. And from personal experience, as I've also heard from others, heaven help those who don't get that right. I have been on the receiving end of a tongue lashing for that mistake.
A grocery store where we shop has stickers before each cashier indicating where to stand in order to maintain the two-metre separation. That's fine, except as you get closer to the cashier you also interrupt the flow for other customers, which becomes a distraction and is very disorienting. I think the store would be better to leave that space open and have the line for the cashier snake up the aisles.
I'm not picking on grocery stores, however. There is one other thing. The up or down arrows on the floor for traffic flow. I don't know about any other people living with dementia, but I'm concentrating so hard on just making it through picking up the items on my grocery list that these stickers don't register. If they were at eye level, I suspect I would be more aware of their presence and wouldn't get spoken to or flashed the look of disgust by other customers.
I offer these examples as illustrations of outcomes from decisions made without due consideration of people living with dementia. At the same time, they demonstrate the need for the dementia-friendly community initiatives to consider clientele living with dementia when making these adjustments.
Being extra careful in these times is a necessity, but it is tiring. Not only do we have to be vigilant navigating stores of any kind, but vigilance is also needed on streets. Last summer, for example, the City of Vancouver authorized more than 300 outdoor patios, according to an article I read, which was lovely for some who wanted to socialize and return to a favourite restaurant. But these additions were being placed on sidewalks that were not, in many cases, built with this structure in mind. For those walking by, this was something new to navigate with potential tripping hazards and more disorientation.
These restrictions may well be with us for a long time. In the meantime, we still need to get out, and walking lets us enjoy the fresh air at the same time we get exercise. We can do this with a little extra time and paying a lot of attention. All that to say, please be careful.
March 2021
How have you been handling the constant flow of information in the news that many people are finding overwhelming and stressful? Are there things you have done to help strike a balance or unplug?
It would be fair to think that because I have not been travelling or taking time to travel into town for meetings, that I would be in total control in my home office. That, unfortunately, isn't the reality! It has taken me almost a year to better manage the flow of information and, believe me, it's a work in progress. There is a need to pick and choose what you read and what you save because the flow of information is constant. As more and more groups and universities issue newsletters and as patient-oriented research becomes more accepted and pursued, there are more communication pieces distributed that could lead a person living with dementia to feel they are drowning in information. Don't let this be a point of stress.
Be interested. Be curious. But keep it manageable.
What are you hopeful for in 2021?
As in previous years, I look forward with hope and determination, and especially this year as we continue to deal with COVID-19 and especially with its impact on those of us living with dementia alongside our spouses, partners, families and friends. Additionally, I hope there is continued progress with awareness of dementia, at all stages, within our communities, our province and beyond, a reduction of the stigma of dementia, and continued work by researchers on quality-of-life and bio-medical issues in collaboration with people with lived experience.
February 2021
You are part of many committees, groups and research co-creation. How has the transition of shifting this work from in-person to online been for you?
This new way of convening meetings has its positive points, but I have to say, has a few more negatives. Zoom does not take the place of meeting people face-to-face and sitting around a table discussing agenda items. The opportunity to meet new people leading, perhaps, to teachable moments or long-term dementia-related relationships is hindered. Online meetings can be hard to get used to, however, practice makes perfect, as they say.
On a positive note, online meetings are more inclusive, in part because people can be included without incurring additional costs that some groups would previously have been unable to underwrite. This is significant and a win-win for everybody. I'm sure there are other positive points but, truthfully, I can't think of any right now!
The transition to meeting solely online was a bit easier for me because I am a member of a couple of committees that were already utilizing this system, so I was comfortable. What I have found more difficult is the amount of time a person can spend in online meetings. Fortunately, or unfortunately, the ease of organizing a meeting seems to almost encourage meetings!
Is there any advice you would have for making online meetings and events more accessible and comfortable for people living with dementia?
It is important to note that there is an adjustment period involved for everyone, so I encourage people to take the time needed and take it easy on themselves. There are different meeting providers, like Zoom or Webex, for example, so you may have one meeting using one platform and the next one, another. None are the same, so, like I say, don't be stressed, just take your time.
Don't be afraid to ask the meeting organizer for a dry run to become acquainted with whatever system is being used. It shouldn't take too long and would ensure a good start from the beginning of the meeting, which enhances your self-confidence and contribution.
Often a point of awkwardness in a meeting is speaking in order to make your contribution. You will find different chairs will have different thoughts about inviting input but one way that I think has general acceptance is to indicate a desire to speak by putting your hand up for all to see. There can be time delays with these virtual meetings that can get people talking over each other and by indicating visually you wish to speak, this should reduce confusion.
Good luck.
January 2020
We're coming up on Alzheimer's Awareness Month and this year, we're asking people about their hopes for the future of dementia. What are some changes, big or small, that you would like to see for people living with dementia in 2021?
I'm writing this in December with the belief the restricted movements caused by COVID-19 will be with us for the better part of 2021, which suggests to me, creative thought on how to support people living with dementia will be, or should be, the order of the day. Many articles are written about the resulting challenges from COVID-19 for long-term care residents, many of whom live with dementia. But there are few, if any, articles being written about the challenges faced by people living with dementia in the community and how they might be addressed.
People need a purpose. A reason to get out of bed in the morning. And for many people, that is a missing component in their life. I read an article about a study at Rush University in Chicago that showed "that elderly (people) with a positive sense of purpose in life may be able to reduce their cognitive decline by 50 per cent." I'm not suggesting this as any kind of a remedy; rather, offering this as one potential way to reduce the negative impacts of COVID-19.
Can technology fix that, or at least be a part-time enabler? Are there online activities or supports that can be publicized to aid caregivers or people living with dementia? 
As long as technology is used purposefully, it can be an enabler for people living with dementia. There are sites like AcTo Dementia — Accessible Touchscreen Apps for Dementia, for example, that offer games and other resources for people living with dementia, many of which are free.
There seem to be more free events offered online than pre-pandemic times, which is wonderful. There are free concerts on YouTube, free virtual tours around galleries and museums and even accessible African safaris.
Technology can also be used to keep in touch with friends and family. With Zoom, Skype, FaceTime as well as other programs, communicating with others can be comparatively easy. I have heard of some people joining others online for coffee or happy hour. I have done both and, although it truly is not the same as being in the same room with each other, it is one of the best alternatives. Many of these options, like the games, can be done separately, but many others can be enjoyed together, like the concerts or the virtual tours.
Check it out:
December 2020
What are some of the concerns you have for people living with dementia that aren't being talked about?
First of all, I suggest there aren't a lot of conversations happening about or with people with dementia on COVID-19's impact so your question and this Q-and-A will hopefully be the start.
People living with dementia value routine and much of that has been lost. Routine can include variety and it is that loss that has a big personal impact. For example, my routine sees me in my office in the morning and out-and-about with my wife, Alice, in the afternoon. That routine would frequently change to include face-to-face meetings in Vancouver requiring me to take SkyTrain and busses. Now? I'm in my office, period. The impact of this concerns me for the future, whenever that date may be.
People are waiting for life to get back to normal, but what is that for a person living with dementia? I am used to taking the bus and SkyTrain but how adept will I be 12, or perhaps 18, months from now? Will I have the confidence to even try navigating the system? Will the transit operators be patient for individuals like myself who may need a little coaching or assistance?
What are your biggest concerns for people living with dementia during COVID-19?
Living with a diagnosis of dementia is life altering. As well as ageism and the negative perceptions of dementia held by many in society, many of us experience a withdrawal from the community when we are first diagnosed. This will be different for everyone, of course, but for many people, COVID-19 will have this exacerbated withdrawal.
Everyone has experienced severe disruption in their lives that, for people with dementia, has resulted in a faster loss of memory and a further loss of self-confidence. It would stand to reason then, that after a lengthy period of  restricted movement, a rapid return of memory, self-confidence and their old routine will be questionable. So, what then?
Do you have any pieces of advice for other people living with dementia in the community?
To try to try to find that purpose. Take a walk to enjoy the sights and sounds of your community, for example.