Driving forward change: Medical director looks to new opportunities in dementia research and treatment in B.C.
British Columbia
read
Dr. Alexandre Henri-Bhargava shares insight into local innovation in dementia research at our exclusive Breakfast to Remember research event.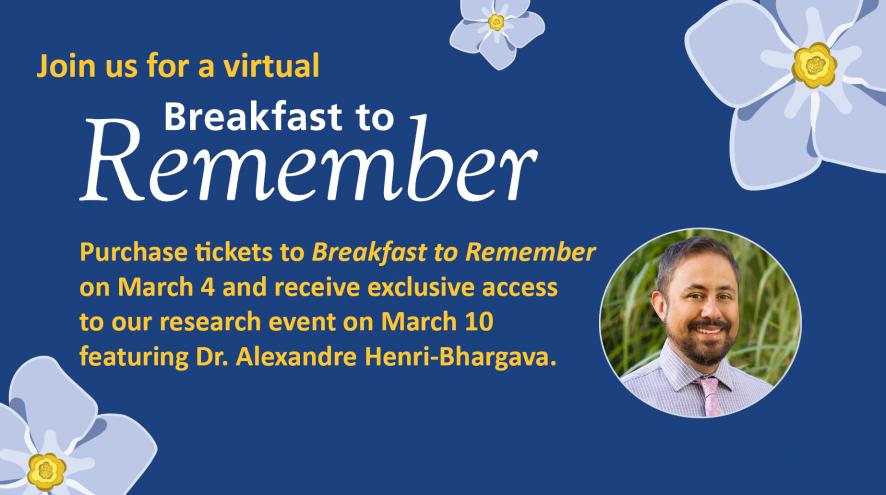 Imagine you're a researcher who has just discovered a protein in blood that can help distinguish between a person who has a form of depression and someone who doesn't – and you have reason to believe that the same protein may lead to a breakthrough in helping identify someone living with Alzheimer's disease. All you'd need to do to test your theory is compare a group of samples from the depression study against a group of blood samples from people living with Alzheimer's disease. Simple, right? Not when you need to recruit participants, take blood, send it to a lab – and even before all this, successfully land the funding to pay for each of these steps.
Dr. Alexandre Henri-Bhargava, Medical Director of the Neil and Susan Manning Cognitive Health Initiative at Victoria's Royal Jubilee Hospital, is working so that his colleagues don't have to face this type of scenario. It's also the reason why he's working with colleagues from Island Health and the University of Victoria to create a bio bank for people living with dementia.
The bank would consist surplus blood from blood tests, and existing brain scans, linked to anonymized clinical information, that researchers could access to fast-track their work and push forward innovation in dementia care.
"If we already had the bio bank set up, within a week or two we could know if it's an idea worth pursuing," Dr. Henri-Bhargava says, referencing the depression study. "Right now, it's an elaborate production."
It's a game-changing project for dementia researchers – and one currently undergoing extensive logistic and ethical review before it becomes a reality for the Island Health region and eventually more health regions in the province. Dr. Henri-Bhargava and the team at the Cognitive Heath Initiative, whose goal is to close the gap between discoveries and treatment options, are also moving forward with other exciting projects that could have an immediate impact on the quality of life of people living with dementia.
As part of the work, researchers are currently studying the benefits of mindfulness as a treatment for people living with Mild Cognitive Impairment. Dr. Henri-Bhargava will discuss this work and the latest in dementia research at an exclusive talk on research on Wednesday, March 10 at 6 p.m. Access to the exclusive interactive event will be given to people who purchase tickets to Breakfast to Remember, set for 7:30 a.m. on March 4, featuring keynote speaker, astronaut Chris Hadfield.
To learn more about Breakfast to Remember and to purchase tickets, visit BreakfastToRemember.ca.