Volunteer Spotlight: Geri Hinton and Jim Mann, committee for engaging lived experience volunteers
British Columbia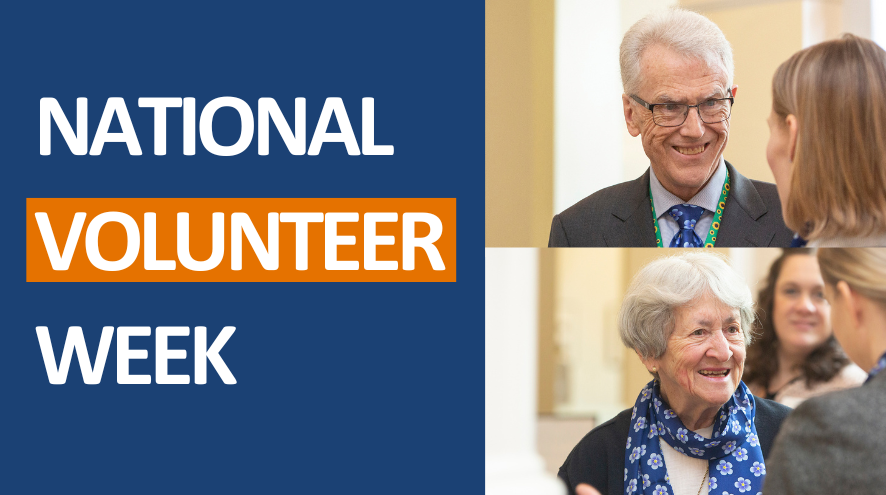 Geri Hinton and Jim Mann are two incredible volunteers who have dedicated their time and energy to the Alzheimer Society of B.C. Geri's journey with the Society began years ago, when her husband Peter was diagnosed with Alzheimer's disease in 1998. She has been connected with the Society ever since, and her commitment to supporting families affected by dementia has never wavered. Jim first got connected with the Society in the late 90's when his mother began her dementia journey, and he didn't know a lot about the disease. Years later in 2007, Jim was diagnosed with Alzheimer's disease himself. He's been contributing his knowledge and sharing his personal story to break down stigma ever since. 
When the Alzheimer Society of B.C. put out an invitation on their website for volunteers to help with their advocacy efforts, Jim saw an opportunity to make a difference. "Having accompanied my mother on her journey, and with my professional background in advocacy and public policy, I put my name forward," said Jim. "Volunteering with the Society has helped me learn more about my disease, which has helped me gain and retain confidence as I experience new and different outcomes from my dementia. My contributions have also allowed me to use my own skills and acquire new ones as the Society's reach in our province expands. I think volunteering is a win-win." 
For Geri, volunteering with the Society is a way to give back and help others who are going through what she went through as a family caregiver. "Volunteers can build compassion and community through participating and contributing to the work of an organization," said Geri. 
Geri and Jim were drawn to a project being undertaken by the Society to better engage and collaborate with people living with dementia and their caregivers because they believe individuals with lived experience of dementia should guide all aspects of the Society's work. The project is an opportunity for Geri and Jim to work with a cross-section of Society staff to develop a program for engaging people with lived experience as advisors, advocates and spokespeople in new ways.  
Geri got involved in the work because she believes inclusion can inspire us. "We can foster connections that lead to greater capacity in the organization where everyone feels a sense of belonging." Jim thinks the Society will benefit significantly from including people living with dementia. He felt that being provided an opportunity to volunteer alongside staff will allow volunteers to get insight into program creation and operation, and staff will also benefit from hearing firsthand from those volunteers with lived experience. 
The Society is committed to ensuring opportunities for people to participate reflect with their abilities, availability, and interests. This allows volunteers like Geri and Jim to share their unique stories and personal contributions to inspire others and help build a compassionate community. People have opportunities to participate in focus groups, advisory groups and peer-led programs, share their experiences through media interviews and Society education, or work with the Society's advocacy team.  
For Jim, he believes volunteering can give someone with lived experience purpose and it can be that reason to get out of bed in the morning. He finds it important to share all he's experienced on his dementia journey. "Through various activities and committees and meeting many people along the way, I hope I have inspired and given some people confidence to see their own possibilities." 
Geri believes that everyone affected by dementia can benefit from knowledge and guidance around the complexity of the caregiver role. She hopes to continue to contribute to the Society's work in supporting families and individuals affected by dementia. She encourages other caregivers to put their hands up to volunteer. "You can have a positive impact, share your skills and experiences, develop new friendships and build a sense of community."  
Geri and Jim are just two examples of the many amazing volunteers who make the Alzheimer Society of B.C. such a valuable resource for families affected by dementia. Their commitment and dedication to supporting others is inspiring, and their contributions to the Society's new committee for engaging lived experience are invaluable. The Society is grateful for volunteers like Geri and Jim who give their time, energy, and expertise to help create a more compassionate and supportive community for all British Columbians affected by dementia. 
If you are interested in joining the wonderful team of volunteers at the Alzheimer Society of B.C., you can find volunteer opportunities here.