Volunteer Spotlight: Sue Sami and family, family of volunteers
British Columbia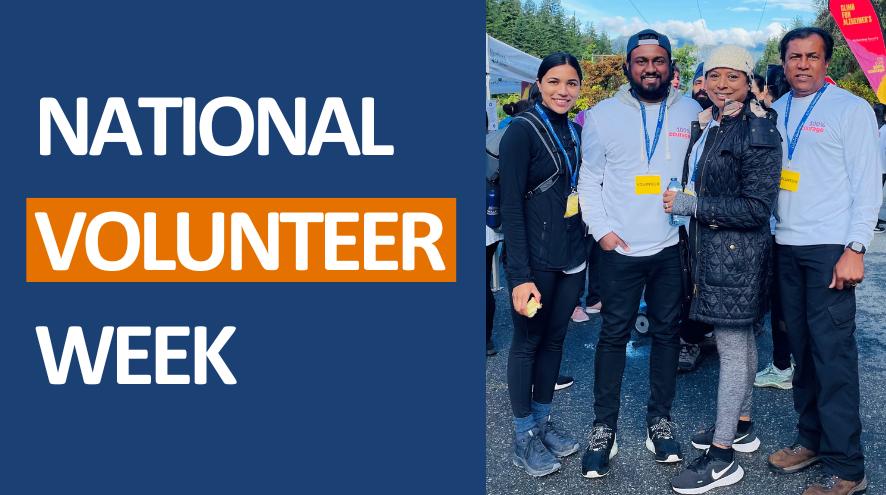 Sue Sami and her family have been volunteering with the Alzheimer Society of B.C. for over eight years, using their time and resources to build awareness about dementia in the South Asian community. They understand first-hand the impact that dementia can have on a family, having experienced it with Sue's father. After his passing, Sue reached out to the Society to make a donation in his name and started volunteering to ensure others had access to the support they wish they had known about during her father's battle with dementia. As she got more involved – including working on the Climb for Alzheimer's and the IG Wealth Management Walk for Alzheimer's, as well as hosting pub nights to raise awareness – Sue recruited her family her to get involved. 
The Sami family is not only a close-knit family of volunteers but they're also active and adventurous. They love traveling, hiking, and playing sports. They are involved in their temple and believe in giving back to their community, which is why they have been volunteering with the Society for so many years.  
The Sami family's dedication to the cause extends beyond volunteering for events. Sue is a fierce advocate for the South Asian community, helping to raise awareness about dementia and the support available. Her children, Shivam and Shivani, share her passion for the cause and have become important members of the Society's volunteer community. They understand the impact of dementia on families and want to help fight the stigma around seeking support. "My beautiful family helps me with everything, all I have to do is ask and they show up. I need water? They'll bring it. I need signs? They'll make signs. My family is my right hand, and without them none of this would be possible." 
Her children were quick to respond that they don't volunteer only because they're mom needs them to, they do it because they also feel a deep connection to the cause and also want to make a difference. "We really want to be there. We had a close relationship with our grandpa and when he was diagnosed with Alzheimer's disease, it took a toll on the family. I think the cause is very important." said Shivani, Sue's daughter. 
On the day of the Walk, the Sami family is all hands on deck – giving out water, helping with sign-up, and hanging signs. They know how valuable event-day volunteers are and encourage others to get involved. They didn't hesitate to switch gears to virtual events because of COVID-19, showing their dedication to the cause. 
When asked what they would tell a room full of people considering volunteering, the Sami family highlighted how important they think it is to give back to their community. Naren, Sue's husband, is a people person who is always willing to help in any way he can. Shivam and Shivani believe that even if someone has not been impacted by dementia, they can still find a way to relate and help make a difference in someone's life. 
Reflecting on their many volunteering experiences, the Sami family all landed on the same memory. Their first time participating in the IG Wealth Management Walk for Alzheimer's. Taking place in Burnaby, Sue helped organize the event as the Walk Chair, there was even a local symphony playing at the Walk. Occurring around the same time as her father had passed away, the they remembered how great it was having the whole family together in their matching blue shirts, taking part in something that would have meant a lot to her father.  
The Sami family is an inspiring example of the impact a family of volunteers can make in a community. Their dedication to raising awareness about dementia and the support available through the Alzheimer Society of B.C. has helped fight the stigma around seeking help. The Society is grateful for their ongoing support and hopes to inspire others to follow in their footsteps. 
If you are interested in joining the wonderful team of volunteers at the Alzheimer Society of B.C., you can find volunteer opportunities here.