Q&A with Jim Mann: The longtime advocate living dementia shares insights into his life pushing for change
British Columbia
Since Jim Mann, a marketing and communications professional from Surrey, was diagnosed with young onset Alzheimer's disease at 58 years old, he's been on a mission to make life better for other people affected by dementia.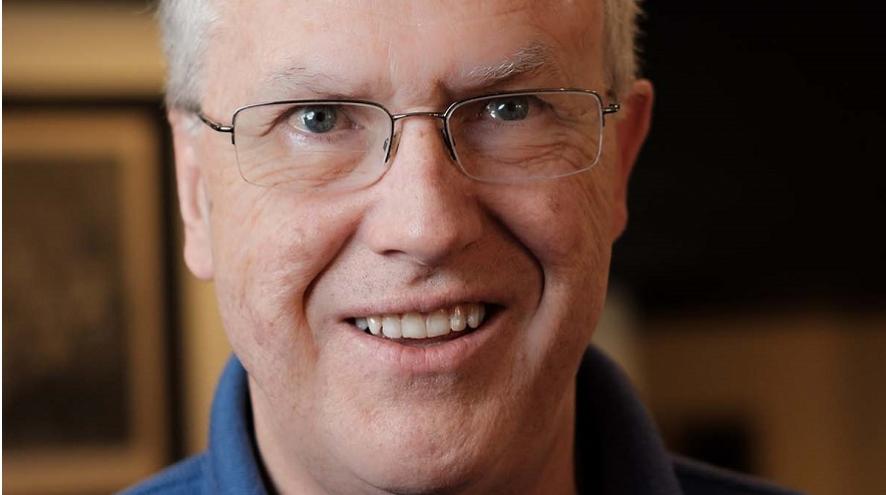 Jim has long been an invaluable leader and partner in much of our work at the Alzheimer Society of B.C., both behind the scenes serving on our board of directors and contributing his expert knowledge and lived experience to numerous projects, as well as in the public eye, sharing his personal story to break down stigma and inspire others to take action over the last 14 years.
The University of British Columbia recently recognized Jim as the most influential person in Canada in countering stereotypes and building a more inclusive society for people living with dementia, awarding him an honorary Doctor of Laws degree. The Society is incredibly grateful for the opportunity to work with Jim, who recently shared some thoughts on his ongoing advocacy.
Why did you first start advocating for people living with dementia – and in what capacity?
There are many stories I could recount but one that has stayed with me since my mother, who also lived with Alzheimer's disease, was in long-term care. The story was about a woman with late stage Alzheimer's who, one day, lost her way to her room. She went to the nurse's station to ask for assistance and the response? The care aide told her to take her age and double it. The care aide, clearly, was mocking and being disrespectful to the resident, which I found disturbing. Another story was when she lived in an independent apartment where they had assigned seating for their meals. One day I arrived as lunch was ending so I went to her usual table and there were four people seated at the table, but not my mother. It seems the other three 'regulars' at her table had her moved because they got tired of her repeating stories and asking too many questions.
My introduction to the Alzheimer Society of B.C. was attending the AGM in 2007 and then later that year attending the Public Policy Forum. The next year, 2008, I was honoured to be nominated to join the board and then later that same year I was asked to be the Honorary Editor of the Society's Insight newsletter.
I was fortunate to have a background in the business of marketing and communications, as well as advocacy. I saw what I perceived to be a need and focused on advocating to educate in order to reduce the stigma of dementia.
How did it feel to first share your diagnosis publicly?
Because my wife, Alice, and I had been alongside my mother for much of her journey, I had increased awareness of dementia, and Alzheimer's in particular, so I had, perhaps, a bit more confidence in making my diagnosis public shortly following my diagnosis. For me, sharing my diagnosis is like my lanyard marked with the words, "Please be patient, I have Alzheimer's." I'm being proactive and being upfront with people so there is no embarrassment or hesitation to interact.
You have been involved in so many activities – a member of our board of directors and Leadership Group of People Living with Dementia, the face of the Jim's Push for a Plan campaign, participant and co-author in dementia research and voice for people living with dementia in national media, to name a few. What accomplishments are you most proud of?
Jim's Push for a Plan is, for me, one of the highlights since my diagnosis in 2007. It created media opportunities in the cities and towns where our delegation went, it showed the Society reaching out directly to various communities and involving them, it highlighted a person living with dementia, and communicated to the government that a targeted and effective dementia plan was needed and provided reasons why.
I also view being a part of the development of the Canadian Charter of Rights for People with Dementia as a high point since my diagnosis because it applies across Canada and directly benefits people with dementia, along with their caregivers.
And I have to admit to being proud and honoured to receive the honorary Doctor of Laws degree!
Your work has challenged how countless others view someone living with dementia. How have your own perceptions of living with dementia changed since you began your own journey with the disease?
I didn't grasp the impact dementia and a diagnosis has on a person's self-confidence and the withdrawal. I saw that with my mother, but it didn't register until I learned through my own lived experience. The disorientation was a new lesson for me and a hard one to digest. With Alice's support, I have been able to live well with dementia, but I know it can be a challenge for many people. It's not always as easy as we like to think it is.
How far have we come towards building a truly dementia-friendly society in B.C. (and how far do we have left to go)?
There is more and better recognition of dementia and what living with dementia entails that, when coupled with the impact of dementia on individual families, has led to a more dementia-friendly community in many neighbourhoods throughout British Columbia. That said, there is much room for growth in order to become a totally dementia-friendly society. I say that because dementia is felt in the home, in local stores, by municipal and provincial services and by neighbours and friends, so the work to truly build a dementia-friendly province in the future is ongoing.
Most British Columbians say they would like to support people living with dementia – but they aren't confident how. What are some simple actions anyone can take to make their community more inclusive for people living with dementia?
Learn about dementia and how to best interact with those living with it.
Be aware of people around you and if you spot a person who seems disoriented, know how approach them with the offer of assistance.
Be patient.