Recognizing World Alzheimer's Month 2021
British Columbia
read
In September, as World Alzheimer's Month is recognized around the world, the Alzheimer Society of B.C. is calling attention to the many challenges that British Columbians living with dementia, their caregivers and families have experienced over the past year.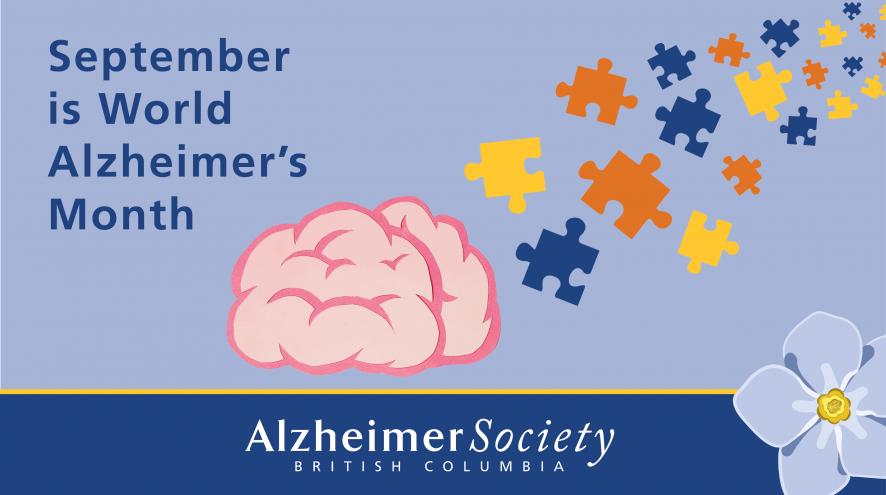 As a result of the COVID-19 pandemic, people affected by dementia have experienced isolation and uncertainty, along with the loss of many of the services that they depend on. These challenges have been exacerbated over the past few months by extreme heat and fires throughout much of the province. Many people affected by the disease have had their lives further complicated by evacuation orders, whether they have been living in long-term care or in the community.
At the heart of the Alzheimer Society of B.C.'s message is that people living with dementia must have a role in shaping policies that will affect them, to ensure those policies are reflective of their changing needs in an uncertain world. "We understand the tremendous impact that this upheaval has had on many British Columbians affected by dementia," says Jen Lyle, the Alzheimer Society of B.C.'s CEO. "It is essential that we learn from people's experiences over the past year to ensure we can build stronger, more inclusive services and systems.
Long-time dementia advocate Jim Mann, who is living with dementia and has worked tirelessly at both the provincial and federal level to raise awareness of dementia issues, hopes these issues can remain top of mind for British Columbians. "The more that we talk about issues associated with dementia, the more people will become aware of and accepting towards people in their communities who are living with it."
Throughout World Alzheimer's Month, the Alzheimer Society of B.C. is working to continue the conversation about dementia, with weekly educational webinars and an upcoming virtual event where Members of B.C.'s Legislative Assembly will have an opportunity to hear firsthand about the experiences of people living with dementia during the pandemic.
Meanwhile, raising funds to allow the Alzheimer Society of B.C. continue to offer critical programs and services to help people affected by the disease maintain the best quality of life remains vitally important. One way that people can help ensure families have access to the support they need this September is by participating in the tenth-annual Climb for Alzheimer's. A fundraiser for the Alzheimer Society of B.C., the event runs this month and ends on September 21, 2021, which is World Alzheimer's Day. From the Summit Peak Trail in Fort Nelson to the legendary Grouse Grind® in North Vancouver, there are endless journeys participants can take to help reach their goal.
At least 70,000 British Columbians are living with dementia, and this number will increase. With a federal election fast approaching in an uncertain landscape, it's never been more important to think about the impact that each of us can have on the lives of people on the dementia journey.
Want to help?
If you'd like to help support thousands of British Columbians affected by dementia, here are some ways you can get involved: