Join us this summer for the 10th annual Climb for Alzheimer's!
British Columbia
From September 1 – 21, 2021, hikers and climbers from all over the province will be able to explore beautiful British Columbia while raising funds in support of the Alzheimer Society of B.C. and showing the thousands of people affected by dementia they are not alone.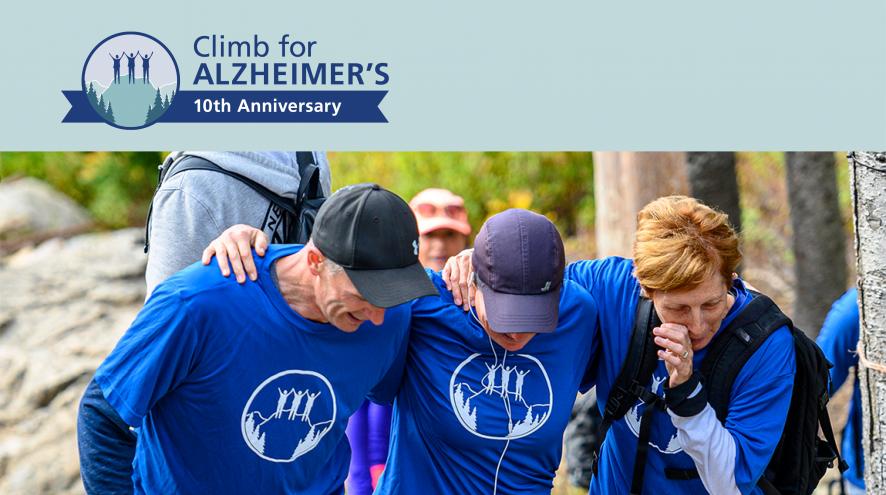 The Alzheimer Society of B.C.'s annual fundraiser, the Climb for Alzheimer's, is in its tenth year this year. While the event has evolved in a variety of ways over the years, what has remained steady is the commitment of its participants to making a difference in the lives of the estimated 70,000 British Columbians living with dementia. In 2020, we held a successful virtual event – and once again in 2021, we will hold a virtual challenge that will allow anyone in B.C. to participate by choosing any of the endless hiking trails across the province.
The event began as the Ascent for Alzheimer's: a group of intrepid climbers who summitted Mt. Kilimanjaro – the highest mountain in Africa – in support of the Alzheimer Society of B.C. It expanded to see teams of people climb North Vancouver's Grouse Grind® in late September, at the same time that climbers were summiting Mt. Kilimanjaro. Now, every year in September, thousands of participants keep the tradition alive as they tackle the 2,830 steps of the Grouse Grind® as part of the Climb for Alzheimer's.   
This year, we are inviting people to come together to hike, raise funds and show those on the dementia journey that they are not alone. You can choose any hike across B.C. — from Mount Douglas in Victoria to the Summit Peak Trail in Fort Nelson or the legendary Grouse Grind® in North Vancouver. Also, you will have the additional option to join us as a group as we take on the legendary Grouse Grind® in North Vancouver on Sunday, September 19!
The Climb for Alzheimer's launches Wednesday, September 1 and will run until Tuesday, September 21, 2021, which is World Alzheimer's Day. There is no better year to take advantage of the province's endless trails, natural beauty and potential for adventure while raising money and awareness for people living with dementia.
Participants can register as individuals or as a team and are encouraged to share their hiking and climbing challenges online. Register for a small fee to get your 10th anniversary pack which includes a cap, a 10th anniversary flag, a mask and more!
By climbing, you'll be raising money to ensure people affected by dementia are not alone, by educating and mobilizing a broader community of care around them and supporting valuable research into the disease and people living with it. The Alzheimer Society of B.C. offers personalized support through its First Link® Dementia Helpline, plus a variety of programs and services such as online support groups, webinars and the online fitness and social program, Minds in Motion®, which allows people living with any form of early-stage dementia and a care partner to connect with others in weekly sessions that combine gentle exercise with social activities.
If you are planning a hike, please adhere to any current physical distancing recommendations. The Society highly recommends that you check the BC Parks website or another online resource before you leave for your outdoor adventure as some trails may be closed or adapted.
This year's Climb for Alzheimer's is happening province-wide and the list of hikes you can tackle to help us is endless. To join the challenge, register at climbforalzheimers.ca.