Climb for Alzheimer's
Nearly two in every three people in B.C. are affected by dementia. While there's no cure yet, together we can make sure no one has to face this disease alone. On Sunday, September 24, brave the hike up the BCMC Trail on Grouse Mountain in North Vancouver to support people affected by dementia on what can be an uphill journey.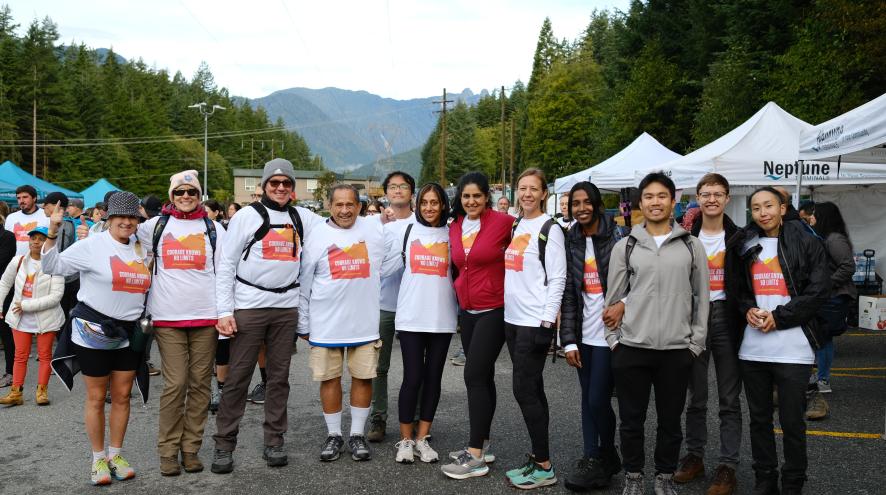 Thank you to everyone who supported the Climb for Alzheimer's at Grouse Mountain on September 24, 2023. Fundraising is now closed.
We're pleased to announce that more than $141,000 was raised in support of people affected by dementia. To check out the photos from the 2023 event, visit Climb for Alzheimer's 2023 | Flickr.
Thanks again, and see you next year!
2023 Event information
The Climb for Alzheimer's returns to Grouse Mountain in North Vancouver on Sunday, September 24 – with a twist! This year we're taking on a new challenge – the BCMC Trail! We're also offering the more accessible Summit Stroll.
Choose your own adventure:
The BCMC Trail is a local favourite, located just east of the Grouse Grind®. With no stairs, it feels more like a hike than the Grind, though it's comparable in difficulty and time needed to complete. The BCMC Trail has the same start and finish locations, with a slightly lower incline and 500 metres more distance. Learn more about the BCMC Trail

here

.


 
The Summit Stroll begins with a breathtaking gondola ride to the top of Grouse Mountain, followed by a 1.5-km stroll around the peak. Explore the sights and sounds of the many exhibits at your leisure – including the grizzly bear habitat featuring Grinder and Coola – and enjoy the Climb for Alzheimer's finish line activities. There will be a selfie wall, food and beverages and more! After your stroll, take the gondola ride back down whenever you like.
We're inviting people in our community, businesses and groups to spread the word by bringing their network together to hike, donate and share courage with people who need it. Funds raised at the Climb will help the Alzheimer Society of B.C. provide vital programs and services for anyone affected by dementia.
Together, we can help build a province where people living with dementia, their caregivers and their families are acknowledged, supported and included: a truly dementia-friendly B.C.
Getting involved
Help us grow our community of courage by registering as an individual, creating a new team or joining an existing team. Join the hundreds of others showing up to tackle the BCMC Trail and help the Alzheimer Society of B.C support people affected by dementia.
Want to participate in the Climb without doing the BCMC Trail?
In order to be fully accessible to all, the Summit Stroll is an alternative option to the BCMC Trail. Strollers will take the gondola up the mountain, make their way around the exhibits at the peak, and take the gondola back down at any time of their choosing.
Become a sponsor
Businesses that would like to demonstrate their commitment to corporate social responsibility, receive great benefits and connect with their community are invited to consider sponsoring this community-focused event.
This is a unique opportunity to align with the powerful and recognizable Alzheimer Society of B.C. brand. To learn more about our sponsorship opportunities, contact Janet Hutzul at 236-317-1751 or [email protected].
Get in touch
For more information, contact:
Felipe Lisboa
Development Officer, Community Events
Phone: 604-742-4947
Email: [email protected]